The most famous Universal horrors are justly celebrated, but by no means the studio's sole output, as they produced many lesser-known efforts that the cultists enjoy tracking down, and the Three Monster Tales of Sci-Fi Terror Blu-ray box set provides an ideal opportunity to appreciate a trio of such also-rans that happened to share the word "monster" in their titles. First up on disc one was Man Made Monster, a team up between two acting icons of the genre, Lionel Atwill and Lon Chaney Jr, here with George Waggner at the helm. What was interesting here was that Universal felt Chaney and Waggner worked well together and greenlit a new picture for them immediately after.

That picture was The Wolf Man, and if Man Made Monster is not quite comparable to that celebrated horror in its influence and effect, it is very entertaining as an example of how hokey these things could get. But even with that in mind, there are intriguing themes in this tall tale of Dynamo Dan the Electric Man (Chaney) who survives an electrocution when the bus he is a passenger in crashes into a pylon, apparently because his carnival act gave him some immunity to the broken power cables. When word of this reaches mad scientist Atwill, he and his medical sponsor invite Dan to their mansion to recuperate - and participate in Atwill's electric experiments.

Dan is, shall we say, an uncomplicated character, rather than the angst-ridden chiller protagonists Chaney would usually play after his Larry Talbot in The Wolf Man, but while some have seen the observation of the Nazis in many mad scientist villains with their talk of creating a race of supermen (here controlled by a brilliant mind... ooh, like Atwill's!), there was also a move towards a regard of drug addiction in Man Made Monster, as the juice Dan takes into his body turns addictive and he becomes a shell of a man, living for his next fix of power. That this power makes him glow thanks to the effects of the great John P. Fulton is a neat visual, but you may feel sorrier for the little dog who Dan befriends and is left bereft at the dramatic finale.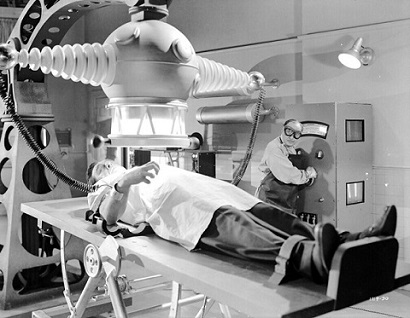 Jack Arnold was a key figure in Universal's science fiction cycle of the nineteen-fifties, and intended to direct The Monolith Monsters in 1957 as part of it, but did not get past the story stage before scheduling issues prevented him going any further. But bear in mind that Arnold directed The Creature from the Black Lagoon, one of the early eco-horror movies, and this later film makes more sense as part of his oeuvre than that of the actual director, journeyman John Sherwood. Starting off like an alien invasion flick, with a fireball crashing down from outer space much as Arnold's It Came From Outer Space did, it soon reveals where its sympathies lie: in harmony with nature.

That doesn't factor in that the meteorite scatters rocks about the desert location, rocks that prove potentially disastrous to humanity and indeed all life on Earth since on contact with water they grow straight up, topple, smash and the cycle begins again, dominating the landscape. But by finding that harmony, hero Grant Williams (The Incredible Shrinking Man himself) is able to fathom where the solution to this brewing catastrophe lies. Although not before the rocks have a nasty side-effect of absorbing the silicon out of human and animal bodies, effectively turning them to stone, as Williams' shortlived colleague discovers during the film's early stages, unable to reveal what is happening.

The Monolith Monsters was kind of a mystery in that Williams and his small team, including schoolteacher girlfriend Lola Albright, were doing their best to work out what was causing this in the first place, never mind how to stop it. There was even a hint of the medical drama about it as one of Albright's pupils falls victim to the rocks (she collects one on a school trip, to add to the guilt) and it's a race against time to save the moppet, which will in turn save the town. The effects were simple but very pleasing, the monoliths growing in a weirdly phallic fashion above the desert before falling and shattering, an inexorable advance that did a lot to offer this a small but loyal cult following. It may be a modest film, but it's well-presented by professionals who cared.

With a title like Monster on the Campus (1958) you may be expecting a comedy, and for some viewers that may be exactly what you get, but for Arnold it was significant as his final science fiction movie of the nineteen-fifties after a run of gems that were latterly grouped together as some of the most influential of the era. Especially given the fondness the generation of filmmakers emerging in the Hollywood of the seventies expressed for them, prominent among them Steven Spielberg and John Carpenter. But there is little love for Monster on the Campus which saw Arnold turning his talents to a cheapie shot in under two weeks on a budget comparable with Universal's rival.

That rival being American International Pictures, who had muscled in on their act with some even lower budgeted horrors and science fiction and were promptly cleaning up with the teen market, leaving Universal playing catch-up. This undignified state of affairs led to, it could be argued, some pretty undignified movies, and Monster on the Campus is often lumped in with them, though some have claimed this is slightly unfair. Yes, it does feature the world's worst scientist Arthur Franz (good guy division) as the hero, and the blunders he makes are not only farcical but cost lives, but considering this was a Troy Donahue flick many decades before he embraced camp for Polyester, it could be worse.

The plot was about the coelacanth which has been imported from the Indian Ocean and "preserved with gamma rays" - uh-oh - so every time anyone gets any of its matter into their system, be they person, dog or dragonfly, they revert to a prehistoric version of themselves. In the film's cracked logic, because the fish has been little changed for millions of years in evolutionary terms, it should make perfect sense that the "living fossil" should have this effect, but Franz contrives to have the fish bite him, then gets the giant dragonfly blood in his pipe (!) before going, what the hey, and injecting himself with the stuff. All in the name of science of course. Troy was there for the teen fans, but had surprisingly little to do, as it was the bungling boffin who was the heart of the mayhem. All in all, a crop of unusual monster movies from Universal, and perfect for addicts and newcomers alike.

[Eureka release these films on Blu-ray in the Three Monster Tales of Sci-Fi Terror set with the following special features:

Limited Edition O-Card Slipcase | 1080p presentations on Blu-ray | Disc One - Man-Made Monster and The Monolith Monsters | Disc Two - Monster on the Campus (available in both 1.33:1 and 1.85:1 aspect ratios) | Man-Made Monster - Brand new audio commentary with author Stephen Jones and author / critic Kim Newman | The Monolith Monsters - Brand new audio commentary with Kevin Lyons and Jonathan Rigby | Monster on the Campus - Brand new audio commentary with author Stephen Jones and author / critic Kim Newman | Optional SDH subtitles | PLUS: A Limited-Edition collector's booklet featuring new writing on the films included in this set by film scholar Craig Ian Mann.]