Even the biggest directors have to start somewhere, and so do the cult directors, so John Carpenter gained belated interest in his early works when his groundbreaking horror Halloween became a surprise blockbuster in 1978. Before that he had completed two theatrically released films, the sardonic action thriller Assault on Precinct 13 and the, er, sardonic science fiction comedy Dark Star. That latter had started life as his student thesis film, where Carpenter and writer Dan O'Bannon had teamed up to create a futuristic effort in a style that had never been considered before: that outer space was really boring.

Once you got out there, there was very little to do, and the crew of the starship Dark Star are painfully aware of that, having spent twenty years on their mission to blow up unstable planets to render far off solar systems safer for human colonisation. This is all very well, and as a bonus they have only aged three years since blasting off from Planet Earth, but in between despatching those worlds they have run out of things to do. However, there is one thing they could have done to pass that seemingly infinite stretch of time, and that is get high. One of their number has approximated this feeling by staring at the galaxy as it goes past.

He is Talby, and he does this from an observation dome which also has the advantage of not forcing him to speak to the other crew very often. This made for a stoner comedy where nobody smoked cannabis, no matter how much they seemed to be yearning for it, hey, it was a nineteen-seventies student film, this sort of thing happened by osmosis, but you can bet that after Dark Star was swiftly rediscovered once Halloween made Carpenter a hot property, the midnight movie audience who had been attuned to Pink Flamingos, Eraserhead and Alejandro Jodorowsky were absolutely off their faces when they sat down to watch it. Assuming they could discern anything on the screen.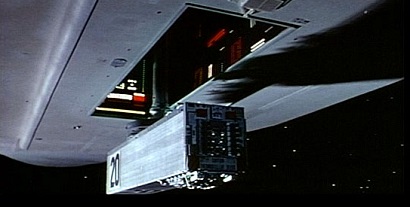 Through the haze, that was, but Dark Star was influential in its way, as you could see echoes of it in the science fiction that came to be made from the late sixties onwards. Anything from mega-successes like Planet of the Apes and Close Encounters of the Third Kind to more specialised works like Fantastic Planet or Altered States (geddit?) were latched onto as late night experiences for the stoner crowd, lighting up in grindhouse theatres or drive-ins across America, and establishing a trend that lasted well into the eighties, when more specifically targeted efforts sprang up. Well, not so much sprang up as shuffled in and collapsed in a daze on the nearest chair, but a subculture was here.

Some went as far as calling Dark Star the stoner 2001: A Space Odyssey, but that title would actually go to... 2001: A Space Odyssey, which normalised the habit to accompany the movies, and O'Bannon would of course go on to write more science fiction, such as Alien and Total Recall, which went down very well with an "enhanced" audience. The trouble with this is that Dark Star seemed geared to be chuckled through with a vague smile on the face, occasional mutterings of "Far out, man!" and possibly nodding off halfway through to wake up in time for the sequence where the crew are arguing with the bomb that demands to set itself off, and will not be persuaded otherwise, no matter any philosophising.

Much of Dark Star has passed into legend, to the extent that the myth is bigger than the film itself, but if you do give it a try, whether high or not, you will find a movie that despite the fact it is set in 2150 you will rarely find a picture that sums up the seventies vibe quite as vividly as Carpenter and O'Bannon's work here. Maybe it's the way all the characters have long hair and beards, maybe it's the way leisure time is growing increasingly important, maybe it's how the plot seems connected to finding yourself through mind-expansion, coming to fruition at the conclusion in the most cosmic manner, it might even be the "take this job and shove it" posturing, but there was very little here that did not indicate the seventies Me Decade was in full swing.

There continues to be interest in this because its central section, added to bolster the running time to feature length on the instructions of producer Jack H. Harris, was so blatantly an anticipation of O'Bannon's efforts on Ridley Scott's Alien, with the writer turning actor to chase a beach ball creature around the ship, only for it to turn the tables on him. "I thought you were cute!", O'Bannon's Pinback complains, but appearances can be deceptive as the spherical, red, spotted thing from another world damn near kills him. But there were plenty of connections to science fiction history in Dark Star should you care to look, anything from Philip K. Dick to Ray Bradbury, and following, the British space sitcom Red Dwarf obviously owed it a huge debt - another sitcom that was overtly stoner-based where nobody got high. That whole snarky but deep thinking style can be seen in Richard Linklater's Slacker and Kevin Smith's Clerks, two major cult items from the nineties. But nothing quite beats Dark Star for seventies chilling.

[Available on Arrow Player. Click here to join the Arrow Player website - there's a free trial available.]