It's true: Danny Dyer has acted in an Oscar-winning film, and its director was Andrea Arnold. Hailing from Dartford in England, she started her showbiz career as a dancer, and then became known to a generation of kids as Dawn, the roller-booted co-presenter of Saturday morning television show Number 73 where she stayed for a while before deciding she wanted to make films from behind the camera rather than in front of it. She was the one who collected the Oscar for her third short film, among other awards she picked up for it, and that is why she directs features.

Wasp was the film that garnered her the most attention in those early stages of direction, and exhibited her attraction to the underdog by depicting a young single mother of four children, one a baby, who is plainly ill-equipped to be bringing up her brood. Another filmmaker could have taken the side that Zoe (Natalie Press) is a danger to her kids and may even be a danger to herself, and framed a happy ending for her that the family was taken away from her into care where they could enjoy a better chance in life. But that would negate Zoe's obvious love for her children.


We meet her as she drags a rival on the estate she lives on (in Dartford) out of her house to beat her up, only to end up humiliatingly overcome and reduced to spitting insults and organising an impromptu single finger salute by her and her kids to everyone looking on. But on the way back home (barefoot and in her nightdress) she is stopped by Dyer's character David (supposedly he looks like footballer David Beckham - not sure about that) who chats her up and asks her out. He has no idea she is a mother four times over, and rather shamefully, she is not about to tell him, either.

There follows a tense negotiation of Zoe's dreams, for while she knows she has to look after the girls and the baby, she has her romantic ambitions too, since she is more or less a young girl herself who we feel has been taken advantage of, no matter her poor choices. Arnold recognised this poverty trap Zoe was stuck in should not mean she should forget any tries at bettering herself, and though David makes her buy her own drink - and his! - we wonder if she could be honest and not ashamed of her background if there could be hope for her. You will be on edge throughout, guaranteed.

Wasp was from 2003, but five years earlier Arnold had made her debut with the ten-minute item Milk for ITV, starring Lynda Steadman as a woman who falls in love, gets pregnant and loses the baby within about sixty seconds of screen time. She spends the rest of it until the credits roll coming to terms with her loss; her partner (Stephen McGann) cannot be more understanding, even going as far as allowing her to stay behind on the day of the funeral for the stillborn infant as he and the family and friends attend the service, but he has no idea of what she is really up to when they are away.

In fact, she has wandered into town and picked up a young criminal in a shopping precinct, where despite his apparent lack of interest in her, he allows her to tag along as a passenger in his stolen car and gives one- and two-word answers to her line of questions (can she have a cigarette? Did his tattoo hurt?). This is building up to an extraordinary final image suggesting the thug may be a stand-in for her lost baby, and he may understand that too on a subconscious level. Mostly, though, it was an examination of grief and an acknowledgement there is no correct way to express your sorrow.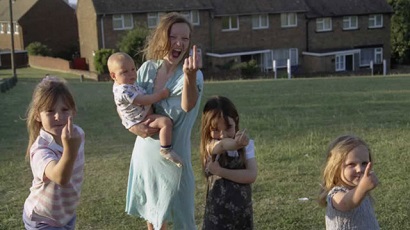 Three years later in 2001, Arnold made Dog for the BBC, which was in the milieu she would become associated with: lower class, impoverished, often centred on the female characters as a lead. This time it was an unnamed girl (Joanne Hill) who after escaping her vitriolic mother's flat goes to meet her boyfriend only to find he is even worse. We were intended to ponder whether the dog of the title was a stray the girl encounters on her journeys on foot, or the girl herself, and the connection between the two may have turned blatant towards the end, but it was perfectly clear for all that.

Arnold has expressed amusement that her work is often described as "grim", but if anything was grim it was Dog, with its random acts of violence, a heroine who is introduced putting on far too skimpy clothes for the weather, never mind her age, and stealing from her mother's purse in a way you just know is going to be found out eventually. Though it lasted ten minutes, it was not short and sweet, it packed a punch that again leaned in on the underdog narrative, though if anything there was even less to be optimistic here about than there was in her Oscar-winning triumph Wasp.

From then on, Arnold worked in feature films, winning more acclaim for the likes of Fish Tank, Red Road, American Honey and her change of pace into documentary making with 2021's Cow, which arguably stars one of her put upon female protagonists as much as her short films do. Far more than a simple "female Ken Loach" analogy she may have started with in her earlier directorial career, each of her films may contain broadly similar themes, but they are all markedly different and their own thing, away from the others. It's little wonder she has regularly been championed as one of Britain's best independent filmmakers.

[These three shorts have been released by MUBI and are available to watch on their site with a subscription. They also have Arnold's Cow to watch as an exclusive. Click here to visit MUBI.]