When Ghostbusters Afterlife was released in cinemas in late 2021, after a delay thanks to the pandemic that both boosted the anticipation for it and amplified the dread from some quarters after seeing the trailer that it would retroactively ruin the original for them, it turned out to be a fairly big hit considering the reduced circumstances the film industry was labouring under. It took Spider-Man: No Way Home to really show the would-be blockbusters how to do it, but they and just about every major success of the twenty-twenties up to that point followed the same rules - pick a franchise and give the public more of that.

Franchises as diverse as James Bond and Halloween were applying that formula, and with the critics, and online naysayers, complaining that there were no new ideas anymore, the studios could point to the money existing brands made and ask, "Why change it if it works?" Audiences by and large appeared to agree, and the Ghostbusters sequel was a lightning rod for those decrying its shameless looting of the most recognisable aspects of the 1984 source, but a bunch of other classic properties and filmmakers from the eighties too. However, this was nothing new, indeed co-writer and director Jason Reitman had his sequel in the planning stages over a decade before.

Therefore all those who claimed Ghostbusters Afterlife was merely ripping off Netflix's popular eighties-inspired series Stranger Things might have done well to acknowledge that was by no means a trendsetter, it was purely riding the waves of nostalgia that had been accumulating ever since the turn of the millennium. Note that point, as it was an era when apocalyptic fiction had become fashionable like never before, and the threat of the likes of climate change and financial ruin, not to mention wars, informed the pop culture of the day. When the world didn't end, the attitude was not, "Thank goodness, let's make the planet a better place!", however, it was something different.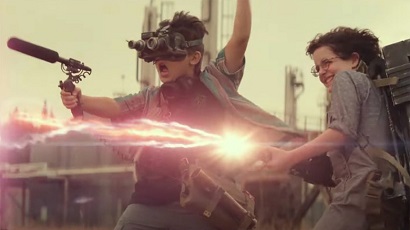 Just like the nostalgia industry, the idea of an apocalypse never went away, if anything it snowballed and grew in the popular imagination, so considering Ghostbusters in 1984 was a blockbuster that climaxed in our heroes fending off a Lovecraftian set of forces determined to end life on Earth as we know it, you could ask why this 2021 reboot had not happened before. The answer was it had, but the fans had not liked the casting in 2016, therefore every time the reboot five years before is mentioned, we have to be reminded that a lot of people didn't enjoy it, or rather didn't enjoy the idea of it, and also that vast swathes of fandom are misogynists, which gets repeated ad nauseam.

That does not explain why those self-same fans took Afterlife to their hearts, as it does feature a very sympathetic female character, original character Egon's granddaughter, played by McKenna Grace as a misunderstood genius/child prodigy who basically propels the whole plot. Perhaps it was the involvement of so many details from the first movie replicated as memory nudgers, or the fact that so many of the original team both behind and in front of the camera were corralled into the creative process, you had to say Reitman talked a very good game and had all the right answers for anyone who would question the wisdom of the project. Being the son of the original director didn't hurt, either.

Especially when the theme of the film he wound up with was heavy on the tribute paid to those who have gone before, which came across as far more respectful than Paul Feig's 2016 effort, though whether Ghostbusters 1984, one of the most disrespectful and irreverent (and at times just plain disgusting in a way that the eighties loved) blockbusters of all time, really needed this amount of respect was a different matter. Considering it more or less ended with shots of the Ghostbusters old and new in tears, you might think they had gone too far in trying to make the audience misty-eyed enough not to realise the stakes of the property seemed pretty small beer in comparison to the eighties. "They're here to save the world" was the tagline to that one, but in 2021 it was more about saving the viewers' group memory of childhood.

The childhoods of the kids who wanted a nice trip to the pictures with their parents, and the childhoods of the parents who learned the first one by heart on VHS. And there was the key: nostalgia had become a lifestyle, as you could live your life by taking role models from the movies, just like you did when you were a little kid. It was a lifestyle that Marvel and Star Wars and umpteen other franchises were selling, it was something you could feel a part of rather than a mere consumer. This makes it sound like all these brands were cynical profit-making exercises, until you remembered that like Reitman, the talent behind them were often fans who had grown up with them and there was a lot of love that went into creating what ended up on the screen. Hollywood - any entertainment industry, really - cashing in on itself was nothing new. Star Wars was based on old serials, to take an obvious example, but its success as a way of life arguably made such an impression that this is why the nostalgia boom is going nowhere soon. Leaving the out of the ordinary (or indeed the determinedly, everyday ordinary) strictly for the arthouse.

[Sony release Ghostbusters Afterlife on Blu-ray with a selection of featurettes and a deleted scene as extras.]