There are two major titles to be discussed when the subject of British horror comedy is brought up: Lesbian Vampire Killers and that bit in The Monster Club with Donald Pleasence as a vampire. No, not really, it's Carry On Screaming and Shaun of the Dead, and as good as those films are, they tend to eclipse the subgenre in Blighty, a country that has made more horror films than many for its domestic industry. On Arrow's streaming service, there are two examples that are often overlooked, and their critics would say, yeah, for good reason, but anything can gather a cult following these days, right?

First up is 1974's Vampira, which had the misfortune of being released when Mel Brooks was about to put out the far more notable Young Frankenstein, which led to the British film being renamed Old Dracula in the United States in a cash-in that convinced nobody. It's true to observe Vampira was never going to convince anyone it was anything like as hip and happening for the seventies as it was desperately trying to be, yet that is the reason it exerts a curious, Dracula-style hypnosis over its adherents. It really was a movie of a type they don't make anymore, and you underestimate nostalgia at your peril.

Indeed, it was a movie of a blood type they don't make anymore, and of the sight of a visibly ageing but still sprightly David Niven as the famed Count didn't pique your interest, then maybe you would prefer his bride, Teresa Graves, an American star who had made her name on Rowan and Martin's Laugh-In as it was heading towards cancellation. For some reason, the characters pronounce her name as "Vamp-eera" rather than the more obvious "Vamp-eye-ra", but that is the least of the bizarre decisions on display in a comedy that may not have you rolling but will prove compelling for those culturally fascinated.




The background to this was, somewhat absurdly, the Civil Rights struggles of the day, and they were evidently trying to appeal to a fashionable American audience with this, as after all that was where the money was - have a hit there and you may well be set for the markets in the rest of the world. Presumably the producers here were then shaking their fists towards Hollywood and in Brooks' direction in particular when business was not great for Vampira, but when you see the pandering on display you would not be surprised: was this the only Dracula movie where the great villain gets called a "jive turkey"?

Not even Blacula suffered that, though it may have been an influence. Dracula's plan in this was so murky as to be arbitrary, but essentially, he invited some models to his Transylvanian castle to drain their blood to revive his comatose love, only one of the models is black, not white which renders the titular Vampira in darker hues than she was originally. Travelling to London to... do something or other with the models, the rest of the story played out in the capital's streets and the hotel of Heathrow Airport, where the remarkable cast of anyone who was available wound up dancing interminably to library music disco as events lead up to the same punchline from the Love Thy Neighbour sitcom adaptation of around the same time.

If that was so seventies it hurt, what of the eighties? Film production that decade in the United Kingdom grew reliant on television money, mostly FilmFour, but as in the previous era, television talent made a few forays into the big screen, and if you did not want to see Cannon and Ball in The Boys in Blue, how about something more grown up? That's assuming you counted Bloodbath at the House of Death as grown up, as it brought the relentlessly silly, risque humour of television and radio personality Kenny Everett to the movies, in the process supposedly rendering it more adult while actually being more juvenile.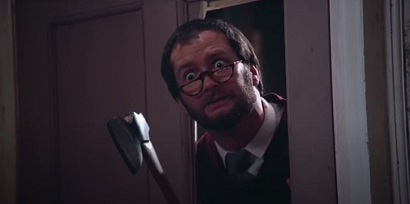 Everett was a huge hit with Britain's kids at the time, so imagine their disappointment when the British Board of Film Classification stamped an 18 Certificate on this, preventing them from seeing their comedy hero in their local fleapit. If they were lucky, an older relative would rent it from the video shop and they could sneak a look at it that way, but the fact remained a substantial part of Everett's audience would have been turned away - or turned off - by the promise of gore and sex, though on watching it both were treated by Everett's writers Barry Cryer and Ray Cameron with the same irreverence as the sketch shows.

The plot had it that a bloodbath had occurred at Headstone Manor a few years ago, and there was now reason to investigate it for supernatural motives, with a team of parapsychologists led by Everett's scientist. Giving him a chance to do his German accent, his character turns out to have had a past as a surgeon whose hatred of being laughed at led him to throw the guts of one of his patients around the operating room in fury - if that sounds funny to you, then this was ideal for your sense of humour. Mostly, the jokes took the form of crude gags and spoofs of then recent horror and science fiction flicks, which led the proceedings to some very strange areas.

This was probably the only comedy movie to do a parody of The Entity, for instance, where co-star Pamela Stephenson surprisingly provided the nudity while Everett's glamorous stooge from the TV series Cleo Rocos remained fully clothed throughout. Was that funny? Probably not in the twenty-first century climate, but they were on safer ground with an Alien send-up where Everett did his best John Hurt impression, not for a chestbuster, but for a loud burp. The Carrie scene was undeniably strange, however, and the last act dispensed with the services of guest star Vincent Price to basically bump off most of the cast, which wasn't too funny either. All that said, if you appreciated Everett on the radio or television, you would doubtless be glad to see his film excursion, and he was as enthusiastic here as you would expect. These two movies may represent anomalies in their respective decades, but they held plenty of interest for those curious enough to try them.

[Click here to join the Arrow Player website - there's a free trial available.

Vampira is available from 3rd January 2022 and Bloodbath at the House of Death from 14th January 2022.]