There was a time when every so often a new group would come along and be described as "the new Beatles", anyone from Klaatu to Freiheit to ELO (in Jeff Lynne's dreams) who released a record that was reminiscent of their sound was labelled thusly. But there was really no substitute for the real thing, as the world of movies discovered when they tried to keep the flame alive and recreate the finer aspects, or just the massive profits, of Beatlemania. When the band split up in 1970, it did not take long for the question to arise: "When are they getting back together?" despite the members making it clear they were keen to explore their individual projects now.

Well, maybe not Ringo. But some way into the nineteen-seventies and a bunch of solo albums later, pop culture was getting antsy about the phenomenon really, truly being over, and rereleases were not going to cut it. So how about cover versions? There was in 1976 a curious montage documentary called All This and World War Too, which hit upon the baffling idea that what footage of the Second World War needed was Elton John singing Lucy in the Sky with Diamonds over it. Naturally, the Holocaust went unmentioned, which was not only dishonest but put the whole enterprise into question as far as good taste went. But it was not alone.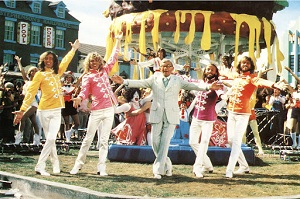 In 1978, rock super-promoter Robert Stigwood hired Car Wash director Michael Schultz to helm a concept movie based on the famed concept album Sgt. Pepper's Lonely Hearts Club Band, corralling a bunch of artistes like Alice Cooper, Earth Wind and Fire, Aerosmith, um, Frankie Howerd, er, Steve Martin to perform in a loose plot that took aim at the record industry and how corrupt it all was (what would Stigwood know about that, then?). The results were lambasted critically, and though the release went mildly positively the remainder bins in record shops were full of the soundtrack album, because, well, why would you want to listen to facsimiles when the originals were available?

And the originals were by The Beatles? Bringing new meaning to the word "gaudy", the Sgt. Pepper movie cast The Bee Gees and Peter Frampton as the titular band, small town American boys since the Americans loved to claim the Beatles for themselves, it appeared. Most of the covers were serviceable at best, though She's Leaving Home, a delicate number from Paul McCartney, was here repurposed as the leading lady Strawberry Fields' farewell song performed by Howerd's sexbots, and Billy Preston showed up at the end as a silver weathervane to prevent Frampton's suicide with lasers. And nobody involved, out of hundreds of celebrities, ever spoke of it again.

Come the eighties, past Lorne Michaels' pleas on Saturday Night Live for the Fabs to reform on his show, and when they didn't, he commissioned Eric Idle and Neil Innes to spoof them with The Rutles instead, John Lennon had been murdered and the world had to come to terms with the fact the reunion was, tragically, off for good. But the tributes continued, including one oddly from an actual Beatle: McCartney scripted, produced and scored his own enigmatic item, Give My Regards to Broad Street in 1984 where he repackaged old numbers by himself with new material and found yet again, despite Ringo Starr in the cast audiences were not fooled into believing this as a substitute.


It's a film that's been forgotten, but it did spawn one really rather good hit single, No More Lonely Nights, with Pink Floyd's Dave Gilmour on guitar in lieu of George Harrison, yet look to one of the repurposed tunes there amid the arbitrary plot about the tapes of his latest album going missing and the celebrity cameos (Sir Ralph Richardson! Giant Haystacks!?). On Eleanor Rigby Paul does a perfectly good version, but something is not quite right: listen to the chorus, the harmonies from the other Beatles are gone, replaced by Paul alone, and you do miss them. Whether it's a film ripe for rediscovery is doubtful, but ardent fans of the Wings frontman will always hold it dear in their hearts.

The band did reform, of course, in the nineties when the remaining three got some old tapes Lennon had made and built new songs around them, though with Lynne producing they sounded more like ELO than if George Martin had been at the controls. They were greeted with some enthusiasm, but not as much as they had anticipated. The films kept coming: one of the fifth Beatles, Stuart Sutcliffe, had his short life commemorated in Backbeat, a Sgt Pepper movie for the noughties Across the Universe failed to pack them in at the multiplexes, and Lennon got his early years biopic in Nowhere Boy, an exercise in sentiment, with a Brian Epstein biopic, Midas Man, planned for 2022. But the originals were still the best.

There had been the Beatles Anthology documentary television series in the nineties to sustain the interest and hook in a new generation of fans who discovered them through their parents' record collections, but in 2021 Peter Jackson edited together dozens of hours of footage into one restored, three part, eight hour long series for Disney entitled Get Back, which pointedly had been the original title of what would have been the Let It Be album, generally considered the worst the band made, no matter its better qualities. A documentary from director Michael Lindsay-Hogg by the same name was released in 1970 and had been a sore point ever since, as it portrayed the group in a chilly light, always on the brink of splitting up.




Given they really did split up a that year, maybe Let It Be shouldn't have been offered such short shrift and Lindsay-Hogg should have been given a break, but the acres of footage in Get Back showed the boys buckling under the demands of his film and proposed TV special (which never happened), then when allowed back to EMI away from the film studio (where Ringo was about to make The Magic Christian) they flourished. Although there was simply too much of this to take in - you could nod off partway through and wake up to find them still working on Don't Let Me Down - it did demonstrate the staying power of Yoko Ono, who sat patiently through it all (apparently because John demanded it) barely moving a muscle until called upon to wail in a dreaded jam session occasionally.

Even more impressive than that was to see the band conjure their material out of the ether: Paul comes up with the basics of Get Back in two minutes flat, the arrangements are set in place early and change very little, and Lennon proves himself a very funny man, away from the Ron Nasty persona he is often landed with. But the rooftop concert is the jewel in the crown, as it was in Let It Be, it may look freezing yet the band are as tight as they ever were, with Preston providing a genuine boost to their sound and energy. Most of the passersby, all ages, love the songs, though some spoilsports call the police and in split screen we are treated to Her Majesty's Finest endeavouring to get the fun stopped, adding to the band's outlaw status (which it never really had). One older gentleman says he'd be happy for his daughter to marry a Beatle, well, they have money, don't they? And so the fly on the wall has witnessed George leave and come back, Yoko get divorced, gallons of tea drunk and bundles of gaspers smoked, and proof there's no substitute for the real thing as The Beatles played their last concert together. But you kind of knew all that.

[The Beatles: Get Back is available on Disney+.]