For some reason poetry and experimental music lend themselves to the short film format, be that in animation or documentary or other styles, and the British Film Institute have assembled a collection of shorts on the subject of spoken word performance and out of the mainstream musical acts on a pair of DVDs titled Great Noises That Fill the Air. Let's take a look at what is on offer, a collection from the latter years of the twentieth century produced under the sponsorship of The Arts Council of England and The Arts Council of Great Britain.

Dread Beat and Blood (1979, directed by Franco Rosso)

When you consider the poetry of Jamaican-British performer Linton Kwesi Johnson, there is one matter that arises more than any other, and this is the racism the British black community suffered when he was doing his writing, for that was often what he sought to highlight. Certainly, as he admits himself here, he was largely writing for the black audience in Britain, which must have made director Franco Rosso's three-quarter hour-long effort an eye opener for any whites looking in, those who had not been alarmed by the rioting in the streets this also features. We see Johnson discussing his life with schoolkids, and it is clear that he is correct when he says he was a very bright kid who found the opportunities he should have had were denied him purely because of the colour of his skin. The injustices inflicted on British black men, here highlighted by the scandalous George Lindo case, are as much a part of the message of this piece as they are Johnson's living poetry; ironically, this was denied a television showing thanks to its potential to bias the election coverage of the time, but later was broadcast on the BBC to some acclaim.




Steve Reich: A New Musical Language (1987, d. Margaret Williams)

Steve Reich, minimalist genius gets a profile here, with the bonus of an extensive interview mixed with his music. It takes in his early years when he was establishing himself with his tape-recording music, essentially inventing sampling by taking phrases and repeating them over and over to create a rhythm that becomes hypnotic to listen to, and developing that form of repetition with variations organically emerging from the sounds into his clapping music, his wood music and more, all of which we see performed here. You might think someone who writes that kind of serious, difficult music would be a serious, difficult interviewee, but he turns out to be supersmart and in possession of a sense of humour and genuine engagement with the world. This makes the film, which lasts an hour, both an excellent introduction to someone who ushered in a new revolution of music, and something his fans can enjoy.

Elizabeth Maconchy (1984, d. Margaret Williams)

Dame Elizabeth, as she was to become, is introduced as members of the public listen to her music on earphones and are asked if they know anything about it, which they do not. While this can be regarded as shameful considering she was one of the greatest composers of classical music the British Isles produced in the twentieth century, it is sadly the predictable response, as female composers tend to be downplayed in its history, or worse, ignored altogether. Still active in her late seventies, she proves to be a formidable, little old lady when this short catches up with her, impeccably posh but in possession of a keen intellect as we can take in from her music, usually strings-based, but also woodwind and always dramatic and soulful. We see Richard Rodney Bennett, who was mentored by Maconchy, praising her, and her husband and daughter (Nicola LeFanu, also a composer) who supported her to the end of her career. She explains she had to start her own all-female ensemble to get her music heard in the early days, but latterly she took pride of place at the Proms. Alas, she remains unknown outside of classical circles, but this justifies interest in her work.

Strong Culture (1995, d. Smita Maide)

Essentially a sketch of one day in the nascent life of Asian Dub Foundation, an Anglo-Indian band of rappers and musicians, it details the time they went to one of their first gigs outside of London, only to find it was a traditional county fair. From what we can tell, after the band had gotten over the culture shock, they went down very well, with kids dancing and dads jiggling babies in time with the tunes. There's not much more to it than that, but it is a pleasing record of that gig and the journey there.

Bristol Vibes (1996, d. Ruppert Gabriel)

The Bristol scene was one of the most successful regional musical movements of the nineties, and this barely over ten minutes-long item has three artists (including Roni Size) from there playing their music as the camera takes a trip around the city, a tale of a class system that sees the poorer denizens congregate in the pub or simply on the street, while the richer enjoy a slap-up meal in an exclusive establishment, but everyone comes together for the music. A recurring image is of the nightlife, clubbers dancing away to the tunes we are offered on the soundtrack.

Clocks of the Midnight Hours (1988, d. Simon Reynell)

Max Eastley is an experimental musician whose field of specialisation is sound sculpture, in that he creates shapes of various materials that can be set in the natural landscape and will make noises which are their own kind of music. We see some of them placed around rivers, at the beach where wind blows through them so they whistle, and are electronically motored so a metal rod with an object attached can run over other objects arranged on the ground. This kind of music was for refined tastes even back in the late eighties, though nevertheless could secure a late night television slot it would not receive now, making this recording all the more unusual and, perhaps, cherishable.

Great Noises That Fill the Air (1988, d. Simon Reynell)

This was from the same year and production team, and also presented experimental music, this time from the group known as the Bow Gamelan Ensemble who like Eastley, crafted special instruments, in their case out of junk rescued from scrapyards local to them. The participation needed to make the noises (the title refers to a description of what the English liked when they made merry, from a 1612 travel guide) involved whipping the instruments around their heads, or similarly energetic endeavour, and since there was a performance aspect, there were also costumes and fire for visual interest. Another late night television viewers would have watched in the early hours.

Ten Years in an Open Necked Shirt (1982, d. Nick May)

This hour-long work captured the performance poet John Cooper Clarke onstage as he fired off his "punk poetry" to appreciative crowds, then mixed it with interviews and more dramatically contrived footage, as well as scenes of how the urban landscape looked in Britain at the time (that was, not so healthy). Clarke does some of his best-known material, such as I Wanna Be Yours, and tells the occasional long-form joke, but it is debatable whether we really get under his skin, and you get the impression that's the way he preferred it. Other poets such as Linton Kwesi Johnson and Attila the Stockbroker also appear, but John is the star, and his poems are the highlight, witty, insightful and delivered with a machine gun rat-a-tat that sees them land with a punch. He's even amusing in the interviews, and admits he would like to be funny all the time, an intriguing confession. Clarke was suffering increasing personal problems at this time, so it is cheering to see him on such good form during his performances, at times talking so quickly it's difficult to keep up with him. The glimpse we get of his eyes (usually hidden behind a pair of shades) is really quite alarming.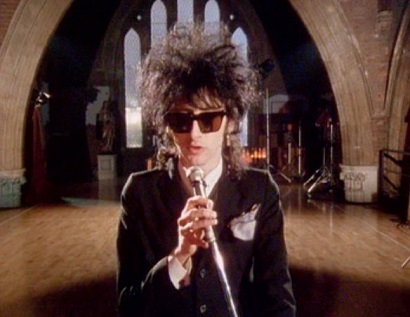 Celebrashan (1995, d. Pauline Bailey)

Running a mere six minutes, this was another poem mixed with music, this time from the African tradition and put across with great conviction by performance poet Martin Glynn. Combined with his energetic delivery is African dance by Sandra Golding, who brings the piece to life amid some fast cutting between the two, and images from around London.

Cornelius Cardew 1936-1981 (1986, d. Philippe Regniez)

The titular Cornelius Cardew is very highly regarded by those who know his work, and considered hugely influential by those same people, but you would be forgiven for being none the wiser should his name be brought up, if indeed he still is. Take this five minutes shy of an hour documentary as a corrective to that: yes, he spent the years immediately before his untimely demise dedicated to agitating for left wing causes, but this wishes you to concentrate on the music, a wide variety of experimental items we see performed in part. Obviously there's only so much they could slot into this limited time frame, but what we do hear at least offers an impression of why he is so well-thought of by those aficionados. Meanwhile, some of those who knew him try to place that work in context and sum up his personality - he comes across as eccentric in what footage survives of him.

Steel 'n' Skin (1979, d. Steve Shaw)

This was a half hour documentary about a musical collective in Liverpool who try to do two things: one, make the black Britons feel comfortable about celebrating their heritage, be that African or West Indian, and two, undercut the racism that was emerging in poverty-stricken areas of the inner cities by exposing the white kids to how positive and entertaining that black culture could be. The leader of this troupe makes interesting points about how when the black kids were shown the African dances or masks, they were embarrassed by them, and the whole short asks, why? Why should they be so ashamed of what is a vibrant scene when if they embraced it, the balance throughout the multicultural society Britain was aiming towards would be so much more constructive. The scenes of kids of both races dancing in African dress to the drums are endearing, and you hope Steel 'n' Skin made the correct impression on those they reached out to: it looks as if they did.

Chutney in Yuh Soca (1996, d. Karen Martinez)

Twenty minutes of the music scene out of Trinidad and Tobago known as Chutney Soca, a mixture of the Indian and African that had come about because of colonial times placing both races in the region - but crucially, the colonialism was supposed to keep them apart, even as rivals, while in effect love found a way and they both began to intermarry and strike up relationships that resulted in this hybrid style of music. Some of the movement's stars are interviewed, as well as one of its critics who wants the female singers to stay at home, but in the main this is a celebration of the fascinating things that can happen when two cultures meet.

Music in Progress: Mike Westbrook - Jazz Composer (1978, d. Charles Mapleston)

Say British jazz and you may think of Kenny Ball or Humphrey Littleton; maybe if you're more up to date, something like The Comet is Coming. But in between those extremes, if indeed they are extremes, there was an artist like Mike Westbrook who is very much a cult figure given how difficult it is to find his work. Listening to his output, it is clear he had a wide range, though what we hear leans on the proggier-sounding elements of the seventies, amid reinterpretations of Kurt Weil and more traditional trad material, performed in the open air as buskers to attract an audience for the evening show. We should be glad he had any kind of film made about him at all, for otherwise he may have been lost to the mists of time - or internet searches for those in the know.

These Arts Council documentaries are presented over two DVDs and have an informative booklet for background. One supposes it runs the risk of casting its net too wide in collating its subject matter, but if you are at all interested in music and poetry out of the mainstream, there's sure to be something here to inspire you.