The poster for Alan J. Pakula's 1974 thriller The Parallax View features a man being assassinated under the ironic tagline "As American as apple pie", and if any further film took that to heart, it was writer and director Brian De Palma's Blow Out. Always a magpie talent who picked and chose from whatever inspiration in other people's movies caught his eye, this one was probably the ultimate expression of that habit, but it was also drawing from his own back catalogue as well, specifically those efforts he made as a sixties conspiracy nut, when that really meant something in the wake of some very fishy political assassinations. Where Pakula had adapted the Robert Kennedy murder, De Palma opted for someone close to that Presidential hopeful.

Namely Ted Kennedy, whose hopes for standing for the office of the Leader of the Free World were effectively ended by the incident at Chappaquiddick, which for some has never been adequately explained. De Palma looked at that famous scandal of 1969, which could have seen another Kennedy brother dead, and asked, what if the actual casualty was rescued? Mary Jo Kopechne was the campaign secretary who had been travelling in the Senator's car at that location around midnight, we know not why, and was drowned when the vehicle crashed into a river. It has perhaps not gained the same notoriety as the Kennedy assassinations because the one person who died was nobody famous, and this rankles with Blow Out.

Therefore the Kopechne character here, Sally, played by De Palma's wife at the time Nancy Allen, gets her due and the Kennedy character dies in a grim turnaround of the facts. In the background to all of this is John Travolta as movie soundman Jack, who was out collecting sound effects for a cheapo slasher flick when the producer complained what he had was not up to snuff, including a scream for a murder sequence. What was intriguing here was that De Palma seemed to be genuinely interested in the eighties slasher craze, and if he was not going to descend to making one himself, well... he kind of did with Blow Out, as there was an opening that emulated the killer's point of view murders of Halloween, and later he staged typical slasher killings.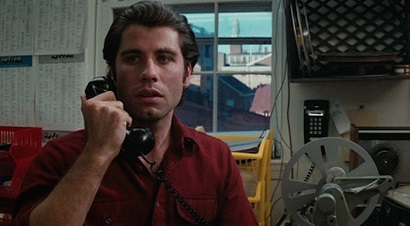 Although Alfred Hitchcock is the director most often compared to De Palma, some have noted he is closer to Dario Argento, that erstwhile Italian master of the giallo, and you could discern a lot of that in this, despite visual references to
the British director's Psycho and Frenzy. However, unlike the American, Argento has seen his stock fall after a series of movies regarded as beneath his talent, while De Palma has enjoyed increased critical and cult standing. Quentin Tarantino often expressed his love of Blow Out, and indeed helmed a variation on its central conceit of rewriting controversial history with his 2019 hit Once Upon a Time... in Hollywood, as at the time he was creating the films that form the basis of his following, De Palma was regarded as a rip-off merchant at best, however skilled.

You can perceive why this reassessment occurred among the cineastes, and it's down to De Palma wearing his style on his sleeve, there's nothing sneaky about the way he crams his admiration for other filmmakers into his work, just like Tarantino not only is it there for all to see, it's part of the warp and weft of his material, flattering the knowledgeable. De Palma invented this kind of movie "sampling" before it was fashionable, either that or he made it fashionable for the next generations to pick up on: it's why almost every horror movie made in the twenty-first century is an homage to an earlier horror movie, so you would think De Palma would slot right into that landscape, only surprisingly he has latterly struggled to get his often audacious concepts funded or at least completed to his satisfaction.

Back at Blow Out, after a lukewarm critical reception and tepid box office, it truly signalled the end of the great decade of American conspiracy thrillers, most of which he references here: from The Conversation to Winter Kills, this is operating under a dedication to political paranoia that flew out of the window once Ronald Reagan was comfortably ensconced in The White House and most Americans trusted their government as The Soviet Union became the political bogeyman now Watergate was done and dusted. But this film remembered the casualties that had taken us to that point, and was genuinely distressed when the bad guys offed yet another witness; nowadays, nobody knows what to believe, and the paranoia has won: Blow Out leaves us sorrowfully changed, forced to accept the confusion, just as in its namechecked antecedent, Michelangelo Antonioni's Blow Up from 1966.

As a mark of how important the film is now considered, and how De Palma, who could be regarded as problematic in his subject matter in these more sensitive times, is now lauded by those who grew up seeing his movies on television and finding they were packed with indelible imagery, Blow Out is released on Blu-ray by The Criterion Collection. Centrepiece of the special features is a conversation between De Palma and one of his fans, director Noah Baumbach, and for a film so in love with the technical side of the production (see the way the camera carefully focuses on the equipment Jack uses in a manner impossible with computer technology) as you might expect there's a lot on how the project was realised, but also about the director's obsession with conspiracies that he seems to have moved past with none of his questions answered. Additionally worth hearing are Nancy Allen's reminiscences, what she regrets, and what she thinks of the film now - she's certainly pleased about the reassessment it underwent. Overall, essential for fans old and new, since Blow Out was such a terrific technical achievement.

[Those Criterion Collection Blu-ray features in full:

Restored digital transfer, supervised and approved by director Brian De Palma, with DTS-HD Master Audio soundtrack on the Blu-ray edition
Hour-long interview with De Palma, conducted by filmmaker Noah Baumbach in 2010
Interview with actor Nancy Allen from 2011
De Palma's 1967 feature Murder à la Mod
Interview from 2010 with cameraman Garrett Brown on the Steadicam shots featured in the film within the film
On-set photos by photographer Louis Goldman
Original theatrical trailer
English subtitles for the deaf and hard of hearing
PLUS: An essay by critic Michael Sragow and, for the Blu-ray edition, Pauline Kael's original New Yorker review.]