Arrow launched a new Video on Demand service in 2021 which features all the cult movies a film buff could want, and among those are the two Demons movies, those disreputable horrors straight out of the nineteen-eighties that became so many horror fans' discoveries back in the days of VHS, and have gone on to hold a place of affection in their hearts ever since, as well as those of successive generations who also discover them. They were the brainchild of Lamberto Bava, who back then was profiting from his association with his famed father Mario Bava, a horror movie director extraordinaire, so in effect following in papa's footsteps and joining the family business.

Dario Argento was involved too, on the production side, though naturally being more famous than Lamberto it was his name on the advertising to draw in the punters, and it was true to say there was a definite tone of Italian shockers that Demons (1985) embraced wholeheartedly: the gore, the nightmare logic, the sleaze, all the stuff that made them renowned in the horror world. The first instalment was set in a cinema, actually the Metropol in Berlin though the specific location of the city that houses it was not highlighted in the film, and begins when a bunch of people who have received free, Willy Wonka-esque golden tickets in the underground railway take advantage of the offer.

Among them are Cheryl (Natasha Hovey) and George (Urbano Barberini) who meet at the sinister picture palace when they are with their friends and are thrown together when they find themselves trapped inside. It is all because of the chiller they have shown up to watch, which has a malign influence on the patrons, kicked off when one wears a mask from a display in the lobby and she is nicked on the face by it. Once the movie is in full swing in the auditorium, she retires to the bathroom to survey the damage - the cut explodes and the mayhem commences as she is transformed into one of the titular demons, and like dominos her fellow attendees succumb too.




There was a core of something that was genuinely frightening the general public in the eighties in Demons, which was that movies, specifically horror movies but anything with sex and violence, could corrupt the minds of those who watched them. We saw this in Britain with the Video Nasties craze where moral crusaders sought to blame society's ills on this material, despite evidence to the contrary, but scapegoating will never go out of style and there was plenty of outlaw glamour by association to go around once the panic snowballed. Demons was never banned, but it did suffer cuts to certain sequences around the world thanks to its perception as being far too extreme.

Watching it now, it tends to look more goofy than subversive, but that cachet it had for being a near the knuckle Italian gorefest is certainly still present in its frequently ludicrous attempts to terrorise the audience. This is of course what makes it so much fun for aficionados, be it the scene where the hero takes to a motorbike and wields a sword for the grand finale, or throwaway details like the gang of punks snorting cocaine from a brand-appropriate drinks can, an item of product placement you cannot imagine the company in question approving of. Note too, how the soundtrack was plugged from the opening credits with great enthusiasm, anything from Go West to Motley Crue.

Obviously sensing there was more mileage in this, Argento and Bava reteamed for Demons 2 the following year, restaging the chaos in the setting of a swanky high rise apartment building in another unnamed city. If the first movie had more or less been Italian horror's The Poseidon Adventure as a group of survivors of a disaster struggle to free themselves from the damned location that has them trapped, then the sequel was its The Towering Inferno, where the characters were picked off one by one, not by water or fire, but by bitey denizens of Hell, passing on their infernal infection like an unholy virus. Something like that, anyway, but one thing was for sure: they had to escape somehow.

Actually, by transplanting this to a tower block instead of a cinema, and one with all mod cons as well, Demons 2 was reminiscent of a horror from the previous decade, David Cronenberg's Shivers, which also staged a mass breakout of rabies-style disease, though the motive behind that one was sexual rather than murderous. And of course, Cronenberg also directed Rabid soon after, which both Demons entries owe a substantial debt to, only here there was that particular flavour of Italian trash which saw anyone so much as getting a light graze from the infected transforming into one of the monsters, wiping out their personalities just as in a classic George A. Romero zombie flick.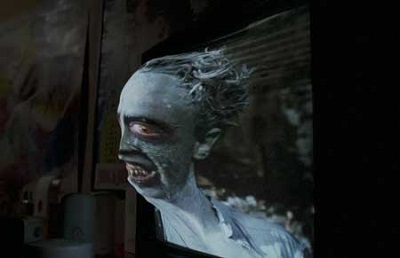 Some will tell you Demons, and even Demons 2, have classic elements, but elevating either has the unfortunate effect of lending them a touch of class, and they do not need that kind of reputation, these were the scuzzy bad boys of eighties horror, or at least two among many, especially from that part of the world. Demons 2 has developed a minor impression of influencing a Japanese chiller that became an icon of nineties horror, Hideo Nakata's Ringu, or The Ring as it was remade (not as well) in its Hollywood version. This was down to the aforementioned eighties idea of films holding damaging properties, so almost everyone here has a television broadcasting a new horror picture.

When the demon emerges from one birthday girl's set, it does look as if the makers of Ringu were taking notes, but there was more to the follow-up than that, as this was the one with the bodybuilders and gym bunnies pitted against slavering, toothy monstrosities, the resistance led by Bobby Rhodes who had appeared in the previous effort as a different character (a pimp - sigh). Meanwhile a student battles the odds to get back to his pregnant wife in their posh apartment where she is attacked by a supercharged variation on one of the Gremlins which in a grotesque parody of childbirth has emerged from an actual (demonic) child to chase her around feverishly.

No, you can't take these seriously, so much, but they did contain a verve and energy, as well as embracing bad taste, so you can see why they are returned to over and over. Again, with Demons 2 the soundtrack album was important, which has you pondering precisely how much The Smiths had to do with the use of their song Panic in the party scene. It's not quite A Taste of Honey or The Leather Boys. Did Morrissey and Marr get a free VHS as recompense? But if you want to see what the fuss was about yourself, Arrow's streaming service features both Demons and Demons 2 (but not Demoni 3 aka Black Demons - that was not officially part of the franchise) in spanking new 4K UHD prints, restored for just such an occasion, and each look and sound as good as they did originally. Shouldn't that quote be "The cities will be their tombs"?

Click here to join the Arrow Player website - there's a free trial available.