Network on Air's streaming service is continuing the idea of using the brand's extensive film library for a series of double bills, inspired by the way to watch movies that only started to be widely phased out in the nineteen-eighties. Before that, tradition dictated that if you attended your local cinema before then, you would be treated to a set of two films, plus advertisements, trailers and even short films to supply what would be regarded as a full evening's entertainment (or indeed a full afternoon's entertainment). One of those doubles is of a pair of cult movies starring an array of British talent, one a supernatural disaster flick, the other a would-be fantasy epic.

First half of the bill is The Medusa Touch, an adaptation of one of about a billion horror paperbacks to be released in the nineteen-seventies, this one penned by Peter Van Greenaway, a writer with an apocalyptic leaning. This arrived in 1978, just as the cinema was getting very interested in the possibilities of psychic powers in the wake of Uri Geller's shameless self-promotion and Stephen King's first runaway success in book form, Carrie, which director Brian De Palma had transformed into a hit of equal proportions on film. This was a more sober, grown-up variation on those themes, but no less sensational when it came to the crunch; it started quiet, but went way over the top.

Richard Burton was our star, and we saw him getting bludgeoned to death in the opening sequence - who has this murderer been? Except they haven't killed him, because his chest begins to rise and fall and the investigators immediately step in, led by French exchange student - er, policeman - Lino Ventura, a result of French money part-funding the movie with Lord Lew Grade's ITC. Having conquered television, Grade wished to expand into the silver screen, but this proved more of a hardship than he anticipated, with occasional hits like The Muppet Movie weighed against a bunch of flops like Raise the Titanic! and The Legend of the Lone Ranger, eventually overwhelming his big dreams for good.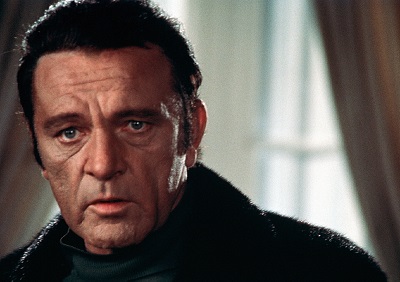 The Medusa Touch suffered the ignominy of Roger Ebert choosing it as the worst picture of 1978 on his widely-seen TV show with Gene Siskel (he picked another Burton effort, The Wild Geese), singling out the sequence where the jetliner crashes into a building as completely ridiculous. Needless to say, post-2001, it doesn't come across as quite so ridiculous, but it wasn't psychic powers that took down the World Trade Center. That was the hook, Burton's supernatural abilities that he uses to cause death and destruction, almost against his will, though before his character (Morlar - what a name!) becomes a bestselling writer, he was a lawyer and we see him cementing his edgelord status by claiming during a trial the Imperial War Museum should be demolished thanks to its celebration of horror.

Lee Remick was Morlar's psychiatrist who delivers information piecemeal as he lies in a coma in hospital to fill in the gaps of his life: there were plenty of flashbacks here, which you feel could have been better incorporated into its plot, but one supposes director Jack Gold wanted to start slowly and gradually ramp up the tension. As Morlar's reminiscences of murdering his parents with a runaway car or his schoolmaster in a conflagration mount up, Ventura realises there's a bit of a problem with the charity do for a London cathedral the Queen will be attending: the whole building could collapse at any moment! And Morlar just needs to give it a psychic push to do so! Can Lino stop him in time? Given the deliberate presence of Remick whose The Omen had made the bleak ending something of a staple in seventies horror, eh, don't bet on it. One likes to think Windscale nuclear power plant changed its name because of The Medusa Touch - Morlar! *shakes fist*

Next, the intermission where the management tried to persuade the patrons to spend a bit of cash on food and drink: the snacks on offer here include hot dogs, ice cream, Kia-Ora orange squash, and er, how about some nuts? The other ads included a product not advertised anymore, as cigarettes are flogged to make them look sophisticated: just one line about them seriously damaging your health is featured. More attractively, Debbie Harry shows up to shill for Top Shop in a variety of colours, then we had a preview of coming attractions when Revenge and Assault were offered on their own double bill of grim, sketchy thrillers. Once you had your comestibles, on with the show.

Said show being Hawk the Slayer, the notorious fantasy would-be epic that was widely derided for years among the adults, but appreciated by the kids, and when those kids grew up it attained its status of cult movie. There was a famous joke about it delivered by Bill Bailey on nineties sitcom Spaced, of course, but viewers had been making their own jokes about director Terry Marcel's efforts for years beforehand and would continue to do so for years afterwards. Some identified this as a cash-in on the Star Wars craze, and it's true it would not have given The Empire Strikes Back any sleepless nights, having been snuck out on the lower half of its own double bill.




Troubled production Saturn 3 was the recipient of that support, and it's debatable whether the Kirk Douglas in space item (itself part Star Wars, part Alien) would have had a better reception than the Dungeons and Dragons game come to life that was Hawk (John Terry) and his chums. It must have smarted for Marcel and co-creator, composer Harry Robertson, that this wasn't given the push they obviously thought it deserved, despite some pre-release publicity that drummed up a degree of anticipation. While not making much of a splash back in 1980, the movie did pick up interest on home video, and a mid-eighties television broadcast garnered quite a bit of the limelight.

Certainly, the nation's schoolboys were impressed if they had stayed up to watch it ("Did you see the bit where the guy got his head crushed by the hammer?!"), and the cult of Hawk the Slayer was well underway. As for the film itself, it shared a common thread with The Medusa Touch in that it offered a few days' work for a collection of British thespians: Harry Andrews was in both, but here you had Carry On star Bernard Bresslaw as a giant, The Rocky Horror Picture Show star Patricia Quinn as a witch, Roy Kinnear as an innkeeper, Annette Crosbie as an abbess, Patrick Magee as a cult leader (possibly the cult for this movie), Ferdy Mayne as the ill-fated father to Hawk, video nasty star Catriona McColl as Hawk's lost love in flashbacks, and more. But one player in particular stole the acting honours.

Or should we say, the overacting honours? Step forward Jack Palance as the baddie, Hawk's overage brother (or grandad) Voltan who was our Darth Vader, in effect. He chewed the scenery with great aplomb, roaring his lines like a man possessed, and generally prompting much of the indulgent laughter from the audience, not least because the showdown we have been looking forward to all film lasts less than a minute. With priceless dialogue like "Silence, scum!" and "I would rather eat cow dung" there was a certain self-seriousness about Hawk the Slayer and its adventures lending itself to lampooning, but few fantasy flicks were as fun to watch with friends than this, whatever you thought of its overall quality. Marcel obviously wanted to spawn his own franchise, a very eighties ambition, but never quite got it off the ground; despite being open for a sequel at the end, the giant, the witch, the dwarf and the elf were never seen again. No, don't shed a tear, after all Bresslaw's giant kind of was, because he was in Krull - but that's another story.

These double bills are a nostalgic in the right way rendition of the sort of evenings out of yesteryear that so many Brits would experience, and as the prints of the films are pristine, reminiscent of what they would be like to watch as new. Click here to join the Network website.