Bruce Forsyth (1928-2017) was the British King of Light Entertainment for decades, from his first hit television show Sunday Night at the London Palladium in the nineteen-fifties to his last triumph, the runaway success Strictly Come Dancing fifty years later. He had his ups and downs as his fame waxed and waned, but he was one of the most famous men in the country for most of his adult life, and one of those hit programmes he starred in was the self-explanatory The Bruce Forsyth Show, starting in 1965 on ABC, an ITV region that dominated the airwaves for much of the sixties. Ten episodes of the series survive in the archive, and Network have released them all on DVD.

First on Disc One is the Christmas special from 1965, which made no mention of the festive season and stuck with the variety format that would serve Forsyth so well throughout his career. His special guest was Cilla Black, the Liverpudlian songstress who became well known when she came to prominence as an associate of The Beatles, so naturally she sings Paul McCartney's Yesterday. Also on the bill were Miriam Karlin doing a sketch with dogs, Francis Matthews doing a drunk act with Bruce where a broken prop gets the biggest laugh, and Jack Douglas in that old favourite, the orchestra skit. Bruce sings, dances, and offers a revised version of The Girl from Ipanema.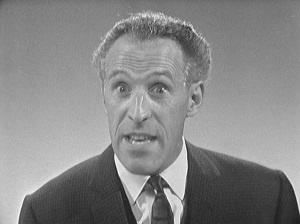 Second, we skip forward to the Summer of 1966, August to be precise, for a run of shows, the first starting off with Bruce anticipating comedy series The Goes Wrong Show as his opening fails spectacularly. The special guests were Hollywood star Douglas Fairbanks Jr (they do a Corsican Brothers spoof) and Tom Jones (good value in sketches and songs), all arranged in typical style of a variety show of the day, and probably most remembered as the structure of The Morecambe and Wise Show - not coincidentally, Forsyth's writers were Sid Green and Dick Hills, who performed that function on Eric and Ernie's earlier television excursions. Lionel Blair also had a look-in this episode.

In the third episode, his two guests here are Tommy Cooper and Dudley Moore, two comic talents who were as instantly recognisable to audiences of the day as Brucie was, and this has survived very well, with some very big laughs at their antics, with much mileage gained by the disparity in height between the tiny Dudley and the towering Tommy. Moore got to perform one of his jazz tunes as part of his trio as well, the other string to his bow - Forsyth was often wont to join in with guests as he was no mean piano player himself, though leaves Moore to get on with it - in a good show for all concerned, definitely a highlight of the series, with the breakfast sketch probably the best part.

Come the end of August, fourth on the disc the mood was a little bit down after that by comparison, for the audience did not sound as if they were quite as into the material as they had been on previous shows, no matter that they were shouting "More!" as the end credits rolled (that may have been the crew). The guests here were two singers, Kathy Kirby, whose big hit, a cover of Doris Day's Secret Love, was referenced but not performed, and Ronnie Carroll, who unlike Kathy was able to play in a sketch with Bruce as he played the untidy foil to the host's neatness freak as they shared an apartment. More dancing ensued, regular partner Aleta Morrison returning for a semi-comedic bit.

September began with a visit from comedian Frankie Howerd, at the time enjoying his sixties revival, though it should be noted not all of this episode survives, as parts of the first segment (of a fifty-minute show) are now lost, depriving us of some Brucie and Frankie banter. Judging by what remains, this was among the best of the run as they portrayed excellent comedic rivalry translating into very funny routines, thanks to Howerd's constant digressions: he messes up the soliloquy from Hamlet, The Beatles; Yesterday, and Forsyth's travel routine with other guest star Julie Rogers, who treats us to a cover of Somewhere from West Side Story. What we have is good enough, however.

Next up, a complete episode, as light character actor Michael Medwin (who, like Morrison, died in 2020) joined the show for a few bits of business, though the main interest came from the other guest, the British blonde bombshell Diana Dors. She did some singing too, and could carry a tune, rest assured, but was obviously having most fun with the comedy, specifically a very messy sketch in a restaurant where all three ended up covered in food like in Crackerjack or something, and a golfing sketch (it was Bruce Forsyth's show, of course there was a golfing sketch) where she was a dumb blonde starlet (Diana was a smart blonde) who didn't know one end of the club from another.


The last episode in series one saw the entertainer proclaimed as one of the nicest men in showbiz, as well as one of the most multitalented, as the sole special guest, as if with someone with such a wide range as him didn't need anyone additional. Roy Castle was that man, latterly identified with the long-running children's show Record Breakers, but in the sixties plying his trade across British variety as he did here, singing, dancing, telling jokes and playing a bunch of musical instruments. It was testament to Bruce that he was not overshadowed on his own programme, and his persona saw to it that he was always going to be in charge (one of his early catchphrases), but Roy was excellent.

Onto the 1967 series, of which three episodes endure. The guests on the first example was one time Goon and by this time one of the biggest-selling singers of the sixties in the United Kingdom, Harry Secombe, a curious mix of absolute goofball comedian and completely sincere purveyor of light opera. We saw both sides of his persona here, as he acted the goat with Bruce in sketches including a psychiatric check-up and the climactic Student Prince nonsense that saw our host in drag as a serving wench, getting drenched with mugs of beer thrown in his direction. The other guest, musical too, was Julie Rogers again, but you'd be forgiven for forgetting she was there, with Secombe about.

September '67 saw Dudley Moore return to the show, and the mix was much as before, except Green and Hills' gags were perhaps a shade cruder than his previous appearance - and there was no Tommy Cooper to bounce off this time. Moore had time to demonstrate his mastery of the piano, both with his trio and in a comic duet, back to back with Forsyth, but it was the sketches you may be left with, including a strangely off-colour one where they played MPs visiting a strip club, not that we saw any nudity, yet the show appeared to be seeing how far it could go with risqué material for a family audience. Fortunately, fellow guest Anita Harris was having none of that, and mostly trilled.

The final surviving instalment was also the last of 1967, where eccentric comedy (and sometimes dramatic) actress Beryl Reid was the guest, enthusiastically indulging in banter and sketches with Bruce, who she had recently appeared with in flop Julie Andrews movie Star! Presumably that's why she was invited on, but also present were Engelbert Humperdinck (for a single song) and the now-forgotten crooning trio The King Brothers (who were given a lot more to do), along with celebrity duo The Graham Twins, who never really caught on. You'll notice Lionel Blair was getting more and more to do as the series went on, but we were never in any doubt that Brucie was the main star.

As an extra, a thirteen-minute clip of that year's Christmas Special with Frankie Howerd, an amateur recording by someone who was evidently a big fan of Anita Harris, who performs two festive tunes. The only other thing on this extract was a spoof of University Challenge that looked suspiciously like the one from eighties sitcom The Young Ones, including the interaction from above and below by the teams, on the split screen. This may overall have been a typical variety show of the sixties, but any Bruce Forsyth was worth preserving, and he was at his best here in one of the most impressive careers in British showbiz. Plus you get to enjoy him send up Thunderbirds with Harry Secombe - you don't see that every day.

[Click here to buy from the Network website.]