Should you happen to watch the 1963 pop musical What a Crazy World, keep an eye on one of the supporting actors, the short, rather angular, dark-haired chap who is part of star Joe Brown's coterie. He is Alan Klein, and not really a bit part actor, but a musician and songwriter, it was he who wrote the songs for this film - he also went on to record a solo album the following year that would prove to be highly influential in ways he would never have expected. But what was What a Crazy World, anyway, what was its provenance?

It actually began life as a stage musical from Joan Littlewood's legendary London Theatre Workshop, a company designed to foster new talent and drag the theatre world kicking and screaming into the modern world. Oh! What a Lovely War was one of their biggest productions and typical of its aims, taking a hard look at Britain through the mindset of the younger generation and being both critical and celebratory, after a fashion. But a bigger influence on this little item was Lionel Bart's 1960 musical Fings Ain't What They Used to Be.

Though it was not universally praised by any means, it energised the lives of the young as lived by those emerging from the fifties with a taste for rebellion, the sort of attitude that would eschew National Service and forget rationing and want to take the bull by the horns and life by the scruff of the neck, no matter that, as we saw here, they were being painted as layabouts by the older generation. Max Bygraves had a hit with the Fings title song, albeit with altered lyrics to ensure it was played on the radio, and it sparked something.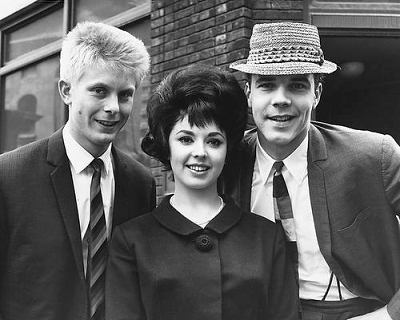 Certainly it did in Klein, encouraged by Brown, who penned a new musical shortly after very much in Bart's mould, it is no coincidence that Brown, as an aspiring songwriter not a million miles away from Klein's experience, you would wager, is compared to Bart halfway through the film once his ambitions begin to be realised. By the point What a Crazy World was released, Bart had staged his Dickens adaptation Oliver! and the world was his oyster for a while, crazy or otherwise, but Klein never really had that success to fall back on. However, while the play was not revived, the film of his efforts was, and subsequently gathered a cult following.

1963, culturally anyway, was owned by The Beatles in Britain, and their brand of pop was what everyone was supposed to be emulating at that point, but in practice this was not necessarily the case. You can hear a strong example of the way pop music would have headed from the songs here, chirpy knees-ups in the main, but with a bite to the lyrics that demonstrated more social awareness than anything the Fab Four were trying at that time. Freddie and the Dreamers are guest artistes in the film, leaning heavily on the novelty ephemera side of the cultural divide, another indication of where the medium could have progressed to.

Their main number, which the cast stage a dance to, is a nagging, catchy little tune that both shows off how incredibly uncool they would become within a short amount of time (even to nowadays), but also why they appealed at this time: patrons simply wanted a fun night out to dance at, have a laugh, nothing more complex than that. The film both sends up these limited aspirations and asks, well, what's wrong with this, anyway? Aren't people allowed to forget their troubles for a while? That this evening ends in a "handsome punch-up" also exhibits a satirical angle on the youth's idea of what constitutes entertainment.

Though the music renders this artificial, it is a kidding staginess that brings its observations on the subject into sharper relief, and Klein's tunes are, in the main, well-constructed little slices of life put across in largely broad Cockney accents. Only Brown's love interest Susan Maughan lets the side down with an obvious County Durham accent, though she sounds dubbed in post-production to have a go at East End London cadences, if indeed that is her voice; she certainly sounds as if she is singing the songs she is given, including a ballad mimed to on the banks of the Thames - still in the city, but assuredly next to the river.




Brown, one of the most respected guitarists of his era, sustained his celebrity with television appearances and concerts for decades later, Marty Wilde did the same and mentored daughter Kim Wilde, even Maughan, really a one-hit wonder with Bobby's Girl, enjoyed a long career in cabaret, but films were not really their forte, and once A Hard Day's Night was a blockbuster around the world there were few tries at returning to the "realistic" style of What a Crazy World that Klein had such a flair for, though interesting efforts continued to be made: for instance, Herman's Hermits Mrs Brown You've Got a Lovely Daughter was a hark back to the Klein model as witnessed in this piece.

But Klein would have most success as the lead vocalist for The New Vaudeville Band, rather unfairly tagged as a rip-off of the more surreal Bonzo Dog Doo-Dah Band for some, writing and performing with them for the rest of the sixties. This left his obscure in its day 1964 album Well at Least It's British, which contains strong echoes of his songs for What a Crazy World, that observational, unpretentious approach both affecting the way David Bowie would be writing and performing (they both owed something to Anthony Newley, to be fair, and for Klein even Bernard Cribbins' work with George Martin) and rediscovered by Damon Albarn for Blur in the nineties when he looked for inspiration for the massive Modern Life is Rubbish and Parklife albums, kicking off Britpop.

Klein also released singles as a solo artist for the first half of the sixties (including a withering parody of Barry McGuire's Hell in a handbasket hit Eve of Destruction entitled Age of Corruption that brought legal trouble), but it is that album which will be his legacy, as they just don't make films like What a Crazy World anymore. On the album, as in the film soundtrack, Klein's sarky, spiky but amusing songs were not quite novelty records, more a wry take on his working class background, with I Wanna Be a Beatnik and Twentieth Century Englishman perfect encapsulations of his parodic, sharp-witted methods, and The Birds and the Bees more gentle in its tale of a boy having "the talk" with his dad but educating his old man instead.

Sadly, the album sank with barely a trace. Klein credited music hall as an inspiration, something identifiably British, though the front cover of him standing amidst a rubbish tip on a bombsite was a statement that he had mixed feelings about his homeland, if some affection. He said he was emulating George Formby on the song that Brown recorded and triggered the original musical, and that suited Brown too, a performer never too far away from the sound of Bow Bells as far as his touchstones and faith towards his roots went. Led Zeppelin hero Jimmy Page played guitar on Klein's solo album, but funnily enough it is more respect for Klein that has made it endure, especially after its reissue in 2008 which made many music fans sit up and take notice. As for Klein, he returned to theatre, but he left a legacy of at least two artifacts that sum up British life in the early sixties as well as any newsreel.

[What a Crazy World is released on Blu-ray by Network as part of their The British Film line, in pristine quality. The trailer and an image gallery are the extras. Click here to buy from the Network website.]