Cambridge Footlights has a lot to answer for, in terms of British comedy, though not necessarily in a bad way. If that student revue had not existed, many top talents would never had been allowed to blossom in the realm of humour, and the most celebrated teams to emerge from their endeavours is Monty Python's Flying Circus, which began life on the BBC in 1969. However, those gentlemen did not go straight from university to that television series, there were stops in between, which brings us to two programmes on ITV, At Last The 1948 Show and Do Not Adjust Your Set, whose personnel were combined to create Python.


At Last The 1948 Show was the one for the grown-ups, and Do Not Adjust Your Set for the children, although notoriously the audience probably numbered more adults, which left its players hankering to have their programme promoted to the evenings. In 1948, a team of four comics performed sketches on various subjects that would appear very familiar to those who were more accustomed to Python, indeed some of those sketches were used again, both on Python's various media and in other programmes as well - The Two Ronnies were recipients of a little material in those content-hungry days of sixties and seventies television.

1948 featured John Cleese and Graham Chapman from Python, with Marty Feldman, who would go onto his own hit series and Hollywood success, and Tim Brooke-Taylor, who would graduate to long-running, anything goes comedy series The Goodies. Performing the links between sketches was The Lovely Aimi MacDonald, whose chirpily inscrutable self-promotion was the main running gag, though she rarely appeared alongside the quartet of men; nevertheless, she was more prominent in this than most women in Python. Eagle eyes would also spot the likes of Barry Cryer, Bill Oddie and Eric Idle hoving into view as supporting players.

There were two series of 1948, one in 1967 and the second in 1968, and though the team were frequently frustrated with niggles like their time slot or what they were allowed to present as humour, this was an early success for David Frost's Paradine productions: some of the personnel had worked on his groundbreaking satire show The Frost Report - one, Ronnie Corbett, actually had the last lines of the final episode of this. The first series was probably the funniest, as you could practically feel the enthusiasm the cast had for being on television and required to be as ridiculous as possible, and series two flagged a little.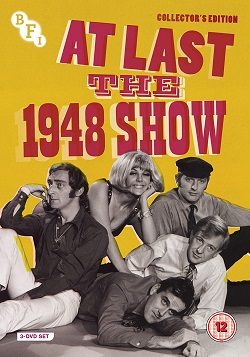 Despite that, they did find a second wind in the latter half's episodes, including what would be the most celebrated sketch, The Four Yorkshiremen, in which the quartet affected Northern accents in an attempt to outdo one another on how impoverished their childhoods were, taking them to preposterous degrees. In the first run, there were gems as well, not least the undercover constables skit where they dressed up as women to nab crims and the cast were unable to stop themselves cracking up, their mirth being infectious. You could definitely discern the format for Python here, most often in the subject matters they took.

Therefore there was a lot of Cleese behind a desk as a presenter, sketches about various institutions like the Church, the aforementioned police, the judicial system, politicians, chartered accountancy (the other main running gag), and even television itself, all not exactly skewered with satirical barbs, more sent up in an air of goodnatured lunacy: Python was not always so soft on its targets (though Brooke-Taylor's Simon Dee impersonation was not exactly affectionate). I'm Sorry I'll Read That Again was running on the radio with, again, some of the same cast and writers, and 1948 was very much in that anarchic, even ramshackle spirit.

Meanwhile, also at Rediffusion, there was a show being made for broadcast in the afternoons, also with a self-consciously wacky title: Do Not Adjust Your Set. Time has been kinder to At Last the 1948 Show, however, not in terms of quality, but in terms of how much of the programmes we can see at this remove. More or less all of Set was wiped and had to be recovered from various locations, though this still left some of series one and almost all of the second series gone, seemingly forever (wouldn't this be the sort of thing Bob Monkhouse would have been obsessively cataloguing? Apparently not). Thus it can be a little more difficult to judge.


There are audio recordings of the last few episodes, but Set was a very visual show that depended on being seen with its child-friendly slapstick and, in that second series, the addition of Terry Gilliam's animations which would become such a vital part of Monty Python the following year. All we have of those is his Christmas card special and two elephant-based skits, rather excellent which may make the dedicated comedy fan lament children's television was so often the medium that faced the big magnets rather that being preserved for posterity. Nevertheless, Set is a beloved example of innovations possible in that style.

Its main cast featured three soon-to-be Pythons, Michael Palin, Eric Idle and Terry Jones, who took care of most of the scripting; they were all from university revues and that could show in their material, though not to its detriment. The other two were soon to be television megastar David Jason and Denise Coffey, who would be a mainstay of television and radio comedy for decades after, though never as famous as her co-stars, such was the fate of many a woman in the humour business at that time. They would collaborate on the programme's breakout serial, Captain Fantastic (was Elton John a fan?), a superhero spoof.

If there's one thing guaranteed to get kids interested in comedy, it's a superhero spoof (see Bananaman some years later), and Captain Fantastic worked like a dream - listen to the cheers that go up when it begins in the later episodes, demonstrating how it had established itself as a firm favourite. Jason would play the title role, an unassuming chap in bowler hat and overcoat, forever battling against Mrs Black (Coffey), "the most evil woman in the world!" which in effect meant silent comedy sketches with an anything goes (within the budget) air, and pitting our hero against a giant magnet (appropriate!), Blip Men or time warps.


But there was one other aspect that brought in a hipper crowd, and they were The Bonzo Dog Doo-Dah Band, Vivian Stanshall, Neil Innes and the rest, providing musical interludes and general messing about in the background. So dedicated to being strange were they that they could be oddly unnerving, take the performance of Look Out There's a Monster Coming, already an unsettling song but here in blackface more Papa Lazarou than The Black and White Minstrel Show. Yet they were so patently talented that they slotted in perfectly with the hit or miss zany gags the quintet of leads was conjuring up for an increasingly grown-up audience.

Jason was justifiably proud of Captain Fantastic, and the other male performers were phoned up by John Cleese after the end of the second series to ask if they would be interested in working with him and Graham Chapman on Monty Python's Flying Circus, so that was that for both Set and 1948, though Marty Feldman would go on to Hollywood and Tim Brooke-Taylor of course joined The Goodies for the rest of the seventies, but don't think of these two efforts as a footnote, as certainly you can see the nascent form of the comedy they all would progress to, but there was enough funny here to more than justify them being resurrected, and not solely for the humour historians, either. You can feel the energy of two groups of young stars growing excited about the potential they have to really shake things up, while sharing enough with the past to remain fascinating now.

[Both these series, or what survives of them, have been released on Collector's Edition DVD sets by the BFI. Feast your eyes on these extras:

At Last the 1948 Show

Something About the Year 1948 (2019, 32 mins): John Cleese on working with Humphrey Barclay, David Frost and Graham Chapman, At Last The 1948 Show and the path to Python
We Just Wanted to Be Silly (2019, 38 mins): Tim Brooke-Taylor recalls his comedy influences and the making of At Last The 1948 Show
John Cleese in Conversation (2006, 36 mins): John Cleese joins comedy historian Dick Fiddy at BFI Southbank to reflect on At Last The 1948 Show
Reconstructing At Last The 1948 Show (2000, 44 mins, audio): the BFI's Steve Bryant in discussion with Aimi MacDonald, Tim Brooke-Taylor and audiophile Ray Frensham
John Cleese Introduces At Last The 1948 Show (2003, 2 mins): an introduction recorded for the BFI's Missing Believed Wiped event
At Last It's Dee Time (1967, 12 mins, audio): the At Last The 1948 Show team's unruly guest appearance on the BBC chat show
Now and Then: Marty Feldman (1968, 26 mins): Feldman discusses the nature of comedy in this unedited interview, shot for a never-broadcast Bernard Braden documentary series
The Humphrey Barclay Scrapbook: rare photos and drawings from the legendary TV producer's personal archive
At Last Some Pictures: image gallery of promotional material
Reproductions of two scripts for the incomplete episodes
Illustrated booklet with Not Quite 500 Words by Tim Brooke-Taylor, Steve Bryant's account of recovering and restoring the programmes and a look at the show's place in comedy history by the BFI's Dick Fiddy, plus episode notes with transmission dates and credits

Do Not Adjust Your Set

Features five episodes never before released on DVD including the long-thought-lost Boxing Day pilot episode, the recently-recovered Series 1 Episode 4, the Summer-Special Special Edition, the full-length Do Not Adjust Your Stocking Christmas Special and the only fully-existent show from Series 2: episode 2
Putting Strange Things Together (2019, 33 mins): Michael Palin recalls his early TV days, including Do Not Adjust Your Set
We Just Want You to Invent the Show (2019, 34 mins): Humphrey Barclay on his comedy career from Footlights to Rediffusion
The Uninvited Guest Star (2019, 5 mins): Tim Brooke-Taylor on his Do Not Adjust Your Set appearance
The Funniest Thing on English Television (2019, 7 mins): John Cleese reflects on the show's impact
Bonzos on the Box (2018, 60 mins): new feature-length documentary on The Bonzo Dog Doo-Dah Band featuring Neil Innes, Rodney Slater, Roger Ruskin-Spear and 'Legs' Larry Smith
The Doo-Dah Discotheque (2019): a Bonzo video jukebox
The Intro and the Outro (2018, 2 mins): a newly filmed introduction by Neil Innes
The Christmas Card (1968, 3 mins); Beware of the Elephants (1968, 3 mins); Learning to Live With an Elephant (1968, 4 mins): animations by Terry Gilliam, newly scanned from his own 35mm film masters
Lost Listens (1969, audio): rare sound-only excerpts from missing Thames episodes
Do Not Adjust Your Scripts: reproductions of scripts from missing Rediffusion episodes
The Humphrey Barclay Scrapbook: photos, cuttings and drawings from the legendary producer's personal archive
Illustrated booklet with an introduction by Michael Palin, an exclusive interview with David Jason, new contributions from Humphrey Barclay, Neil Innes, 'Legs' Larry Smith and Kaleidoscope's Chris Perry, plus essay and episode guides by the BFI's Vic Pratt, comedy context by Dick Fiddy and musical notes by The Doo-Dah Diaries' David Christie.]