With Avengers: Endgame completing one phase of the Marvel Cinematic Universe and subsequently becoming the most successful film of all time (not adjusted for inflation), it seemed the erstwhile comics publisher turned blockbuster creator were sitting on top of the world. But despite the impression, it had not necessarily been the smoothest of rides to get there, for while most of what appeared in the MCU had been a licence to print money, its other properties could struggle: take the debacle of 20th Century Fox's X-Men: Dark Phoenix which was a major flop around the same time as its bigger brother's runaway success.

With Fox bought by Disney, who owned the MCU along with other franchises such as Star Wars and were basically propping up the world box office in 2019, the hopes among fans were that the X-Men characters would be brought into that fold, but it appeared Disney had no great plans to do so. This followed another comic series which Fox had tried to make into a world-beating franchise, The Fantastic Four, the quartet of superheroes who had been filmed in 2007 with a fairly popular, though just as derided, couple of movies. The 2015 attempt to reboot them with new cast members, on the other hand, had been a disaster.


The trigger for this had apparently been Human Torch Chris Evans taking up the mantle of Captain America in the MCU and therefore unavailable for reprising his former superheroics, but he did not get the blame, a certain Josh Trank suffered that indignity. He was the director who had made the low budget Chronicle a hit with his debut, and it was evident Marvel had high hopes when they hired him for Fantastic 4, but that soured awfully quickly, and after Trank had turned in his final cut, they set about re-editing it and reshooting parts to make it more of a piece with their corporate template. But that was not all - did they want the film to fail?

Strange things were afoot with Fantastic 4 2015, as stories were leaked to the press about Trank's bizarre behaviour, from simply being uncommunicative and not lucid in his vision, to weird tales of hiring a house for his army of dogs which caused thousands of dollars of damage to the abode. How much of this was accurate was hard to say: Trank himself had either been contractually obliged to say nothing, or really did want to say nothing, but suspicions were raised that, like Edgar Wright around the same time, if you did not toe the Marvel line you suffered dire consequences; it took half a decade for Trank to direct anything else.

Whatever the truth of those rumours (did Trank really get into a fistfight with his Mr Fantastic, Miles Teller?!), the one about the director having no clarity of vision was more dubious if you watched the first half of what was eventually released a year after the original cut was sat on. That opening three quarters of an hour or so was a radical reimagining of the superhero team, and actually pretty compelling as its chief influence was David Cronenberg's nineteen-eighties body horror classic The Fly, with the traditional cosmic rays on a spaceflight replaced by a teleporting experiment gone horribly wrong, much as had befallen Jeff Goldblum.

It was the second half where things began to fall apart, or rather come together in a far more conventional manner. And also, it was a more rote superhero effort that you would expect from the more conservative end of the Marvel Empire (or indeed the Disney Empire), as they did not want an R-rated movie - remember this was before Deadpool surprised them by being a massive hit by being very violent and crude. Would Fantastic 4 have fared better if it had been made a couple of years later? It didn't matter, it would not have happened: Fox made the 2015 one to keep the rights to the characters, much as that Roger Corman cheapo nineties film had been.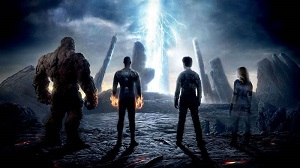 Still, you do have a kind of interesting failure with Fantastic 4, not a noble one, but you can see where it was aiming for even when it missed. The main trouble was, Trank and the team of rewriters had conjured up something that was not really a Fantastic Four movie, and it would have been better off as an original like Chronicle with fewer ties to Marvel. Miles Teller was nobody's idea of Mr Fantastic, Toby Kebbell was ditched for a man in a costume before he could make anything of Doctor Doom, and Michael B. Jordan, who Trank insisted on, drew the usual ire for casting an actor of colour in a role that had been white in the comics.

Not that anyone complained when Samuel L. Jackson took over the role of Nick Fury in the MCU, so the audience were selective about what rankled with them and what did not. Which brought us to Avengers: Endgame, where everything went so right for Marvel that went so wrong with Fantastic 4, as it made a billion dollars at the box office in its opening weekend, the first movie to ever do so. You could argue that Disney was just a Thanos-sized commercial juggernaut that they were able to buy up most of the screens across the globe, of course, thereby ensuring that audiences did not have a huge choice of what to see when it was released.

But the Marvel fans were, by and large, satisfied, many proclaiming the entire MCU started with Iron Man back in 2008 to be the greatest franchise of all time, if it were necessary to proclaim such a thing. What it had to do was justify its enormous success with a scale and spectacle never before attempted, with Endgame and its immediate predecessor Infinity War essentially one near-six hour long movie, unless you watch the first one and were perfectly happy that Thanos had succeeded so had no great desire to see him get his comeuppance. But who were they kidding? Anyone who had watched Infinity War needed to see this, and they did.

In Fantastic 4, the company were keen to emphasise the theme of family, but did so in the final edit in only the most obvious and even facile manner: the quartet are a de facto family, with Sue Storm (Kate Mara) adopted into the family of Johnny Storm (Jordan, who would make a better impression in an actual MCU film, Black Panther). In Endgame, they gave this another try, it was evidently a pet theme of theirs carried over from their Disney obsession with crafting entertainment for family audiences, but the screenplay from Christopher Markus and Stephen McFeely was able to handle it in a more resonant fashion than "Yeah, I'm related to people. Better stick up for them."


Every family has to face death eventually, so Endgame created a fantasy where death was not necessarily a barrier to spending more time with your loved ones, or so much as glimpsing them in the flesh one more time. The cameos running through the piece demonstrated this was a "movie movie" in that it films were time machines in themselves: no matter if you were entertained or not, they could bring the past back in real time so you could see people as they used to be, even restoring them to talking and walking life in a way that no other medium except television could, and the MCU owed a lot to the small screen with its serial-like instalments.

You could argue all that was somewhat lost in the melee of 'splosions and punching, but the reason these efforts endured with the public was not so much the spectacle and PG-13 violence, more the characters who they genuinely liked. Harking back to television, with a tweak or two they could have been sitcoms had they increased the deliberate humour with a plethora of gags, the difference being in Endgame that they wanted to make the viewer cry as well. This depended on how invested in the heroes they were, or indeed if they liked what they were doing with those characters: possibly to keep the stars sweet, it shied away from having them repeat their shtick.

Well, the original Avengers at any rate, the later additions such as Spider-Man (Tom Holland) or Captain Marvel (Brie Larson) appeared in rather less exposure as the plot too often resembled a box-ticking exercise to cram in as many of the actors from the twenty-odd other entries as possible. This was a double-edged sword, as while the fan service for featuring such an extensive cast did make it more inclusive, despite the three hour running time it was plain that not everyone was going to get their chance to shine quite in the way they deserved, though unexpected support came from previously sidelined players such as Karen Gillan or Jeremy Renner.

Still, given what the main heroes and villains got to do, it was remarkable that as many got that degree of activity even as the production took the concept of ensemble films to extremes not seen since Robert Altman was being offered carte blanche for his projects. If you had to be truly emotional about Marvel movies to get the most out of Endgame, and in light of their heavily corporate nature it was surprising so many did, you may wonder which, if any, would stand out once the dust settled. Fantastic 4 may well be remembered when Marvel did not want it to be, since it was such an embarrassment to them, yet it was distinctive in its awkward, stubborn fashion. The Russo Brothers directed Avengers: Endgame, company men both, in service to powerful producers like Kevin Feige, but would this be as dismissed as Avatar, previous biggest movie of all time, when it was eventually superseded? There were Avatar sequels to come…