In 1982 there arrived a film from Steven Spielberg that would quickly become the most successful of all time, replacing Star Wars at the top of the tree, though not for too long as it turned out. That was E.T. The Extra-Terrestrial, and it struck a chord in eighties kids across the globe as everyone wanted their own alien as a special friend (apart from the minority who were terrified at the prospect). This struck a chord in film studios as well, as they began to work out ways of tapping into those profit reserves by concocting their very own rip-offs of the little guy, or at least something along the same lines of the Melissa Mathison screenplay that was so hugely successful.

E.T. was befriended by a young boy called Elliot (Henry Thomas), so that would seem to be the ideal template, get a boy for your lead and have the weirdness happen to them, then sit back and rake in the financial benefits. Girls were not necessarily excluded - Elliot had a sister, Gertie (Drew Barrymore) after all, and she was important too - but their adventures were less science fiction and more fantasy, such as Fairuza Balk as a new Dorothy in Return to Oz or Jennifer Connelly in the Jim Henson project Labyrinth. The boys preferred something that could more theoretically happen, as aliens were real, weren't they?


Well, eighties kids liked the idea that there was contact to be made with the space brothers, which was where Flight of the Navigator entered into this lucrative subgenre. A Walt Disney production from 1986, it drew on that company's special effects and animation talent much as it had tried with Tron four years earlier, though that had failed to chime with an audience, so emulating Spielberg seemed a safer bet. Rather than one boy and his alien, this was one boy and his spaceship, not unlike The Last Starfighter from 1984 where Lance Guest was the teen spirited away by a computer game to fight in an intergalactic space war.

However, there was no violence to be found in Flight of the Navigator, as despite pitching this a little older, so there was the occasional, mild swear word in the dialogue, it was strictly aiming for a sense of wonder, dare we say, Spielbergian wonder, particularly in its opening half where mystery was the order of the day. Twelve-year-old David Freeman (Joey Cramer) was out fetching his bratty brother in the local forest when he falls and is knocked out. When he awakens, it is dark and he returns home to discover, wait a minute, his family do not live there anymore! Not only that, but he has been missing for the past eight years: it's not 1978 as he thought.

Nope, its 1986 and David has been missing, but has not grown any older in all that time. It's a killer premise worthy of the pages of your average UFO book or "strange thingies" publication, and for a good while director Randall Kleiser and his writing team sustain the tension when, as for Elliot, the government get involved and examine David, here in a research facility where a young Sarah Jessica Parker brings him his meals in a robot vehicle. He has a vast amount of knowledge placed in his brain by the aliens, and the authorities mean to draw it out, not exactly an appetising prospect for the kid who just wants to return to a normal life.

Therefore, like many a protagonist in this sort of movie, he must use his initiative to outwit the adults, from the kid who built a nuclear bomb in The Manhattan Project to the kid whose best friend is an actual robot in D.A.R.Y.L. (you're always stumbling over acronyms in these things), though curiously the film this most resembled was the flop Joe Dante effort Explorers. That had a trio of boys building their own spaceship and having a close encounter of the third kind, which had a similar tone: mystery build-up followed by a frankly goofy revelation about the nature of the otherworldly denizens which may or may not disappoint the audience.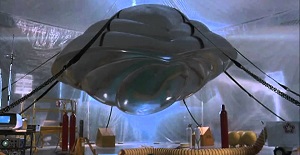 Certainly if your idea of a great space alien movie was 2001: A Space Odyssey or indeed Close Encounters of the Third Kind, which emphasise the enigma and the profundity of the unknown, you are not going to respond to David here singing The Beach Boys along with his spacecraft's onboard computer, especially when that computer is voiced by Pee Wee Herman himself, Paul Reubens (under the pseudonym Paul Mall), who begins all stern and by the book, then ends up wacky when he gets an infusion of his charge's pop culture-addled mind and throws around slang terms like they're going out of fashion. This at least anchors the film in its era.

However, if your idea of a classic eighties kiddie sci-fi flick is Mac and Me, which nicked the plot of E.T. The Extra-Terrestrial to sell unwitting younglings fast food and drinks with cynical abandon, or Juan Piquer Simon's Extra-Terrestrial Visitors which lifted the premise to turn it into an equally wrong-headed rip-off of Ridley Scott's Alien, then maybe you will have a higher tolerance for Flight of the Navigator which was almost akin to two films in one. They were both adventures, but Kleiser was well aware of the audience he was aiming at, and that was the traditional Disney one which meant no nastiness, no jolts, simply family-friendly silliness.

Contrast that with something like WarGames where teen hacker Matthew Broderick accidentally sets World War III in motion by asking a security computer to play "Global Thermonuclear War" with him and you had the other end of the eighties kid sci-fi spectrum, and that Cold War earnestness was present in material like spy story Cloak and Dagger as well. On television you were more likely to be watching cheap sitcoms with creepy robot V.I.C.I. on Small Wonder or Maureen Flanigan as a space girl basically using magic on Out of This World, though Britain at least had three series of John Wyndham's book Chocky, where a boy is contacted by an alien intelligence in a far more serious approach.

Mind you, this was nevertheless sincere in its intermittent tugs on the heartstrings, not quite Atreyu watching his horse die in The Neverending Story traumatic (OK, that was a fantasy, not a science fiction effort), but designed to bring a tear to the eye with the concept of the little boy lost taken to extremes. His parents and even that bratty brother have missed him terribly, so that Walt Disney belief that his entertainments should be a mix of happy and sad was in play here. That was lessened with later hits like Honey, I Shrunk the Kids from the end of the eighties, but that shows you how fast the culture was moving, and Flight of the Navigator was nowhere near as massively successful as watching miniaturised children battle their backyard would be. Yet David's excursion, no matter how crunching the gear changes it features, remains a cult favourite for those who caught it on television growing up.

[Second Sight release Flight of the Navigator on Blu-ray packed with features, as you can see here:

SPECIAL FEATURES:
Brand New Second Sight 4K Scan and Restoration supervised by Director Randal Kleiser
Directing the Navigator - New Interview With Randal Kleiser
Producing The Navigator - New interview with Dimitri Villard
Playing The Navigator - New interview with Joey Cramer
Mother of The Navigator - New interview with Veronica Cartwright
Brother of The Navigator - New interview with Matt Adler
From Concept to Creation: The Special Effects of Flight of the Navigator - New interviews with Jeff Kleiser, Randal Kleiser and Edward Eyth
Audio Commentary with Randal Kleiser and Producer Jonathan Sanger
Reversible sleeve with new and original artwork
Optional English subtitles for the hard of hearing

LIMITED EDITION CONTENTS:
Rigid slipcase with new artwork by Rich Davies
100 page soft cover book with Randal Kleiser's complete original storyboard, new essay by Kevin Lyons, original production notes, behind the scenes photos
Reversible poster with new and original artwork.]