Spider-Man was created in 1962 by artist Steve Ditko and writer Stan Lee, also the publisher of Marvel, who promoted his comic book characters wherever he could, though initially he was content with the page. However, with the thirst for television cartoons running away with itself in the nineteen-sixties, the character, along with selected other Marvel properties, was offered a boost when he secured his own toon for kids. To modern eyes, this was pretty basic stuff, compared to the more sophisticated animation served up for the more discerning viewer decades later, but it established Spidey as a superhero kids wanted to see.

Lee was always keen on expanding his empire as far as he could, and all his dreams would come true come 2008 when Iron Man was released and the Marvel Universe was well and truly underway, with anyone from Thor to Ant-Man securing their own franchise (though The Incredible Hulk stubbornly refused to take off as a solo draw). But it was a long, hard road to such recognition and global success, and there were more than a few bumps along the way, including when back in the seventies Marvel attempted to go one better than their cartoons and make family adventure and crime shows with their most celebrated heroes - arch-rivals DC would as well.

DC had the jump on them, for their sixties Batman series was, at the time, what many would think of when they thought of the erstwhile Dark Knight and indeed superheroes on television, but Marvel eschewed the camp to go in a more serious direction. DC had Wonder Woman in their arsenal in the seventies, a hit with every little girl who wanted to be Lynda Carter on the show, and every grown male who wanted to, er, get to know her better, but Marvel could not rely on the female interest among their stable of characters, since none of their female heroes was deemed famous or even recognisable enough for her own series. They did have the Hulk, however.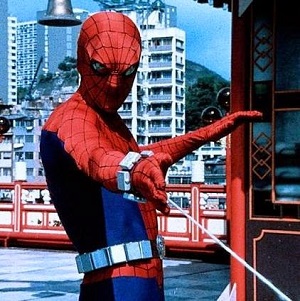 The Incredible Hulk started on TV in 1978 starring former sitcom star Bill Bixby in a more serious role inspired by the peripatetic format of sixties juggernaut The Fugitive, but that would not suit Spider-Man, who was also in development at the CBS station. What they did not want was a kind of monster/villain of the week show, in case viewers were reminded too strongly of the Adam West Batman, so the style they adopted was one of the hugely popular crime show, where Nicholas Hammond starred as Spider-Man, or Peter Parker anyway, as his alter-ego was more often a stuntman in the blue and red costume for fight scenes and building-climbing.

Now, although there was no successful format that seventies TV studios in the United States did not plough into the ground with repetition, maybe they would have been advised to take note of that kitschy Batman series, because it remains a hell of a lot more entertaining than what they conjured up here. You can happily watch episodes of contemporaries such as Columbo, Kojak or Starsky and Hutch even today and be entertained, but that was less thanks to any gimmicks and more down to charismatic leads and scripts that contained enough wit to prove their worth. There was none of that in the 1978 Spider-Man series - little wonder Lee was dissatisfied.

Since it had a relatively short run before being cancelled, certain episodes were recut into features, often for theatrical release, and even more often in Europe where TV movies were fairly often seen propping up the lower half of double bills in the seventies. The final Spider-Man two-parter landed this fate, titled Spider-Man: The Dragon's Challenge (or The Chinese Web, as it was also called) where it had the dubious honour of being possibly the most boring Spider-Man entertainment ever devised. Not even the location shooting in Hong Kong could lift what was a beyond dutiful plod through the most perfunctory superhero plot imaginable.

This decade never got over the death of Bruce Lee, so to complement the influx of kung fu imports flooding the grindhouses, the martial arts turned up in all media, including The Dragon's Challenge, though most would see it in 1981 when the cinemas were inflicted with it. The notion of Spidey in unarmed combat with a bunch of Bruce Lee clones sounded too good to be true, and so it was, as very little of the sort occurs in that vein, it was mostly a shallow detective yarn with Parker trying to clear the name of an Asian politician with the help of his daughter (Rosalind Chao). Any action was kept to a minimum to ensure costs were low.

The Dragon's Challenge was released on a double bill with the cartoonish Hal Needham Kirk Douglas comedy Western Cactus Jack, also known as The Villain, and while Kirk's tomfoolery was deemed top notch by the nation's kids, five minutes into the Spider-Man effort they were running up and down the aisles having been swiftly bored out of their tiny minds. Comparing it even to the generally not well received Andrew Garfield incarnation of the twenty-tens, and Hammond's interpretation falls utterly flat, with that cost-cutting evident in every shot, "Will this do?" writing and refashioning of the comics to render, for instance, J. Jonah Jameson as a kindly Spider-Man fan.

It was no wonder that comedian Kenny Everett saw fit to lampoon the seventies Spider-Man in his eighties television sketch show, where dressed up in the familiar costume he jumped into an office from outside the window to announce someone's flies were undone, or jumped into an office and farted as he struck a crouching pose Hammond's stuntmen tended to prefer, or most famously, plainly needed to relieve his bladder only to find that, on reaching the urinal, his costume had failed to incorporate any fly and, well, basically he pissed himself. Thus was the TV series supplanted in eighties Brit kids' minds by Cuddly Ken, oh, and the continuing run of cartoons.

Meanwhile, Stan Lee was keen as mustard to have his characters grace the big screen, but had trouble getting much off the ground (an attempt to film Spider-Man at Cannon floundered, just as well when you saw what they did to Superman), but once Blade, the tale of a half-vampire action hero, was a hit, it opened the floodgates for the superhero boom of the new millennium. Spidey took to the New York skyline in a trilogy from Sam Raimi with Tobey Maguire as the protagonist, but that faltered at part three, and Garfield was drafted in; that faltered too until Tom Holland starred as Parker in Spider-Man: Homecoming, and finally it seemed he was in safe hands.


This was Holland's interpretation as close to the comics as he had ever been, as he was now in the official, non-Sony Marvel Universe, but if you felt there remained steps to be taken to make the experience of watching a movie almost identical to reading a comic book, then 2018 had a lovely Christmas present for you. This was Spider-Man: Into the Spider-Verse, an animated endeavour corralled by Phil Lord and Christopher Miller, those founts of creativity who had a real knack with pop culture icons (which suffered a setback that same year when Solo: A Star Wars Adventure misfired after they were sacked from its production).

Thank goodness for Into the Spider-Verse, then, a work so inventive it was impossible to take it all in during one viewing. It centred on writer Brian Michael Bendis's conception of Spider-Man as a half-black, half Latino teen called Miles Morales (voiced by Shameik Moore) who in this telling was, like Parker, bitten by a radioactive spider, not realising one had sneaked through to his reality thanks to the villainous Kingpin (Liev Schreiber) messing around with a multiverse-uniting machine to bring his deceased wife and child back to this universe and cure his heartache. But then, this was a comic book world, and everyone had their own particular heartache.

Miles doesn't realise his until halfway through the plot, but his awkwardness was neatly crafted, from his embarrassment at the love of his cop father (wonderful work from Brian Tyree Henry) who only wants him to succeed, to his lack of experience around girls, which at his new school exhibits itself when he tries to get to know Gwen (Hailee Steinfeld), his newfound powers really not helping. This was such a carefully managed world that it was almost a shame there had to be epic battles just around the corner, since it would have satisfied just as well as an observational comedy along the lines of another 2018 movie, the cult favourite Eighth Grade.

However, with great power comes - ah, you've heard this one. To go into too much detail would not only spoil the surprises, but take too long, since there was so much detail involved, including such alternate Spider-folk as middle-aged and out of shape Peter B. Parker (Jake Johnson), Nazi-hunting Spider-Man Noir (Nicolas Cage!), comedy joke Spider-Ham and Peni Parker, an anime schoolgirl from the future with her own spider-robot. Not to mention Gwen has a trick or two up her sleeve as well. Lord said he wanted the viewer to imagine they could be the hero or heroine of their own world, and that was very much Lee's original sentiment too: be relatable.

Though sadly he passed away before Into the Spider-Verse was completed, and before Avengers: Endgame concluded as well, his presence in cameos nevertheless offered his blessings for his creations and all their morality and struggles with doing the right thing. Yet just as much was the moral that if you strive to do good, you may think you're walking a lonely path, was the lesson that there will be others trying just as hard, so you're not so alone as you believe. Quite a lot to take in, and far more than anything Nicholas Hammond had to contend with, demonstrating the worth of the defining blockbuster genre of the early twenty-first century as it fulfilled its potential to bring audiences together across the world, truly global, and crucially, truly inclusive. Stan Lee and Steve Ditko might just have been onto something with this superhero business...