Halloween, it is safe to say, was the movie that made John Carpenter's career, and once that slasher classic had been unleashed on the world there was great anticipation at what this new talent on the scene would do next. This was arriving in that mini-golden age for horror where a selection of new kids on the block, off the back of the Hollywood movie brats of the seventies, were making waves, and Carpenter decided he wanted to craft something a lot less intense, a lot more traditional, like a ghost story that could be appreciated by kids as well as the adults in the audience. The result was 1980's The Fog, but when he delivered his cut the production company were unhappy.


They wanted a terror rollercoaster like Halloween, and what they were offered was almost quaint in its callbacks to the traditional British ghost stories that had impressed him so much in his youth. So reshoots were ordered, both to extend the skimpy running time and to ramp up the violence, the consequence being that Carpenter was now releasing an R-rated shocker just as his previous hit had been. The studio was wise in that respect: had the director brought out something mild as a follow up to the Michael Myers on the rampage success, it is likely he would have been relegated to one hit wonder status and not gone onto a most creative nineteen-eighties.

The plot was simple enough to be related in a prologue with John Houseman spinning yarns around the campfire at five minutes to midnight (just time for one more story, he informs the spellbound kids listening). This was a late addition to the film, but a clever one in that it established the fun, shivery atmosphere where the characters may be terrorised, the audience may jump, but everyone was in on the joke and we all knew what we were here for, a fresh take on something that sounded like every scary story you had been told when you were a kid, urban myths or accounts of that frightening programme on television the previous night that you had missed because it was on past your bedtime.


The titular fog rolls into the coastal village of San Antonio carrying with it a group of zombies out for vengeance against the descendants of those who had wronged them when they were alive and looking for riches. We never get a good look at them, as Carpenter was using the power of suggestion, something he would eschew equally as effectively with his next horror, The Thing, but here added to the rich mood of the creeps as DJ Adrienne Barbeau (Mrs Carpenter at the time) tries to warn the townsfolk from her lighthouse studio. Thanks to Dean Cundey, this was one of the best-photographed horrors of its age which genuinely lent an air of quality to what was in fact a low budget enterprise. Its ensemble cast (Jamie Lee Curtis, her mother Janet Leigh, Tom Atkins and so on) added variety and unpredictability to what was satisfying in its simplicity.

After the failure of Big Trouble in Little China in 1986, Carpenter returned to independent filmmaking and Prince of Darkness was the first release of that move. Once again, it failed at the box office, as too many of his works tended to do, but such is the power of his name - a brand in itself - that it was guaranteed an audience would seek it out and appreciate it eventually. The critics were not kind to this exercise, but it has gone on to become one of the Carpenters with the strongest, if not the largest, of cult followings. It was back to horror for him, though there were elements of science fiction as well, to concoct a Lovecraftian style.


But perhaps more than Lovecraft, Carpenter was trying out a Nigel Kneale approach, as given away by his pseudonym for his screenplay, Martin Quatermass (Kneale's signature character had been Professor Bernard Quatermass). Carpenter displayed a great love for British culture, especially in the realms of horror and science fiction, and that love was absolutely reciprocated as British film buffs can't get enough of his movies, in particular his filmography from the seventies and eighties which seem to be part of a formative education in cinema for generations. In this, Donald Pleasence returned from Halloween to play the priest who uncovers a mystery in an old, abandoned church.

He and some quantum physics students and their tutor Victor Wong, along with various technicians, assemble in said church to investigate a set of texts and a strange cylinder of revolving liquid that have been uncovered there. What they initially refuse to accept, but we in the audience are fully on board with, is that there is a supernatural force at work that is planning for the end of the world, possibly the end of the universe, for that matter, and we are given hints as to what the bigger picture was without ever getting the entire perspective on what was actually going on. The problem with that for general audiences was that in 1987 they simply dismissed it because they did not understand it one bit.


Yet that lack of clarity was a strength of the film, rendering the conundrum of what had been unleashed on a grander scale than any special effects showcase could have illustrated by reducing the galaxies-wide vista to a single image, thereby disappointing anyone encouraging Prince of Darkness to blow their minds on at least a limited budget. Once the terrors began to take hold, we were really in Assault on Precinct 13 territory once again as a mass of homeless disciples of the Anti-God assemble outside and pick off anyone who tries to escape, as meanwhile inside the characters were infected by the Satanic liquid that was queasily sprayed directly into their mouths. Considering the means Carpenter had to go ahead with this project, it was his pleasingly unembellished methods that succeeded the best: the dream from the future a case in point.

The film he made directly after this has also gone to cult acclaim, though for rather more controversial reasons as its left wing, anti-capitalist and anti-materialist message was too adeptly applied to a plot that appealed to the conspiracy theorists out there, specifically the extreme right-wing ones. Carpenter, an avowed Hollywood liberal, was horrified to see They Live co-opted as a metaphor for the entirely false notion that the Jews were running the world, when in actual fact it was a scathing criticism of President Ronald Reagan's America, released mere days before the nation went to the polls to vote in... another Republican President.


So much for good intentions, but there's something about They Live that remains potent in the twenty-first century world of the paranoid where everyone seems to want to tell you they know who is controlling the planet, and there's nothing you can do about it. Well, according to the movie there is one thing, and that's use violence, therefore its nameless hero (wrestler Rowdy Roddy Piper) can be problematic when his solution to being kept under the heel of The Man is a rampage with automatic weapons. As that kind of murderous behaviour grew more prevalent across the United States, even the justified, fictitious bloodshed here took on a troubling appearance.

After all, the hero could have seen his mind snap by his dire circumstances and there's the chance we were watching the delusions of a madman, driven to hallucinate by the cruelties of a society that no longer cared a jot about him or millions like him: if you couldn't consume, couldn't make use of the money in circulation, then what use were you to the status quo? That was the not-so-subtle enquiry Carpenter made here, and dressed it up in a goofy set of trappings that were like something out of one of the most out there episodes of The Twilight Zone, complete with the aliens who are actually controlling things being seen in black and white and in deliberately cheesy skull-faced make-up; horror to some, daft to others.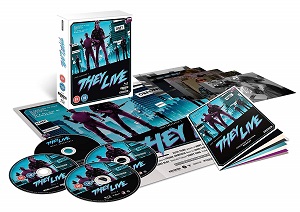 Piper used his wrestling experience for one of the film's most celebrated sequences as he tries to persuade new pal Keith David to put on the sunglasses the resistance have manufactured that will enable the wearer to view reality, as opposed to the lies the majority of the globe see, not understanding the media and products they buy, read, listen to and watch are actually telling them to "OBEY", "MARRY AND REPRODUCE" and "STAY ASLEEP". The battle it takes for David's similarly disadvantaged character to wake up to his situation was certainly amusing as the hand to hand combat sprawled over the course of five minutes plus screen time, but it was also a neat comparison for the infighting masses unwilling to acknowledge they are being screwed over by the super-rich, all in the name of keeping them under control and lining their pockets. They Live continues to fascinate.

[All three of the above titles have been restored in 4K by Studio Canal for Blu-ray releases. Soundtrack CDs, posters, art cards and books are included, and Escape from New York is having the same treatment.

Those extras in full:

The Fog
Retribution: Uncovering John Carpenter's THE FOG: A brand retrospective documentary produced by Ballyhoo Motion Pictures and featuring interviews with cinematographer Dean Cundey, production designer/editor Tommy Lee Wallace, photographer Kim Gottleib-Walker, make-up effects artist Steve Johnson, Carpenter biographer John Muir, music historian Daniel Schweiger, visual effects historian Justin Humphreys and assistant Larry Franco
The Shape of The Thing to Come: John Carpenter Un-filmed: A brand new featurette looking at the John Carpenter films that never were
Easter Egg - surprise!
Intro by John Carpenter - an interview with director John Carpenter originally recorded for a French DVD release in 2003
Scene Analysis by John Carpenter - Director John Carpenter analyses key scenes from The Fog, in an interview from 2003
Fear on Film: Inside the Fog (1980) - A vintage featurette which includes an interview with John Carpenter
The Fog: Storyboard to Film - original storyboards
Outtakes
TV Spots
Theatrical Trailers
Photo gallery incl. Behind the Scenes
Audio Commentary with writer/director John Carpenter and writer/director Debra Hill
Horror's Hallowed Grounds with Sean Clark - a fun tour of the film's locations hosted by Sean Clark
Audio commentary with actors Adrienne Barbeau, Tom Atkins and production designer Tommy Lee Wallace.

Prince of Darkness (which doesn't have the book, posters, etc)
Malevolent: Unearthing John Carpenter's PRINCE OF DARKNESS: A brand retrospective documentary produced by Ballyhoo Motion Pictures and featuring interviews with Cinematographer Gary Kibbe, actor Peter Jason, actor Alice Cooper, composer Alan Howarth, script supervisor Sandy King, visual effects supervisor Robert Grasmere, stunt coordinator Jeff Imada, Carpenter biographer John Muir, film historian C. Courtney Joyner, music historian Daniel Schweiger and Producer Larry Carpenters.
Intro by John Carpenter - an interview with director John Carpenter originally recorded for a French DVD release in 2003
Scene Analysis by John Carpenter - Director John Carpenter analyses key scenes from Prince of Darkness, in an interview from 2003
Audio commentary with John Carpenter and Peter Jason Sympathy for the Devil: Interview with John Carpenter - from 2013
Horror's Halloween Hallowed Grounds with Sean Clark - a fun tour of the film's locations hosted by Sean Clark
Trailer
Photo gallery incl. Behind the Scenes.

They Live
Subversion: Exposing John Carpenter's THEY LIVE - A brand retrospective documentary produced by Ballyhoo Motion Pictures and featuring interviews with Associate producer Sandy King, cinematographer Gary Kibbe, actor Peter Jason, actor Robert Grasmere, composer Alan Howarth, stunt coordinator/Ghoul Jeff Imada, author Jonathan Letham, music historian Daniel Schweiger, Blumhouse editor Rebekah McKendry, and visual effects historian Justin Humphreys.
Original EPK: The Making of They Live (1988) John Carpenter profile - vintage profile of the director
Meg Foster profile - vintage profile of the actress
Roddy Piper profile - vintage profile of the actor
Audio Commentary with John Carpenter & Roddy Piper Independent Thoughts with John Carpenter - a 2012 interview with director John Carpenter
Woman of Mystery: Interview with Meg Foster - a 2012 interview with actress Meg Foster
Man vs Aliens: Interview with Keith David - a 2012 interview with actor Keith David
Fake commercials in the film 2.34 mins TV spots Photo gallery.

I've no idea whether the 4K restoration and all these extras are any good or not because they only sent me the DVDs, but, eh, probably.

In addition, cinema screenings of The Fog will be held across Britain this Halloween 2018. Click here for details.]