One of the finest routines comedian Jasper Carrott ever delivered on his popular television show was where he picked through the British Government's advice for surviving a nuclear attack, illustrating how absurd so much of it was when everyone in the country was expecting to be utterly wiped out should that dreadful act of war ever take place. That was the mood of the time: people got on with their lives, but by the nineteen-eighties the possibility that the East would launch their missiles at the West, and vice versa, was a part of life and always rumbling in the background. Pop culture reflected this in a variety of ways: laughing at it in a whistling in the dark fashion, as Carrott did, or dreaming up fictions where what seemed to some like a horrible inevitability to cope with the fear underlying the global situation.


Music got in on the act as well, with the pop and rock hits of the decade reflecting this, from Nena and her 99 Red Balloons to Prince and the Revolution partying through the Armageddon like it was 1999 and Frankie Goes to Hollywood in one of the biggest British hits taking over the summer with Two Tribes at number one for nine weeks. That featured a sample from an actual public information film entitled Protect and Survive, produced in 1975 in case of the threat of a nuclear assault and preparing the population for how to cope. Relayed in the stern but reassuring tones of voiceover man extraordinaire Patrick Allen, it told you how to take cover, how to reinforce your home, and how to exist for two weeks in your "inner refuge", stocked up with tinned foods and bottles of water, plus a bucket for your lavatorial needs. Two weeks seemed reasonable, according to this.

Fifteen years didn't even seem reasonable, according to the television drama that made the biggest impact on the subject, nowhere near in fact. The desire to keep order after a war had begun was behind the Protect and Survive information campaign - which let's not forget was never actually put into practice, and the infomercials were never broadcast, the leaflets never distributed. However, bearing in mind that the authorities believed there was enough of a threat to create them in the first place, it is disturbing to look back and note there was something very much in the air, be that the politicians' rhetoric between the Soviets on one side and the United States and her allies on the other, or the massive armament campaigns across the globe which saw the number of nuclear weapons ready to use increase dramatically.

The prospective Protect and Survive campaign was a small but significant part of Threads, the BBC production from 1984 which was the talk of the nation both before it was broadcast and after it, well after it, to the extent that when President Donald Trump began threatening North Korea with a nuclear onslaught, many memories went back to this eighties project, even for those who had not been around first time to watch it. Seeing it now, it's easy to understand why: under Barry Hines' script and Mick Jackson's documentary-like direction it still makes its points with bleak clarity, that anyone who thinks they can win a conflict with these sorts of weapons is kidding themselves, and mass death, destruction and devastation of the entire infrastructure of our society would surely follow any widespread deployment.

Threads followed a young couple, played by Karen Meagher and Reece Dinsdale, in the "fourth largest town in Britain", Sheffield, as they work their way into a marriage started with an unplanned pregnancy. The opening twenty minutes were very Play for Today material, gritty depictions of Northern life where the growing tensions internationally were background noise. Yet gradually that noise moves to the foreground, as captions and narration reminded us the United Kingdom was home to American airbases housing those missiles, and therefore a viable target for the Soviets, not least because of the "special relationship" forged between President Ronald Reagan and Prime Minister Margaret Thatcher (who are never named here). Thus the scene was set for what everyone knew was coming: Armageddon.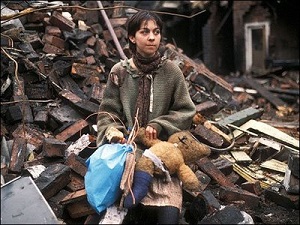 It was no coincidence that Jackson had directed a well-regarded documentary two years before in the BBC's popular science strand QED, titled A Guide to Armageddon, with much of the research from that informing Threads, from the calamity of the second the first bomb dropped to the likely effects of radiation, and on into a deeply uncertain future, just as we traced Meagher's Ruth and her journey from a young woman planning a family with her whole life ahead of her to an irradiated and diseased survivor, one of a fraction of the British population to endure. Really, this was a succession of horror movie imagery under the guise of speculative fiction, designed to warn both the public and the powers that be across the planet they were playing with fire if they thought the arms race was anything but a race to extinction, or as near as damn it.

One scene everybody seemed to recall in Threads was where a group of near-feral children watch an old VHS of educational programme Words and Pictures; it was often used as an instance of levity when discussing the drama, that at least we could watch something decent on TV, but there was a point that everyone knew was a battle to be won in the hearts and minds of the youngest members of society. Persuade them nuclear war was the worst consequence ever, and there was hope we could emerge from the eighties intact; famously on Saturday Superstore, a child asked special guest Thatcher where she would be in the event of an attack, fobbed off with reassurances this would not happen by the P.M., but a pertinent inquiry nonetheless that many adults would be keen to find out the answer to themselves.

Yet it was perhaps this era's greatest creator of cartoon picture books for the youngsters who crafted the most memorable answer to their wonderings about what such a terrible set of circumstances would bring. He was Raymond Briggs, and his work When the Wind Blows was an instant hit, so much so that it was turned into a film version in 1986, in the footsteps of the popular television incarnation of his The Snowman which continues to be broadcast every Christmas. Famously, that story has a highly poignant ending, though you could discern a note of hope in it when the snow would return the next winter. There was no such hope in his tale of an older couple trying to guess what they were meant be doing to survive in their rural cottage once World War Three had commenced.


Briggs based this couple on his own parents, and their view of the world as informed by their experiences in World War Two, which Jim and Hilda Bloggs here thought was the template for all global conflict, barely grasping how far things had moved on - or had deteriorated. Voiced by John Mills and Peggy Ashcroft, they were hopelessly naïve, and could be criticised as such by a twenty-first century audience unaware of how accurate to many of the British population they were. It was efforts like Threads and this which led to a growing cynicism that only became deeper entrenched in the society, that feeling the powers that be had nobody's best interests at heart other than their own, the nuclear terrors of the eighties had helped to bring about, a complete loss of innocence that occurred over the space of one generation.

Naturally, watching silly cartoon characters inflicted with awful conditions is going to be upsetting to anyone who prefers their animation to be lighthearted, but the response of Briggs, and the director Jimmy T. Murakami (hitherto better known for science fiction epic, Roger Corman-style, Battle Beyond the Stars), to those items more obviously aiming for the funny bone was to include jokes, yet not make them very funny, simply melancholy. Jim Bloggs has been an avid reader of those Protect and Survive booklets and thinks he has gleaned all he needs to from the Government's official advice, and if you know the campaign you will be aware of how accurate Briggs' research had been, and as a result how scathing his demolition of its rules and regulations he was, similar to Carrott's in that respect, but here with far more emotional force.

What hits home is that the Bloggs are left utterly alone when the bombs hit Britain, the official pamphlet a diminishing echo of a time gone by that cannot apply to this new nightmare they hope against hope that they will be rescued from. Now the apocalypse is here they only have each other for support, and it's simply not enough; there were fantasy asides where we could see the couple's thoughts, fairies and flowers for Hilda and heroic Second World War antics for Jim, but the film relentlessly returned to their actual experience of contaminated water, irradiated air and the lack of awareness that they are the last of their kind. The only reason they survive is their cottage's isolation, and that is not enough to ensure any benefit in the long term, leading us to the sad acceptance of their, and our, inevitable extinction.

Briggs returned to the subject of his parents in his biographical book and eventual animated film Ethel & Ernest, as good as this, but in a different way; When the Wind Blows had a vaster canvas but ironically in a more intimate focus. By the end of the eighties, the gung ho attitude of the Americans and the monolithic presence of the Soviets was beginning to thaw in the Cold War once Mikhail Gorbachev got into power in the East, with the eventual collapse of the Soviet Republic by then inevitable (though it still managed to catch the West by surprise). Once that had happened, the apocalypse fictions of the eighties were looking almost quaint as time moved on and terrorism became the new worry, but the missiles all remained, and remain to this day, with a capability of wiping us out many times over. This makes in important not to forget the atmosphere and lessons of those times, because you know what they saw about those who forget the past?

[When the Wind Blows has been released on a special edition Blu-ray and DVD by the B.F.I., looking and sounding better than ever (fans of the soundtrack by Roger Waters will be pleased, and David Bowie's theme song sounds punchy). The extensive special features:

Audio commentary with first assistant editor Joe Fordham and film historian Nick Redman
Jimmy Murakami: Non Alien (2010, 77 mins): feature-length documentary about the film's director
Interview with Raymond Briggs (2005, 14 mins): writer Raymond Briggs discusses When the Wind Blows and other works
The Wind and the Bomb (1986, 25 mins): the making-of When the Wind Blows featuring interviews with producer John Coates, director Jimmy T Murakami and writer Raymond Briggs
Protect and Survive (1975, 50 mins): public information film about how to survive in the event of a nuclear attack
Isolated music and effects track
Illustrated booklet with new introduction by Raymond Briggs, an essay by executive producer Iain Harvey, writing by Jez Stewart, Claire Kitson and Bella Todd, and full film credits.]