The premise of a car that can drive itself, or any vehicle really, is a lot different in the movies to what it is in real life with those computerised wheels that use technology to get you to your destination, and with any luck avoid any kind of collision on your journey. Herbie the little white Volkswagen Beetle (or Bug) is probably the highest profile of these, though even he had his precedent in nineteen-sixties sitcom My Mother the Car, not a success in its day yet it did have an idea that would be used not for comedy, but for horror: the possessed transport. In the comedy, the hero's mother's spirit was in possession of the vintage charabanc, while Herbie in 1968's The Love Bug and its string of sequels did not appear to be under any influence from beyond the grave, he was simply a little car with a big personality.


It's easy for car owners to read some kind of character into their prized motor, though few would go as far as believing they were actually alive, but once the Devil began to affect the way horror movies were scripted after Rosemary's Baby, also in 1968, the story of people being unduly corrupted by Satan himself was an irresistible one. So what would happen if Old Nick could drive? We had had an inkling of that in Steven Spielberg's calling card, the TV movie Duel, though there was no suggestion of the supernatural behind Dennis Weaver's ordeal at the wheels of a large, ugly truck out in the desert highways. However, when it came to a theatrical movie with a malevolent machine on the road, it was most assuredly guided by unseen and demonic hands: the 1977 cult favourite The Car was that movie, with a custom-built Lincoln sedan created by the legendary George Barris as the main villain running over the innocent.

What the studio wanted was Jaws on land, Universal being that studio and the one who had commissioned that Spielberg hit adaptation of Peter Benchley's bestelling novel. Although The Car was not based on any written text, it certainly came across like it had been, the structure and characters akin to what would be found in one of those horror paperbacks that were all the rage at the time, though this film was not as violent as most of those would get. It did have its moments, but as Jaws was a PG in those seventies terms, they wanted to bring in the same punters, unaware that 20th Century Fox was about to enjoy a hit of similar massive proportions with Star Wars, making this look a little like yesterday's man - er, car, in comparison. But once it was sold to television and became a staple of late night broadcasts, this gathered its audience and with it a new respect as a professional and suspenseful production.

As much as it could be taken seriously, and for some there will always be the stumbling block that the plot was a clumsy combination of proven successes to craft not a sleek Ferrari, but more a second-hand motor welded together out of spare parts. Nevertheless, the titular monster was an impressive beast with headlights too close together, blacked-out windows, roaring engine deafening all who get near, and horn blaring its imminent intention to visit death upon anyone hapless enough to get in its way. James Brolin was our Sheriff, a salt of the Earth (or desert) single dad respected by all, all except the Car that is which has a habit of slamming into those he knows, whetting its appetite with a couple of cyclists and a French horn-playing hitchhiker. Interesting to see a bully used to stop a bully, R.G. Armstrong's wife beating explosives man drafted in for the spectacular finale: the least they could do after what happened to the Sheriff's schoolteacher girlfriend Kathleen Lloyd - this could be brutal when it wanted to.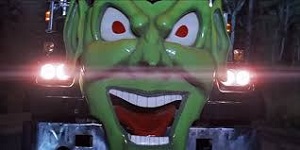 Come the eighties, and that horror boom showed no sign of slowing down, with a certain Maine author named Stephen King spearheading the movement as he became the most successful writer on the planet for his substantial chillers in book form. Naturally, there were movie adaptations of his oeuvre, and had been ever since 1976's Carrie, but the man himself was known to be dissatisfied with the results, his folksy style deceptively difficult to get right in translation from page to screen. So when in 1986 Dino De Laurentiis offered him the chance to write and direct his own movie, Maximum Overdrive, King jumped at the chance, then went on to regret that decision ever since as it was a notorious dud, not least in the eyes of its creator who proclaimed this update of his 1973 short story Trucks as a new Plan 9 from Outer Space; certainly those title and end cards describing what was going on were ridiculous enough to belong in Edward D. Wood Jr's output.

There had been a possessed vehicle movie stemming from King's writings before, Christine, directed by John Carpenter in a slick and perhaps undervalued effort from 1983. In that, a bright red Plymouth Fury was inhabited by a ghost and sought to murder all those who slighted its new, teenage owner, as it turned out an ideal concept for an eighties shocker, and Carpenter continued his run of success with a piece he admitted he did largely for the money after his gory remake of The Thing flopped. But Maximum Overdrive was something different, and there was little smart about it at all, no winks to the audience to be caught, simply pure obnoxiousness in its design and manufacture that could be safely put down to King being off his face on booze and cocaine for the duration of filming: when the characters discover a cache of automatic weapons including a rocket launcher, it's among the most typical moments of the coke-fuelled decade.

Essentially this turned out to be George A. Romero's Night of the Living Dead only with living trucks instead of zombies, laying siege to a gas station and diner by circling the humans like Indians around a circle of wagons in an old Western. Because of a comet that is taking six days to pass over our world, the machines humanity has built to make life easier have made life a lot more difficult when they take on a mind of their own and commence attacking, a revolt as if we were slave masters, but not a comparison that bore much scrutiny. Emilio Estevez was our hero, once again making you wonder if he had ever starred in a decent film aside from Repo Man (though he remains one of the most profitable actors in Hollywood, bizarrely), and the cast was dotted with familiar faces like Pat Hingle, Frankie Faison and Yeardley Smith (more a familiar voice), scored with AC/DC's back catalogue and featuring occasional images - the street littered with those murdered by their gadgets, the plane crashed vertically into the school bus - that indicated where a surer hand could have taken this other than mindless action with a horror theme.


Genuine laughs were mined, deliberately too, in the nineties with a variation on the possessed four-wheeled beasts when a possessed two-wheeled beast made its debut, the unnamed Norton Commando which titled I Bought a Vampire Motorcycle. This falls under demonic influence when its owner is trying to invoke Satan in a ritual one night near Birmingham - but not Birmingham, Alabama, Birmingham in the West Midlands, for this was a British movie steeped in the traditions of bad puns, nudge-nudge gags, and crass slapstick, about as far away from King's incarnations as it could be (well, there was a literal ocean between them). If this sounded like it had laser-targeted its audience as those returning from the pub lightly sozzled on a weekend evening who wanted something undemanding to stick into the VHS player, then you would not be far wrong, nope, you would be dead right in fact.

Naturally, or supernaturally, this was not going to impress anyone who likes anything with the merest whiff of wit of sophistication, but it was a dead cert for anyone who appreciated a good laugh from the broadest possible humour, and there was evidence of some invention in the script, the performances not exactly subtle, but getting the job done. When the killer motorcycle falls into the hands of despatch rider Neil Morrissey, who had recently made his name as the sidekick of can-do-guy Boon on television, he finds it difficult to start up until his mechanic pal Daniel Peacock spills blood on it accidentally, whereupon the machine works like a dream - or a nightmare as it goes on regular rampages to slake its unholy thirst. Morrissey and chums took their sweet time getting up to speed with what the bike's deal was until there was no denying what its murderous desires were, chopping off a traffic warden's hand, or massacring a band of Hells Angels.

And sticking a crossbow bolt up their leader's bottom, somehow. With Michael Elphick, Boon himself (for this was made by some of the cast and crew of that series), showing up as a garlic-stinking police inspector, our hero finds himself in hot water, and has to call in a priest (Anthony Daniels letting his hair down in a rare non-C3-PO role) for even more ridiculous scenes. It was apparent director Dirk Campbell and his team regarded the whole possession angle as a matter for lampooning, a delivery system for an absurd, stick-in-the-mind title and a high concept, low budget raspberry blown in the general direction of anyone who would take this concept seriously. That said, they did not skimp on the gory effects, which rendered them even more over the top and the cheery, self-confessed rubbishness of the entire enterprise was surprisingly winning, especially at a time when the British film industry was failing to cater for the populist crowd. Possessed cars may come and go - José Ferrer had one in the baffling Crash! back in 1977, and Bruce Campbell's iconic Oldsmobile fell victim in the second season of Ash vs Evil Dead, to name two - but that motorbike truly embraced the idea with real gusto.

[Screenbound have re-released I Bought a Vampire Motorcycle on Blu-ray in a fully restored edition.]