The nineteen-eighties did love their computers. As the new technology was lifted from the hands of the military, the scientists and the corporations, it landed with the public, who were seeing it invade their lives more and more often. Not simply at work, but at play as well, as Pong had given way to Space Invaders and Pac-Man in arcades and bars, then entered the home; in Britain, as the decade wore on, you were nobody if you did not have a ZX Spectrum or Commodore 64 to try games on. Obviously your dad (or you) bought it to do his accounts on, but soon the real reason for getting these devices made themselves plain, it was all for those games which for many became a second life as they grabbed their joysticks and took on the personas of various characters. But there was always, in the background, a fear that this was going too far, that we were giving our existences over to the machines.


Naturally, the movies embraced these doubts and concerns, and while Tron sought a middle ground between "Wow - these things are amazing!" and "Eek - these things could rule the world!" by using the most up to date graphics to tell its story of a computer getting ideas above its station, that movie was not much of a hit, though it did become a cult film. No, the movie about computers that truly informed the era was WarGames, since it adopted the other big obsession of that time, namely that the world was going to Hell in a handbasket thanks to the powers that be taking the arms race too far and placing not simply the lives of troops in peril, but the whole of the global population. This combination proved irresistible as it presented the hardware with the ability to bring about such a nightmare scenario, and simply because it was placed with those who did not grasp the terrible consequences of its power.

Notably, that was not merely the teenage hacker played by Matthew Broderick, it was also the entire military and governments across the planet who were in danger of unleashing a dreadful genie from the bottle of their nuclear weapons research. NORAD was where much of the action unfolded, as we saw Dabney Coleman wrestle with the issue that the human factor was not going to launch all the missiles for they would not be able to bear the guilt of essentially being personally responsible for the deaths of millions, even if they were purely following orders from on high - it was they who pressed the button, not the President of the United States. Therefore the strategic defence computer WOPR is drafted in to take away that troublesome element, it can fire as many missiles as it needs to win the war, though naturally it will be ordered to do so by the heads of state and their Generals.


But what if our teenage hero, while seeking a way to tamper with a toys and games company whose advertising has caught his eye, by breaking into their computer (not incidentally highlighting how vulnerable companies and authorities were to such attacks in 1983), accidentally stumbles across something really big? Like that defence computer big? And what if he asks if he can play Global Thermonuclear War with it? And what if the computer refuses to stop playing when Broderick does? And what if the computer cannot tell the difference between a fictional scenario and a genuine one - "Is it a game or is it real?" asked the advertising with menacing relish? That was the killer premise for one of the finest sci-fi thrillers of the eighties, which gripped the imagination of all those kids who saw it as they could not help but place themselves in the position of Broderick and his screen girlfriend Ally Sheedy as they got in over their heads.

The trick here was that it was all about how the young folks are treated by their older generations, so WOPR, or Joshua as the protagonist discovers the defence system is actually called by its apparently deceased creator, was as much a naïve kid as the human leads were, while still possessing enormous power without realising the future they have such influence over could be sabotaged by simple human error. The script, by Lawrence Lasker and Walter F. Parkes, was very well researched as far as the technical details went, including business like DEFCON 1 as the point of doomsday, but it was the human aspect that brought it all to life, as every character had their own little quirks or foibles to prove the difference between us and the machines was a lot more than simply wires and flashing lights. Joshua, after all, had the personality of its parent's deceased child, with all the lack of understanding that brought.

You could regard the rampant computers of the eighties as the children of the king of the sub-genre, HAL 9000 in Stanley Kubrick's science fiction classic 2001: A Space Odyssey, which laid out the ground rules for the style, not that everyone followed them subsequently. In 1986's Weird Science, John Hughes' idea of a hi-tech personality was Kelly Le Brock conjured up by a couple of sex-starved teens in the ultimate concept of the "computers can do anything" mindset of the period, replacing the magic of the past fantasy movies with the notion that just because you could plug it in, the possibilities were endless. Even the Man of Steel had to measure up to the zeitgeist when at the finale of Superman III in 1983 he battled a supercomputer that turned Annie Ross into a nightmare-inducing robot among other trickery - this was the decade which produced a movie called Attack of the Killer Computer, not that many saw it.


But one of the fondest recalled 'puters with personality was from a movie that was out of circulation for a long time after it was released in 1984, and he was Edgar from Electric Dreams. Thanks to its relative rarity after its big screen debut, the highest profile artefact from this was the theme song, Together in Electric Dreams, concocted and performed by Giorgio Moroder and Phil Oakey, one of the finest examples of eighties electropop perfection to ever hit the charts and radio airwaves. It was so well liked that eventually many were unaware that there was a film to go with the tune, and so identified with the point in time it hailed from that many heard the concept - a love triangle between a man, a woman and a home computer - and could not envisage how that would play out as a motion picture. They could rest assured that it did so as one of the most eighties experiences in cinematic history.

It was not merely the Moroder soundtrack that pinpointed Electric Dreams to such a specific stage in pop culture, though that undoubtedly helped, its pretty synths accompanying just about every scene, and with a bunch of artists of the day to bring the other songs to life, not only The Human League's Oakey but also Culture Club, Heaven 17 and ELO's Jeff Lynne among others. Nope, the rest of this was so eighties it hurts, should a pang of nostalgia get you right there, and for many it does, accepting the computer hook to the plot was just as of its time as Joshua had been the year before, though the apocalypse here was strictly personal for Lenny von Dohlen's architect who is trying to manufacture the perfect earthquake-proof brick (it was set in San Francisco, so there was a degree of local interest there). Told to buck up his ideas about punctuality at work, he is persuaded to buy one of those new-fangled home computers.

This he allows to take over the running of his apartment, not unlike the evil, evolution-obsessed Proteus - in the 1977 cult sci-fi Demon Seed, that was, not 2001: A Space Odyssey, only it's romance that was on Edgar's mind, specifically with von Dohlen's upstairs neighbour, played by an impossibly beautiful Virginia Madsen in her first lead role, as a nerd's dream girl who happens to be a cellist in an orchestra. Despite our hero's clunky attempts to make friends with her, she is not put off and begins to find him quite charming, which may well be the approach the viewer could take to the entire film, helmed as it was by celebrated pop video director Steve Barron who was fresh from Michael Jackson's Billie Jean and looking to translate his visual flair to something longer than three or four minutes long. He would continue to work in music promotion, perhaps why Electric Dreams contains a musical quality in its arrangement.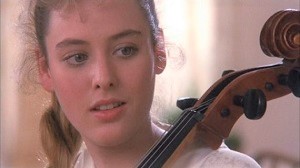 Bud Cort, Harold from another cult favourite Harold and Maude (von Dohlen would be known for playing Harold in TV series Twin Peaks, coincidentally), essayed the voice of Edgar, whose physical presence was purely down to its monitor after champagne is spilled on it to accidentally bring it to life (beats Johnny 5 getting struck by lightning in Short Circuit). That monitor showed its cursor, its text and a variety of clips, predicting eighties icon Max Headroom in its way, but Edgar can compose melodies that win over Madsen who believes von Dohlen has made them himself, the old Cyrano de Bergerac gambit except the author is more villainous, or at least mischievous when he sabotages his owner's life to get to his girlfriend. There was a curiously dreamlike tone to this, aptly named maybe, but its mixture of excitement over what grand new horizons computers opened up and the unease that they might try to supplant us, their supposed masters, made WarGames and Electric Dreams the most evocative encapsulations of what computers meant to eighties culture.

Electric Dreams, one of the few movies produced by Richard Branson's Virgin, has been released on Blu-ray by Second Sight in a pristine restoration in High Definition 1080p. The imagery always tended a little towards soft focus, but the soundtrack is crystal clear, bringing out those synths to perfection. The special features are long interviews with Barron, von Dohlen, Madsen and writer Rusty Lemorande, who claims with some justification to have predicted how we interact with technology on a daily basis in the 21st Century. And also worth knowing:
INITIAL 2,000 units with Limited Edition slipcase with premium spot gloss varnish
New SDH subtitles for the hearing impaired.