Anyone who's read my megarave over Showgirls knows I just love seeing former Tiger Beat cover subjects turn their careers around by doing 180s on their saccharine images thereby providing very public atonement for the ain't-I-adorable con rammed down our gurgling esophagi when said celebs first gained fame.

For letting a guilty conscience be your guide, Stately salutes you, self-scourging stars. Hey, I'm Italian; ergo, Romeo, guilt is a genetically installed lifeforce, a driving inspiration second only to revenge.

The majority will look upon a Jeff Conaway and mourn how far he has "fallen." At the M-O-M Mansion, however, the journey to junkfilms is considered the ultimate achievement. We don't revere Joseph Cotten, Jon Hall and John Carradine because they were in Citizen Kane, Hurricane and The Grapes of Wrath. We dig 'em to death for Lattitude Zero, Monster from the Surf and Frankenstien Island

Conaway earns respect for going from Taxi-Grease "supporting cute guy" roles to softcore flesh flix generally aired after midnight on cable. In fact, he's so into this stuff, he even directed the family favorite Bikini Summer 2.

(Say what you will, snobs, but groping Penthouse Pets for pay is a whole hell of a lot more fun than...well, your job!)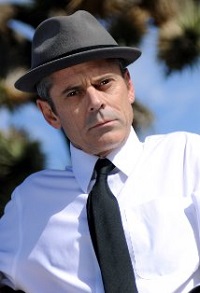 Still, Jeff is on the bubble when it comes to earning his junkfilm black belt, as he has yet to appear in a true maximus stinkus production, i.e. a movie that would merit M-O-M slobbering-over. One Conaway comrade who has now soared with the turkeys, though, is C. Thomas Howell.

In his silver screen debut, C.T. appeared in ET, a molten-hot, barbed-wired cross for any young thesp to bear. But unlike bubble-headed costar Drew Barrymore, Howell redeemed himself, first, by being perfectly suited for The Hitcher wuss role, and then by spending a solid decade thereafter in nothing but direct-to-video releases. The man even lists a feature called Shameless on his resume. Clearly, the C stands for Courageous.

All that hard work in the trenches paid off tremendously, as evidenced in C's remarkable titular performance toplining 1997's Baby Face Nelson.

Face it, when casting a script custom-made for Edward G. Robinson, there aren't many contemporary young actors who fit the tough-and-gruff mold. Realizing the futility of searching for the latter, the brains behind Baby Face took the opposite tact, hiring instead The Actor Who Most Resembles Donny Osmond.

Glory hallelujah, chill'n--at long last there's one late-Nineties production with neither Matt Damon nor Ben Affleck! For this splendid accomplishment and more, Stately officially states "Master caster Jan Glaser is a certified genius."

When it comes to making karmic connections, some may dabble in numerology; but Glaser is apparently a practitioner of namerology. Of all the heavies in Hollywood to award with the Al Capone role, Jan went with F. Murray Abraham. What's so ingenious about that? Can you cite any other pictures in which both pivotal characters are played by men with initials for first names?

Cosmic, innit? But, wait, there's one more. The still photographer who "shot" this bullet ballet is surnamed Gunn! Hmm, I wonder if he uses gear made by Canon.

With all this moniker magic in place before the first frame was focused, how could BFN be anything but a treasure? Okay, so the screenplay is fairly formulaic with virtually no character development. And, yes, it does stoop to hackneyed genre cliche. But those same elements didn't stop you from enjoying New Wave Hookers, now did they?

Besides, the beauty of Nelson isn't in its words, it's in Howell's performance. C. Tom turns a line like "My dame ain't working" into, er, a howl--particularly when you hear the verbal affectation employed here. The gutteral growl is guaranteed to set off one of those "Damn, I know that voice from somewhere but can't place it" triggers. Then it will finally hit home: it's a baritone rendering of John Wayne channeled through The Simpsons' Krusty The Clown!!!

Baby Face Nelson did something very exceptional. From Alex and his Clockwork Orange droogs to Travis Bickel to Dutch Schultz in Portrait of a Mobster, I always empathized with and pulled for the ultraviolent psychopath (even if I wasn't "supposed to.") But with BFN, I could hardly wait for Nelson to get plugged. My reasons were two-fold: The punk so utterly lacked style; and, I had great anticipation over how Howell would play it.

Howell does not disappoint in the FACE finale. After a Fed manages to pump 13 bullets into him from one revolver (!), the ventilated hood with a blood-filled mouth smirks "Smile, copper" before drilling the dick with his C Tommy gun. And so concludes a bravura performance peppered with more shouted lines than an Adam Sandler double feature...and more laughs.

Incidentally, for those keeping track, BFN does contain the M-O-M "extra credit" chestnut, the Absolutely Gratuitous (But Much Appreciated) Topless Hussy Scene Sure To Blow It For Getting Anything Below An R Rating. That oughta make you smile, copper.

There's a boatload of junkfilm reviews--most illustrated in the crazy new COLOR medium!--at ManorOnMovies.com. You are invited.