At the point the second millennium turned to the third around the year 2000 (or 2001, if you were being pedantic) the idea of the music movie had been dominated either by the rock documentary, which related true life tales or followed a band about to get some idea of what life on the road or the studio was like, or it looked back in either biopic or loosely fictionalised form. At the beginning of the nineteen-nineties, it seemed as if there would be a resurgence in that latter style with big movies including Alan Parker's Roddy Doyle adaptation The Commitments, which indicated the life that there was in this genre, or Oliver Stone's The Doors, which divided audiences so much that it might have put paid to it really taking off. For the next few years, we had Backbeat, about the nascent Beatles, Rock Star, based on Judas Priest, and Velvet Goldmine, Todd Haynes' take on glam, but none of them soared.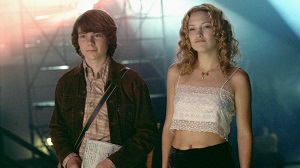 By 2000, however, this obsession with what had gone before seemed stronger than ever, whether that be down to people wanting to trace the path society and culture had taken to get to this stage in history, or because there was a feeling in the air that we would not get much further, the doomsday scenarios prevalent as if existing two thousand years after the birth of Jesus Christ signalled that we had had our lot. Naturally, it transpired that was not the case, but if that fear was difficult to shake and remained at a high unprecedented since the eighties and nuclear war was on everyone's minds. One of those movies looking back to some box office success was Almost Famous, coming at the tail end of the seventies preoccupation in nineties media and a neat capper on it from a perspective that was soon to move onto the following decade which came across as more relevant to the start of the next thousand years.

Cameron Crowe was the man behind Almost Famous, and he took his reminiscences about his mid-teens when he managed to blag a gig as a music journalist for Rolling Stone as his jumping off point for a series of topics, from mothers, love, friendship and of course music to the wise after the fact nature of the power of memories, be that your own or other people's. Patrick Fugit was the boy who became a man, Crowe's stand-in with a made-up band pretending to be one of the also-rans of seventies rock, an outfit called Stillwater whose guitarist, Billy Crudup looking surprisingly authentic when there was a touch of the "hours in makeup" about some of the other cast members, can far outplay his fellow band members but knows there's no gain to be had in striking out on his own. There may be a benefit in joining up with a group of other musicians who are up to his lofty standard, and the lead singer and songwriter Jason Lee is painfully aware of that.

Fugit's tyro writer knows this too, but he makes the mistake that his causal mentor Lester Bangs (Philip Seymour Hoffman) warns him away from: don't make friends with the stars. When he manages to get a free ticket to cover Stillwater's latest tour, sometimes as support to real life but never glimpsed rockers Black Sabbath, he is plunged into the world his aghast mother (Frances McDormand) has always warned him about. She is convinced rock and pop lead to drugs, sex and ultimately death, and the amusing thing was that Crowe acknowledged she was not a million miles away from the truth in her assessment, not that her eccentricities lend her beliefs much credence (she has lied to her son in having him convinced he is two years older than he is, such is her ambition for him). Once on the road, everyone accepts the fifteen-year-old is eighteen, but his mother keeps embarrassing him by calling him and leaving messages: "DON'T DO DRUGS!"

There comes a time in a young man's life when he realises that mother need not be the most important woman in the years ahead, and suddenly our hero is up to his neck in groupies, or "band-aids" as they call themselves, a heady atmosphere of girls offering sex as a method of showing their appreciation to the stars, rather than as an act of love. Chief among those was the pseudonymous Penny Lane, played by Kate Hudson in a role she has struggled to better since, who makes the mistake of falling for Crudup's budding rock god, another connection Fugit can see but do nothing about because nobody takes him seriously, not even as "the enemy", a critic who can see everyone's shortcomings. This was milder than it needed to be in practice, but did feature two great scenes: the guitarist jokingly grabbing the phone from the boy to speak to mom and getting a sobering life lesson, and when the band thinks their swanky new jet plane is going to crash and confess all.


If Almost Famous struck a chord, more than a musical one, with its audience and quickly became a cult movie among aficionados of "serious" rock, Crowe having the correct credentials to deliver its nostalgia, there was another movie that happened along in 2001 which missed not only with the critics, but its target audience too. Nobody likes to be called stupid, but that's precisely what Josie and the Pussycats did to the viewers who were marketed to by the studio, for it was satire that flew over the heads of those who would lap up the fictional band's tunes, and also those for whom the mixture of power chords and bright, wry tunes would be anathema anyway. The premise was that the mass media was controlling the masses by pumping out messages in their pop culture, ensuring everyone conformed and consumed in exactly the way the authorities wanted them too: without a moment's thought in their heads.

In essence, the Josie and the Pussycats movie was They Live for teenage girls, but its writers and directors Harry Elfont and Deborah Kaplan (who were never allowed to helm a film again after this flopped so badly) sought to expand that range to pick up anyone who liked a good, solid mickey take. You couldn't even be sure if it was serious about breaking conformity when a different kind of conformity was established at the end, but essentially the plot started with another plane crash, where the boyband du jour, er, Du Jour are on their private jet and wonder what that strange noise is underneath their songs. This is the cue for their manager Alan Cumming to jump out of the cockpit with the pilot (and two parachutes), whereupon the band are named as missing on the news and the manager sets about finding a replacement who will be more amenable to subliminal messages in their recordings.

The effects of the past were apparent in that this was a nostalgia piece for everyone who had grown up seeing the seventies cartoon from Hanna Barbera, based on the characters from Archie Comics, which was still being rerun as the new millennium dawned. The casting for the trio was perfect, Rachael Leigh Cook the charismatic frontwoman Josie, Rosario Dawson the smart bassist Valerie, and Tara Reid the dumb blonde with a heart of gold drummer Melody, so good in fact they could have inhabited a far more straightforward version of the franchise. Surrounding them were characters who seemed a little superfluous other than Parker Posey as the Machiavelli with the big mouth, but they were in the comics so they had to be included, as Missi Pyle pointed out in one of many postmodern elements, but it was the regard the entire film had for not only the music industry, not merely the entertainment industry, but everything about advertising too.

For those who did not get the joke, this film was horribly hypocritical in that it took the advertisers' cash in return for littering the background, and indeed foreground, with product placement, that was paying the production to advertise their goods within each scene. But what the criticisers did not twig was that Elfont and Kaplan did not take one penny of payment for all those logos, for they were there to be lampooned mercilessly and not prop up the budget; alas, Josie and the Pussycats was just too clever for its own good and it looked too convincing as a consequence of the media circa 2001 rather than the barbed takedown it was. If they had made it as a period piece, setting it in the seventies, they might have secured that sweet Almost Famous cash, as it was they made the mistake of updating the property, yet now, so long after the fact, we can see what they were getting at and it looks like a movie that is gradually building its deserved cult.


On the other side of the Atlantic, 24 Hour Party People was an instant cult movie, the best example of how rock biopics would begin to dominate the movies, only this was a story about a man who was not a musician, and admitted he was a bit part player in the tale of the Manchester music scene from 1976-92. Director Michael Winterbottom and screenwriter Frank Cottrell Boyce begged to differ, and placed him front and centre as one of the guiding lights of the era, or eras, as it effectively covered two separate periods that were joined by some of the same personalities. The film began by cutting between footage of the television reporter at its heart taken from a vintage news broadcast and the footage of the actor playing him, on a hang gliding excursion as in 1976 the activity had reached the Pennines, and this was an ideal introduction as it was pointed out in postmodern fashion, parochial but ambitious simultaneously.

This man was Anthony H. Wilson, or Tony Wilson as he was more often known, a hugely divisive character in his heyday, though once he reached his fifties he began to take on an elder statesman role, as a figurehead of the city he loved so much, Manchester. When he announced he had terminal cancer and passed away at the too-young age of 57, quite a few people, even those who did not think much of him, felt his passing as if it were an end of an era that had started with the explosive instigation of punk and ended when the rave culture went mainstream, leaving a common pastime to go to a nightclub and dance the night away for partygoers who had never heard of The Hacienda, the club started by Wilson and his cohorts at Factory Records to showcase the bands on their label, only to find it was proving a more popular venue for those seeking a DJ to mix the tunes till the early hours.

All this and more was contained in the ramshackle arrangement of scenes that made up 24 Hour Party People, leaving an impression that it's amazing anything gets done at all ever in the music industry. Winterbottom also captured what could best be described as the hostility of the location, where a good night out was just one pissed up argument away from getting stabbed or shot, not an atmosphere unique to Manchester but that aggression was bubbling up in almost every sequence here. Announcing that the Sex Pistols' show in the city which was sparsely but significantly attended was the crucible from whence a revolution in rock would be unleashed, Wilson went on to highlight his own place in the history of the movement, one of the only places, according to himself, where you could get to hear the bands, apparently ignoring the audience who tuned into the John Peel Radio 1 show every weeknight where they received even more exposure.

So you see, we had an unreliable narrator, played by Steve Coogan as if to the manor born having made his name as a fictional television presenter, Alan Partridge, on radio, stage and screen, and slipping into a not dissimilar style for Wilson, though if anything Wilson was by far the more pretentious of the two, justifying himself with classical quotes and literary conceits. With a curious mix of self-doubt and self-belief, the film's Wilson ingratiates himself into the presence of such talents as Joy Division and later New Order, and come the late eighties, The Happy Mondays, with his claim their leader Shaun Ryder is a genius ringing increasingly hollow as time goes on and he is royally screwed over by Ryder and the band's enormous appetite for drugs. There was a degree of this being very much for the initiated, hence nobody wanted to be the uncool one who pointed out it was an undisciplined mess, but it was very funny and hit the required historical beats.

Maybe the defining movie of this turn of the millennium group of music films was 2000's High Fidelity, Stephen Frears' American-set adaptation of Nick Hornby's very British novel of how a fanboy's real romance is with his pop culture interests rather than anyone as hard to get along with as a real woman. In that, John Cusack viewed everything through the prism of his beloved music, treating what had gone before and had moved the world as a sacred text to live by, and thus we were graced with a rash of biopics such as Walk the Line and Ray, as if making these gave the musicians and singers the seal of approval, much as rock journalism had done by deigning to elevate their life stories and pronouncements to something we all had to know if we were going to make a claim to anything like savvy in the modern world. Which rendered the most pertinent example Judd Apatow's spoof Walk Hard, that sent up the entire concept and delivered the point about having the music speak for itself being no bad thing. All that said, music and movies can still be a marriage made in heaven.