If ever there was a neglected genre of the cinema of the nineteen-seventies, not in popularity but in how much coverage it had once its heyday was over come the eighties, it was the Italian crime flicks, those down and dirty productions that packed in as much action, violence and even sex as they could, all to ensure the audiences would not only stay in their seats for the duration, but would come back for more, often from the same moviemakers. In their native land they were called the "poliziotteschi" meaning police films, though they were just as likely to concentrate on the criminals as they were the upholders of the law. Then, in 2012, documentary maker and fan of these efforts Mike Malloy created his own chronicle of them in his American work Eurocrime! The Italian Cop and Gangster Films that Ruled the '70s.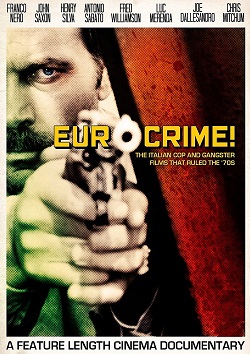 This was exactly what the fans of these wanted, a verbal record of the time from the participants, along with informed opinion and cold, hard facts (illustrated with animated graphics littering the screen), all performing the duty of what you imagine Malloy wanted: to drum up interest in these films. As increasing numbers became available on DVD, Blu-ray and streaming services, the interest was undoubtedly there, rendering Eurocrime! a handy guide for what to look out for, though in truth the sheer barrage of clips (of varying quality, some obviously taken from old videotape releases) they unearthed from movies well known and otherwise was overwhelming in places if you wanted select recommendations for what to track down. Indeed, the message seemed to be to basically watch as many as possible, quantity being more important that quality.

Though it was clear there was quality in some degrees nonetheless, as Malloy gathered together a variety of interviews with the actors who appeared in the genre, from imports like Henry Silva, John Steiner and John Saxon to homegrown stars like Franco Nero, Luc Merenda and Antonio Sabato. Sadly, the biggest homegrown star of these was absent because he had passed away many years before, but if you were a fan of Maurizio Merli you would be gratified to see he received an entire section to himself, amusingly pointing out just how far indebted he was to Nero's career that he was frequently hired to imitate. As you can guess, the anecdotes were in many cases priceless, from the overexcited tactics of director Umberto Lenzi, the willingness for actress Barbara Bouchet to disrobe, or the more serious dangers of being in a nation which was trapped in a decade long crimewave.

There was a wealth of background here, as the picture of a land seized by lawlessness and how that was reflected in its pop culture was vividly put across with the Mafia on one hand and the Red Brigade terrorists on the other, both committing kidnappings, theft, murders and instigating corruption on a huge scale, often with the police involved, who were shall we say, heavy handed in their methods. But the influence of American blockbusters could not be denied as these films took the plots and even the scenes of material like Bullitt, The French Connection, Dirty Harry or The Godfather and put their own particular Italian twist on them, just as they had before and would do again before the style wound down into tacky foolishness which as Malloy points out, was a much-repeated pattern for their exploitation pictures. Run them into the ground, essentially.

Eurocrime! is released on DVD in the UK by Nucleus, and the disc has a variety of special features, but the centrepiece of them is the hundred minutes plus of trailers of the movies in question. In spite of merely scratching the surface as there were hundreds of these things made, the list of previews collected here represented an impressive number of their ilk, and acted as a useful guide to what the main documentary was discussing. Although not every star in that was given their own trailer to highlight their work (nothing to be seen of Fred Williamson, for instance, a shame when he was one of the better interviewees), you could use them as an identification tool thanks to the actors and actresses being shown onscreen with their names captioned under their faces, helpful if you were a newcomer and wanted a serviceable rundown of who to look out for.

Merli was probably the most prolific to be seen here, though Tomas Milian gave him a run for his money as we could chart the rise and fall of the genre by their contributions, which began as gritty as possible then evolved (or devolved) into something more, well, ridiculous, though no less violent - the comedies the documentary warned us about were not to be seen, however. As these trailers used the advertising as an opportunity to string together all the action highlights they could muster, from fistfights to car chases to shootouts, this compilation was a neat, potted history of a strain that somehow never grew so samey that the aficionados of the form would grow tired of them, no matter how familiar they became. That in spite of there patently being a lot of, shall we say, cross-pollination going on between the movies as they tried to outdo one another.

But if you wanted a taste of Franco Nero going some way to popularising the poliziotteschi, if not kicking it off, then you could see him in his earlier efforts, then compare with Merli to see how far he would copy the international celebrity, or watch how much abuse those cheap little Fiats underwent in the name of stunts as they were flung around with wild abandon on the Italian streets. On the downside, you also saw how much abuse the women in these tales underwent too, with just about every trailer featuring them getting slapped around or even in many cases having their clothes ripped from their bodies. This was a tough genre, that much was clear, but look at the car chase from Blazing Magnum to witness how far these entertainments would go, risking life and limb to deliver, and more importantly turn a profit - it's amazing what happens when money is involved.

Also on the Nucleus DVD are a section that had been left out, on the problems Italian audiences had with stars that looked Italian for some leading roles, yet were reluctant to accept non-local looks for other roles, and a selection of deleted scenes where the interviewees discuss various elements from what it was like to be a celebrity in Italy to the tragic story of Frank Wolff. But the main bonus, especially in light of his passing away, was the interview they secured with Tomas Milian, too late for inclusion in the film, but welcome all the same. He was quite a character in his eightieth year, relating how he approached his most popular personas, what it was like when he left Italy to go from fame there to obscurity in the United States, and various other topics touched upon. It's pleasing he was able to give this chat and that it was included on a disc where it would be most appreciated.

Eurocrime! was the ideal documentary for delving into this sort of movie: exhaustive without being exhausting, and enjoyable for the seasoned expert and newcomer alike, plus more importantly encouraging the viewer to seek out these films with a more knowledgeable understanding than they might otherwise have had. It had a swagger about it, partly from its confidence these works were worth serious attention and not as disposable as many may have thought, and partly because of the cool personalities offering up their stories. If you were not a fan before, you would be highly motivated to investigate them after watching this.