You can't mention Salo, or the 120 Days of Sodom without also mentioning that its writer and director Pier Paolo Pasolini was murdered just as it was ready for release. The conspiracy theories have abounded since then: was he killed after an argument with a rent boy, who ran over the filmmaker with his own car, or was it a coterie of shadowy figures who descended upon him and framed the prostitute for the crime? Was Pasolini murdered before he could complete his Death Trilogy, as if he had received the ultimate bad review for his final work and the conspirators could stand his art any longer?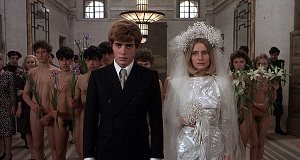 His Life Trilogy had taken the form of The Decameron, The Canterbury Tales and Arabian Nights, which either ushered in countless bawdy romps in European cinema, or were merely another expression of how Italy's loosening censorship was allowing an "anything goes" mentality to cash in and indeed run riot, depending on who you talked to. Whichever, it appeared his success left the director with mixed feelings, as while he was more famous than ever, he wanted to sober up his fans and newcomers alike for those who thought he was a purveyor of sexually charged, religiously irreverent amusements.

Thus Salo, which even as it was being prepared was a focus of outrage, taking on the matter of Italy's fascism in the Second World War, and possibly how it might not have fully shaken off that spectre of national shame. Certainly the country in the nineteen-seventies seemed to be polarised between right wing extremism and left wing extremism, and neither were wishing to capitulate to the other, which may have been another motive for silencing Pasolini. When he was among the most visible Marxists on the planet, it was natural he would generate enemies for himself, and his homosexuality simply made him more of a hate figure.

Not that he was an entirely unblemished character: he had been indicted for indecency with minors when a teacher, and solicited rent boys to satisfy his needs, not the behaviour of the most laudable artist around. Also, he delighted in getting up the noses of the establishment - the bourgeoisie as they used to term them back then - and was deliberately provocative, as if a bad review from a conservative commentator was far better than a good review from someone on his political wavelength. Therefore Salo, on the face of it, was designed to be as offensive as he could muster, with his social viewpoint coming second.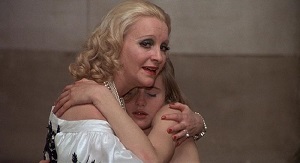 The reactions were predictably varied when it was more widely seen, with many countries banning it outright, or only allowing a release if it had been subjected to edits of the most offensive material; in Britain it took twenty-five years before the censors felt the public was able to take it. Yet Salo is not the kind of film you watch casually, you don't kick back with a beer and pizza on a Friday night with it, and Pasolini's oh-so-serious reputation worked against anyone having a good time with it as much as the actual content. And yet, there were signs that the great provocateur was ahead of his time, and not in a healthy way.

Well, perhaps "healthy" is the wrong word to use when we are supposed to be non-judgemental with regard to others' sexual proclivities, as long as they do no harm to people then everything is fair enough, right? Certainly the depravity the Nazis get up to in Salo is the sort of thing that's only a few clicks away on your average pornographic website in the twenty-first century, especially where humiliation is considered erotic. If you want to watch someone do a poo, then feel free, it's out there - if you want to watch someone eat a poo, then there are those who will debase themselves for your pleasure as well.

The supposition that Pasolini's victims here were intended to depict the horrors of fascism and how they can dehumanise vast swathes of people may have been part of his point, there are assuredly clues littered throughout the film indicating a revulsion at that political position so dedicated that it cannot fail to be obvious to even those watching a clip of Salo. Yet there is something else in the piece that breeds a suspicion, a notion that its director was thoroughly enjoying himself by going as far as he could, and that almost despite himself he was conducting a sexual charge for himself and an audience which could barely admit to it.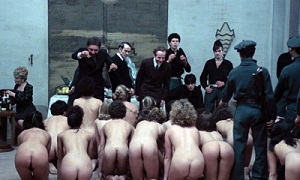 If others are turned on by Salo, then you can feel safe in the knowledge that you are morally on a higher ground, but if you find yourself turned on by its depictions of an appalling abuse of power, what then? Is that why it has been received with such aghast condemnation, and also why its champions (and there are some hardy souls who will stick up for it) prefer to intellectualise its philosophical themes to justify it as art? You're not going to get many in the pro or anti camps who will tell you, "Phwoar! This is hot stuff!" even if their basest desires in the depths of their mind may be responding that way.

Pasolini had earned his position as an intellectual already, but he also entertained a prankster sensibility, and you can see that throughout Salo. It definitely won't educate you about anything to do with the Italian fascists in World War II, as it was drawn from the pages of a book by that old reprobate The Marquis de Sade and is more of his oeuvre than an accurate history lesson. The common conclusions on watching is that it is either revolting, mentally stimulating or boring, yet what if it is all these things, because Pasolini was purposefully fucking with the viewer just as surely as the Nazis in the story mess up their group of victims during 120 days of torture and sexual perversity? 2 Girls 1 Cup doesn't have that sort of power, even if the effect is much the same, but there's a steely gaze from Salo that looks straight back at you and asks uneasy questions: you have appetites, you love to consume, but have you considered your appetites? Really considered them?

[The BFI release this title on 2-disc Blu-ray with the following special features:

Presented in High Definition
Includes both Italian-language and English-language versions
Newly recorded audio commentary by Kat Ellinger, author, film critic, columnist and editor-in-chief for Diabolique magazine
The End of Salò (2008, 40 mins): actors Antinisca Nemour and Paolo Bonacelli, screenwriter Pupi Avati, production designer Dante Ferretti, assistant director Fiorella Infascelli, assistant editor Ugo Maria De Rossi and others, discuss the film's production history and Pasolini's legacy and tragic death
OSTIA (The Death of Pasolini) by Coil - the band's 1986 track with video accompaniment from 2008
Original Italian trailer
Open Your Eyes! (2008, 21 mins): Pasolini and his actors at work on the set of Salò
Walking with Pasolini (2008, 21 mins): documentary featuring Neil Bartlett, David Forgacs, Noam Chomsky and Craig Lapper
Whoever Says the Truth Shall Die (1981, 58 mins): the classic documentary on the life and death of Pasolini
Fade to Black (2001, 24 mins): documentary exploring the ongoing relevance and power of Pasolini's masterpiece
Ostia (1987, 27 mins): a short film about Pasolini starring Derek Jarman with optional director's commentary
Enfants de Salò (2009, 20 mins): French filmmakers including Gasper Noé (Irreversible) deconstruct Salò
***FIRST PRESSING ONLY*** booklet with introduction by Sam Rohdie, reviews, BBFC correspondence exploring the film's troubled history, stills and on-set photographs.]