The history of urban myths informing horror movies has been one the film industry itself has been slightly reluctant to acknowledge, but the horror genre has benefited more than others, maybe more than the comedy genre. Probably the first success to use such a modern folk tale, of a FOAF (friend of a friend) tale if you prefer, would have been 1979's When a Stranger Calls from writer and director Fred Walton, which itself had started life as the short 1977 effort The Sitter (not to be confused with feature length movies that came later with that title). By the late seventies, the urban legend had become part of the cultural landscape.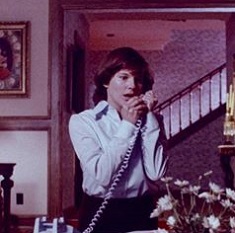 If only among the kids for whom passing these stories around were either a guarantee of a good laugh, or a shivery chill depending on the point of them. They could be divided into the scary and the funny, but The Sitter owed more to such yarns as, say, the one where the couple are out courting in a car one night, the bloke goes to investigate a noise after the news on the radio announces an escaped maniac in the area, the lady hears a thumping on the roof of the car, then a policeman appears at the passenger door and tells the lady to get out and don't look back… You may or may not know how that one ends, but The Sitter's borrowing was similar.

It was always some killer on the loose from an asylum for the criminally insane, such as the one where the lady wakes up believing someone is in her bedroom, puts out her hand which is licked by her pet dog which reassures her, then in the morning it turns out the dog is dead, and "AREN'T YOU GLAD YOU DIDN'T TURN ON THE LIGHT?" written in its blood on the wall - meaning the killer licked her hand. And so it was in The Sitter as Lucia Stralser (then a rising star whose big role in a 1977 Hawaiian TV soap ended up a flop, which is why you haven't heard of her) played a babysitter receiving nuisance calls asking if she had checked the children.

It was a blunt, effective little chiller, its power stemming from its simplicity, but for Walton he wanted to do more, and when John Carpenter's Halloween was a massive success in 1978, inspiration struck: how about expanding his previous effort into a feature, since slasher movies were now all the rage? But he was not content to make this another Halloween rip-off, he had more ambitious goals than that, recasting the central role with a more established star in Carol Kane whose career was advancing throughout the seventies in a variety of hits like Carnal Knowledge, The Last Detail, Annie Hall and, that same year, The Muppet Movie.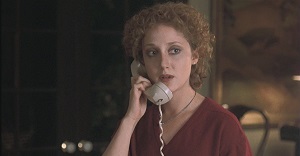 You can't say she hadn't enjoyed a variety of roles, though she tended to range from innocent to kook, and it was the former she had to play in the 1979 When a Stranger Calls. Walton and his co-producer and co-screenwriter Steve Feke (who claimed to have been inspired by an actual newspaper report rather than a myth, though how accurate that is, is debatable) built on their short to effectively create three linked pieces which when edited together would make a film lasting just over an hour and a half, and it was that initial twenty minutes that provided the hook, with its kicker of a twist that this far on you may be well ahead of.

Fortunately, thanks to a combination of performance, Donald Peterman's cinematography, Dana Kaproff's music, and the editing of Sam Vitale, Walton was able to assemble a cracking opener that had the audiences back in '79 screaming and leaping from their chairs. And indeed, that last stretch where history begins to repeat itself as a grown-up Carol Kane character finds herself being asked the same, sinister query, "Have you checked the children?" was just as effective, as that too built to a big shock moment: these two sequences influenced the pop culture in ways they could never have predicted, though as far as horror movies went, Wes Craven's Scream owed it a large debt.

That said, the central premise did echo Bob Clark's Black Christmas, often cited as the first of the slasher cycle of the seventies into the eighties, specifically the telephone business which Walton said he was not aware of when they were writing theirs. You can believe him if the urban legend was something that happened to be in the air at the time, as it most likely was. And anyway, that middle stretch was something unlike any slasher flick: an attempt to humanise the killer, make him, if not sympathetic, then at least understandable as a weak little man whose lack of perception leaves him vulnerable to his demons, which take over in the first and third acts.

Tony Beckley was playing the killer, and his real-life terminal illness added to that vulnerability which somehow rendered him creepier thanks to Walton and Feke's interest in the villain's psychology. Contrast him with Charles Durning as the detective tracking him down who is under no illusions this man is anything but a danger to others, and you have an intriguing conflict where you can support the tec's need to stop the killer, yet also have an uneasy sadness that the psychotic is a slave to his madness. Many did not like this aspect, and found the middle section weak, but it did bolster what could have been throwaway and shallow otherwise (see the remake in 2006 for precisely this).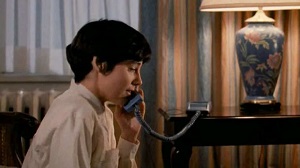 When a Stranger Calls did very well, and lodged itself in the public consciousness, at however low a level that might have been, so that when Walton was by then a TV movie director in 1993 and basically needed work, his proposal for a sequel for cable TV was picked up. He took the structure of the previous work and reapplied it, commencing with a lengthy sequence where a teenage babysitter played by Jill Schoelen, pushing thirty and coming to the end of her scream queen career, is at first irritated then frightened by a voice at the front door she refuses to open, thinking of her own safety as well as that of the children under her care for the evening.

This, as you might expect, ends badly, and we jump five years to catch up with her on a campus as a student, apparently something of a loner as she has no friends we see, but strange occurrences have started up as if someone is stalking her and trying to freak her out - could it be the same man who terrorised her when she was a babysitter? It wasn't a bad set-up, it had been fine before after all, but Walton managed to go the opposite way from grim and suspenseful as his script became increasingly ridiculous. His central proposal, that ventriloquists can genuinely throw their voice to make it sound as if its emanating from somewhere away from them, was absurd.

The only way a ventriloquist throws his voice is to make it sound as if his dummy is speaking, other than that, without very peculiar acoustics being fooled into thinking they are in another room with you is an impossibility, yet the whole plot of When a Stranger Calls Back hinged on that very thing. At least there were other eccentricities to make this mildly entertaining, for the wrong reasons, as Kane returned playing a women's counsellor who gives Schoelen a gun for comfort which is the worst thing she could have done, and Durning was back as the investigator who tracks the killer to a topless bar (!). Really, this sequel was a curio rather than anything to take seriously, but the original, and indeed the short, were well worth your time, anticipating much in horror and intense psychological drama alike.

[Second Sight have released this on a SE Blu-ray, and here are the details...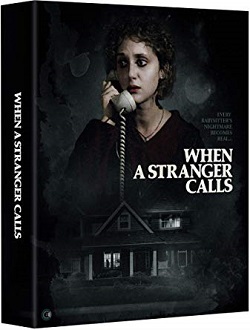 SPECIAL EDITION FEATURES:

Brand new scan and restoration
The sequel When a Stranger Calls Back in HD
New scan and restoration of the original short film The Sitter
Reversible sleeve with new artwork by Obviously Creative and original poster artwork
English subtitles for the hearing impaired for both films
Directing A Stranger : An Interview with director Fred Walton
Carol Kane on When a Stranger Calls
Rutanya Alda on When a Stranger Calls
Scoring A Stranger : An interview with composer Dana Kaproff

LIMITED EDITION CONTENTS:
Original soundtrack CD
40-page perfect bound booklet with new essay by Kevin Lyons
Reversible poster with new and original artwork
Rigid slip case packaging.]