There was a time in Britain, from about the nineteen-fifties to the nineteen-seventies, when David Nixon was one of the most famous men in the country, although as is the way with many a huge celebrity, that fame does not always last past the point of their demise. As a magician, he paved the way for other celebrities such as Paul Daniels who made conjuring and illusion their stock in trade - even scabrous comedian Jerry Sadowitz owed something to Nixon's ability with cards and sleight of hand. His style was self-effacing, even gentle, but always with a quip to set the audience at ease, his distinctive bald-pated look and towering height fixing him in the minds of the public.

By the seventies, his name was synonymous with magic on television thanks to his tireless work bringing it into the homes of the viewers, though he even appeared as guests on other shows and hosted humorous programmes that were not revolving around his stock in trade. In 1970, he starred in David Nixon's Magic Box where he was the centre of a variety show, introducing other guests including regular singer Anita Harris, who would also take part in the tricks as his assistant, though not the smiling, sequin-clad stooge that implies, as she would perform musical interludes and was very much a co-star, even if her name was not in the title.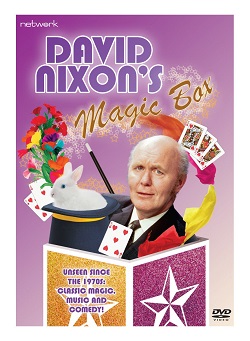 Not all of Magic Box survives, but what does exist in the archive has been released by Network on a DVD box set, plus the Christmas specials on a separate disc. They reveal why Nixon was so adopted by the public as one of their favourite celebrities for almost three decades, as he is a genuinely engaging host, and more importantly, a highly talented illusionist. Not merely in the big vanishing tricks as you would expect, but in the close-up magic that the proximity of the camera could prove unforgiving towards, yet was a blessing when Nixon was able to succeed in his tricks as his working was undetected by the lens, thereby all the more impressive.

In the first series, a six episode affair from 1970, he introduced acts much as Daniels would do in the eighties, from the traditional "put the assistant in the cabinet, push blades in, then have her emerge unscathed" business (here demonstrated by a man dressed as a Native American chief, though his actual derivation may have been closer to home) to the daredevil "survive being shot at" routine which always went down well. In addition, there were animal acts, a trained dog one fronted by two ladies in spangly leotards, and a chuntering bird wrangler whose budgies were perhaps not as compliant as he would have liked, which made watching them more entertaining.

The special guests who did not do magic were largely of the comedic variety, as for instance Arthur Askey and Jimmy Young joined Nixon for a Gilbert and Sullivan-inspired song; Askey's routine made sure to mention his host nearly setting himself on fire moments before, accidentally, which seemed somewhat meanspirited, though radio presenter Young was a more amicable participant in a levitating piano item. Also showing up were Les Dawson running through his long-suffering stand-up stylings, Stubby Kaye with a ditty about the United States Civil War (!) and Billy Dainty who naturally was called upon to show off his dancing in inimitable fashion.

A second series arrived later in 1970, and the show would last into 1971 (it was revived in more or less the same format as The David Nixon Show in 1972), but the formula was set in stone for many a magic show until the likes of The Secret Cabaret, Stuff the White Rabbit or Derren Brown's vehicles proved it was possible to present variations without sacrificing the sense of wonder at a good trick well performed. Nixon may not have been the slickest prestidigitator around, and indeed on this series we see his tricks almost go wrong a few times, but he was professional enough to keep them progressing and smooth over any errors with his naturally affable personality.

These were variety shows, in effect, and Nixon would invite a comedian on to do his act and participate in a stunt, then we would have a singer - Anita was replaced after two series with a selection of stars of the calibre of someone off talent show Opportunity Knocks. Not all the comedians' material stands up too well today, not because it was offensive, but because it was fairly mild, with Dawson probably the funniest among a roster who included Irishman Mike Newman, future 3-2-1 quiz host Ted Rogers, Jack Douglas in his Alf Ippititimus persona (probably the best next to Dawson), and more forgotten funnymen like Ray Fell.

The magic acts on as guests ranged from the sort of thing you would see in cabaret, or a working men's club of the day, with much use of coin tricks, scarves miraculously tying themselves together, or doves appearing from up the conjurors' sleeves, all very well, and to contemporary audiences more acceptable than the trained animals (one act has a whole menagerie). Though perhaps the most impressive was Joe Castor, again, forgotten now but his little doll painting pictures while Castor himself remained utterly invisible had to be seen to be believed - it was gems like that which made this so rewarding to revisit, never mind Nixon's skill in his own setpieces.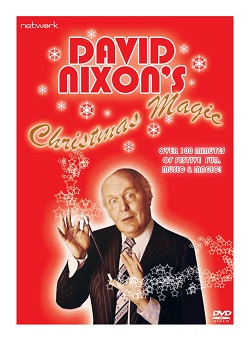 Celebrity the Lovely Aimi MacDonald even did a few tricks herself, presumably coached by Nixon, and reappeared for the two Christmas shows Network have released on a separate disc. The festive treats were notable for featuring the Thames TV theme from its logo transformed into a carol (writer Johnny Hawksworth appeared in one of the other episodes), but also the guests, including in the 1974 effort ventriloquist Shari Lewis and Lamb Chop, a huge act at the time (which may bemuse some now), Lynsey De Paul doing a song (and disappearing) and in the 1975 one, perhaps regrettably from a modern perspective, Rolf Harris (one of two appearances here), though the much-respected clown George Carl's classic act made up for any misgivings, a brilliant piece of mime.

All of this is an absorbing window into a world of showbiz that was the norm for millions of TV viewers and theatre attenders, at the centre of it all Nixon himself, always reassuring that the people he had plucked from the audience had definitely never met him before, talking about the "fluence" and often assisted by Ali Bongo, one of the great magician's trick creators who was present dressed up as footman in the single-monikered guise of Alistair. The only grim element that foreshadowed the fact he would not see out the decade was his occasional cough - Nixon had a sixty-a-day cigarette habit which curtailed his life at age 58, passing away from lung cancer in 1978 after one last appearance with his old foil, puppet Basil Brush. Maybe for that reason, he has been eclipsed by the entertainers to follow, he was resolutely old school and his shows are not much revived, making these DVDs the perfect way to catch up with him now. He was really famous once.

Click here to buy the sets from the Network website.