For many decades, the British depicted their Empire in film as the heroes but come the nineteen-sixties a remake of Sanders of the River just wasn't going to cut it no matter how fashionable vintage military jackets were in Swinging London. Works questioning the role of the Empire in shaping the modern world, and the cost of that control exerted upon the Commonwealth, began to spring up in the wake of such events as the Partition of India or the Suez crisis, and no longer were the younger generation content to accept their elders' version of what they and their grandparents, great-grand-parents even, considered their duty.

The Second World War was unquestionably a noble conflict from the Allies' side, but going back further, to Victorian times as the 1966 epic Khartoum took place in, and it was easy to find far more contentious and yes, that modern word, problematic occasions that did not paint the British in the best of lights. Really what had inspired these was the multi-Oscar-winner Lawrence of Arabia from 1962 which proved there was still a huge audience for the monolithic efforts of the previous decade that had packed them in at the cinemas, as long as that audience believed they were getting some form of education to go along with the spectacle.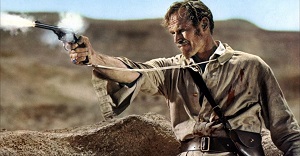 Maybe you could go back further to The Bridge on the River Kwai in 1957 to see the seeds of this scepticism about British authority being always in the right during warfare, another enormous hit at a time when the epic seemed to be the only thing keeping people away from their television sets at home, and Charlton Heston was the star most identified with the genre, playing a vast array of heroes from different historical periods, most famously as Ben Hur in 1959, but set on this path by this Moses for Cecil B. DeMille in The Ten Commandments in 1954. That would inform the rest of his career, as he moved from historicals to science fiction and disaster flicks in the seventies.

In Khartoum he was playing one of his, in retrospect, favourite roles, that of General Charles Gordon, an eccentric military man who the Victorian public loved but was too unpredictable for the higher-ups to have much tolerance for, or at least this was how he was portrayed here. At least Heston resembled the statue of Gordon we saw at the end, though he was a good deal taller than the man himself, and his upstanding moral command in the face of increasing doom at the hands of the Islamic Fundamentalist armies threatening Sudan where he was trying to quell the tide of unrest and save the whole of North Africa from a massacre on an unbelievable scale was well delivered.

In the sixties, pieces like Lawrence of Arabia and The Charge of the Light Brigade, and indeed Khartoum, served to underline how much the world was changing at an alarming rate, yet were reassuring in that they implied such change had been around for at least a century and were more the norm than anything they could not cope with. For Khartoum, its depiction of the new conflicts as more religious than political, as the Cold War was propagating in Vietnam, for instance, may not have come across as current, but watching it now it does look prescient, or at any rate wise to point out that some things never change, and those things are religion tearing the world apart.

Although the 1966 film, directed rather anonymously by Basil Dearden though Robert Ardry's screenplay easily as literate as any of its epic peers, did well in Britain, but abroad struggled to find an audience who were interested, Gordon not a recognisable name there - though now he is largely known to military historians professional and amateur alike. It certainly had the spectacle, as far as the striking landscapes and thousands of extras went, but its real strength were the dialogue exchanges, with Heston trading barbs with the likes of Ralph Richardson, Richard Johnson, Michael Hordern and Johnny Sekka, among other familiar faces.

However, one familiar face was not quite as recognisable, since it was slathered in dark brown makeup: Sir Laurence Olivier, for it was he, played the Mahdi, the leader of the fanatical revolt. He had played Othello, naturally, and here was restrained and respectful while still making us aware this man is dangerous in act and ideology, but his casting is one reason why Khartoum has not travelled well to the twenty-first century. If you can get over that, there was much to engage with, but one other thing held it back, a film that was far more regularly revived and appeared to be sending up everything this was aiming to succeed with and convey.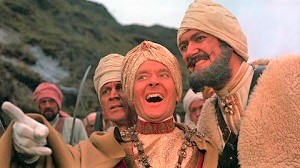 Not solely Khartoum, of course, but a whole raft of colonial entertainments Brits were invited to enjoy at their local fleapits and by 1968 had had just about enough of. With new arrivals from the Asian subcontinent making their presence felt by this point, Britons had a lot to think about, and the taking for granted of British superiority throughout the world, which by then was looking somewhat shakier outside of its pop cultural achievements, plus the previous acceptance of, if not exactly white supremacy, bringing a more measured approach to race, led to possibly the most honest depiction of the nation with regard to the lands which had previously been coloured pink on the world map.

That film was Carry On Up the Khyber, which many took to be a dig at the "funny foreigners" the Brits had encountered abroad, but in fact was just as incisive at sending up that self-same attitude in the denizens of the United Kingdom, if not more so. The British here were ridiculous, and they may have conquered great swathes of the globe, but they still prone to their own vanities and idiosyncrasies, precisely as General Gordon had been in Khartoum. For the team of producer Peter Rogers, director Gerald Thomas and writer Talbot Rothwell, the Carry On formula had been ringing box office tills across every territory where they were released.

And Carry On Up the Khyber was one of the most successful they ever made, striking a chord in everyone who had considered the British and thought we were barking mad: that included the British themselves, who knew how to take a joke at their own expense, though whether that was self-deprecation in the national character or a genuine humility was up for debate. The plot was not centred in Africa as Khartoum had been, but in Northern India where the titular region was situated (represented by a gate!), and the resident overseer, Sir Sidney Rough-Diamond (Sid James), found his already unsteady authority undermined by the local Raja.

He being the Khasi of Kalabar, played, as Olivier had done, in brownface by Kenneth Williams, though in this case we were not intended to take the makeup in any way seriously, it was part of how ludicrous this was with its central conflict the revelation the troops stationed there did not wear anything under their kilts, but had taken to sporting thermal underwear, a betrayal of how fearsome the Indians and Afghans believed they were, and threatening to spark a revolution. Cue, as ever, plenty of innuendo, much of it hilarious, but with an intriguing theme picked up on by documentarian Adam Curtis when he made his Bitter Lake piece about the rise of Islamic fundamentalism and its roots: it could all be traced to the British in Asia and North Africa. This has offered a silly Carry On the resonance that Khartoum was taking for granted, and it is absorbing to watch them in a double bill when they complement one another so well.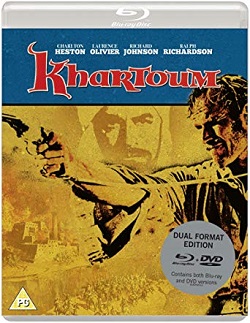 [Eureka have released Khartoum on Blu-ray in the UK, and though it has been slightly trimmed to edit horse cruelty, it looks splendid in HD. Those features in full:

1080p presentation (on Blu-ray) from a gorgeous high-definition transfer
Presented in the film's correct aspect ratio of 2.76:1
LPCM 2.0 Audio
Optional English SDH subtitles
Audio Commentary with Film Historians Lem Dobbs, Julie Kirgo, and Nick Redman
Exclusive new video interview with film historian Sheldon Hall
Original theatrical trailer
PLUS: A collector's booklet featuring a new essay by Phil Hoad, alongside a selection of rare archival imagery.]