When Edgar Allan Poe penned his horror story The Murders in the Rue Morgue, he would never have guessed at what he was about to unleash on the world. Yeah, yeah, it was essentially the first detective story, but that ending where all was revealed about the identity of the murderer proved such an attractive idea that it echoes down the ages... to the eighties, where the villain inspired a few shockers that became cult movies. Prepare yourself for a spoiler if you haven't read Poe's classic literature, but the bad guy wasn't a guy at all, but an ape wielding a blade, and that image went on to inform scenes in the decade where apes and monkeys were enjoying renewed interest from the moviemakers of the world.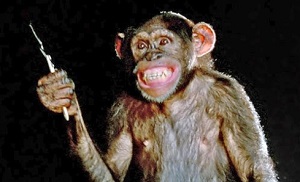 Perhaps it was the huge success of Clint Eastwood's Every Which Way But Loose, which featured the cinematic hardman hero posing as a bare knuckle boxer and trucker whose best pal was an orang-utan named Clyde, but from there the cue was taken to team up various movie protagonists with our closest neighbours on the evolutionary chain. From BJ and the Bear on television to a sequel with Clint, Any Which Way You Can, and a bunch of substandard flicks like Going Ape, Carnival Magic and Going Bananas, chimps and monkeys were regular visitors to the world's silver screens, but the appeal started to sour when those creatures turned violent in such movies as In the Shadow of Kilimanjaro or Shakma.

More prominently than those were a trio of horrors showcasing what a trained ape or monkey could do for your picture, and halfway through the eighties arrived Dario Argento's contribution to the cycle, 1985's Italian Phenomena. I know what you're thinking, wait a second, that's the psychic teenage Jennifer Connelly marshalling the insects movie, isn't it? Why, yes it is, but there was also a chimpanzee here, playing the pet of entomologist Donald Pleasence which he carried out predictably one-sided conversations with and warned it against playing with scalpels. Some hope of that when in the picturesque area around the Swiss finishing school Connelly's actor father has despatched her to, there is a serial killer around.

There's only one thing for our heroine to do, and that's turn detective since the Swiss police force are making a hopeless job of preventing the crimes, which she can ably carry out when she can use those aforementioned psychic powers - and insects. Now, you don't watch Argento thrillers for their logic and coherence, but in the eighties he grew even nuttier than ever, and though he claims Phenomena is his favourite of his own works, there are few who would pick it over Deep Red or Suspiria, at least among his more ardent fans. However, if you were also a fan of chimps brandishing straight razors, then nothing could match it since the animal in this case was assuredly the hero who saved the day when things looked bleak for Jennifer.

In real life, this was not so much the case, for chimps are extremely dangerous beasts, meaning only the very young can be used to be trained for entertainment: there's a reason Michael Jackson decided he didn't want to hang around with Bubbles anymore once he grew up (the chimp grew up, that is, not Whacko). Connelly found this to her cost as they shot the finale and her supposed saviour promptly bit off the end of her finger when she tried to guide it in the scene; she was taken to hospital and the digit thankfully reattached. Knowing that puts a different slant on the climactic heroics where the disgruntled chimp rushes in, blade in paw, to gorily rescue her - maybe Jennifer needed rescuing from the marauding beast herself?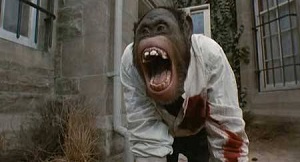 They seemed such placid critters when Matthew Broderick united with one in antivivisection epic Project X, or indeed that Quantum Leap episode where Scott Bakula played one almost entirely naked for the entire running time, but just ask Elisabeth Shue if she would agree, having met a more antagonistic variety in 1986's British chiller Link. Named Jane, possibly after Jane Goodall, she played a zoology student who volunteers to work for the summer at her professor's Scottish retreat, helping out with his research into apes. There are three in the rambling country house by the cliffs, two chimps and an orang-utan posing as a chimp (one of the quirks of a decidedly quirky suspenser is that Link was an orang-utan dyed black and given false ears to look more chimplike).

Yes, Link is our villain, a creature who always gives the impression of being far smarter than anyone takes him for. He wears a butler's outfit, as befitting his time in the circus where his party piece was to light and smoke a cigar, something Jane finds demeaning to his species but the Prof (Terence Stamp acting a little chimplike himself) doesn't bat an eyelid, it's all research into their intelligence as far as he is concerned. But what if Link thinks he's just that bit better than his human companions? What if he has heard something about his eventual fate? What if he means to do something about that? And what if, as if he were a man in a gorilla suit from an old thirties B-grade horror, he is beginning to have feelings for Jane?

Not wholesome, give me a banana feelings either. Shue had her own anecdote about working with apes just as Connelly did, though hers was less violent yet no less creepy. When it came to shoot the infamous scene where Link insists on watching Jane bathe, which understandably puts her off the idea until later and she can be alone, Shue decided to see how the animal would react to seeing her topless and was alarmed to see the incredibly intense stare she received at the bosom area from the primate in question. Basically: that ape wasn't acting, which no matter how many times you watched Sigourney Weaver in Gorillas in the Mist was never going to quite shake the sense that animals such as these could be unsettling in a not quite human manner.

That said, Link in the movie had more of an agenda than many of his ilk, all to promote the thrills in the script - there was a fairly prestigious lineup here for a Cannon movie, with director Richard Franklin recently enjoying a hit with Psycho II, writer Everett de Roche one of the brightest talents of Ozploitation, and producer Verity Lambert one of the greatest British television ever saw. For a simple killer ape flick, that wasn't bad, and this isn't a bad movie either, fair enough there are very few surprises, but its simplicity satisfied thanks to the aforementioned suspicion even the most enthusiastic animal lover would have that given half the chance the fauna we share the planet with would be unbothered if humanity became extinct tomorrow.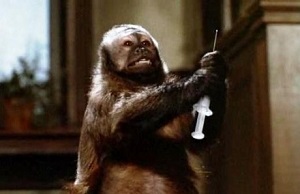 But hey, were we people really that far away from the savagery of the animal kingdom? Yeah, think on that, makes you ponder, doesn't it? Or that was the idea with 1988's Monkey Shines, one of the few movies that flesh-eating zombie originator George A. Romero made with a major studio (Orion, in that case). Instead of an ape, this time it involved a lesser-seen killer monkey, and you should know by now that you don't get apes and monkeys mixed up: monkeys have tails, and their generally larger close relatives do not. The small, furry menace was named Ella, and was inspired by those "helping hands" capuchins which were trained to assist quadriplegic patients with tasks they could not perform on account of their paralysis.

Jason Beghe played the man in the wheelchair, newly left helpless in a freak jogging accident, and his buddy happened to be a mad scientist (John Pankow, who also went on to feature in a long-running television series, like Beghe) who is experimenting on the monkey with a brain serum so that he can, erm, make a smarter monkey for some reason. If they can be trained to be a benefit to the severely disadvantaged, you may wonder why bother making them more intelligent when they are quite intelligent enough, thank you, but if you thought that you were not seeing the world as a movie mad scientist saw it, and quite a lot of the time for them the matter was not "why bother" and more "why not bother?" in a blinkered by their genius manner.

Soon Beghe's Allan is eschewing the help of his nurse (Romero's wife Christine Forrest) in favour of the creature which carries out whatever he wants and all for the gift of an edible treat ever time she does; just about the only thing she cannot do is bathe him and take him to the toilet, it would seem. But Allan's rage at his useless body is being channelled into massive resentment of those around him, and Ella picks up on this, then acts on it. First to go is the nurse's pet budgie which pestered her master: it ends up dead in the nurse's slipper, but our little friend is not about to stop there, as news the surgeon (Stanley Tucci with hair) could have saved his spine but didn't and has stolen his girlfriend (Janine Turner) stokes that anger.

This was building up to the extended finale where Allan is trapped in his home with the crazed animal bumping off all and sundry through various means, including that poster image of a straight razor. This was the visual shorthand for a too-clever simian murderer that would be returned to time and again; the chimp in Phenomena also carried such a weapon, and Link picks up a knife and threatens with it too, albeit briefly. In truth it was something Romero could have made more of in Monkey Shines, but it remained an irresistible notion, and if he had had his way and the studio had not recut his work this might have been a hit to propel him into bigger budgets and realising those dream projects that sadly died with him. Fortunately, what we were left with was an offbeat shocker that offered monkey marauder horror that was missing for too long, through clever effects and well-trained animals. After this lot? Dunston Checks In. In which Dunston did not wield a blade. As far as we know.

[Monkey Shines has been released on Blu-ray by Eureka in a features-packed dual format edition. And those features?

Limited Edition O Card slipcase [First Print Run Only]
1080p presentation of the film on Blu-ray
DTS-HD MA 5.1 and 2.0 audio options
Optional English SDH subtitles
New and exclusive feature length audio commentary by Travis Crawford
Audio Commentary with director George A. Romero
An Experiment in Fear The Making of Monkey Shines - a lengthy retrospective with George A. Romero, stars Jason Beghe and Kate McNeil, executive producer Peter Grunwald, and special effects legends Tom Savini, Greg Nicotero and Everett Burrell.
Alternate Ending and Deleted Scenes
Behind-the-scenes footage, original EPK featurette, vintage interviews and news reports
Trailers and TV spots
PLUS: A limited edition collector's booklet featuring a new essay by Craig Ian Mann; highlights from the film's production notes: and rare archival material [First Print Run Only].]