Click here for Part One!

The Goodies were midway through their run and at the height of their popularity on the BBC, now releasing books and records to branch out their franchise. But chief among these was the TV show...

Series 5 (1975)

Kicking off the fifth outing of the nineteen-seventies was a piece simply entitled Movies, where the parodies were given a lot more heft by having the gang take on the might of the British film industry. Or at least, it used to be mighty, but now was entering long doldrums it didn't quite recover from, though we do have more British hits these days at the pictures than back when they were critiquing the best we had to offer and judging it lacking. They obviously knew their stuff, with references aplenty indicating they were genuine film buffs, rendering this all the more satisfying, especially when Oddie's love of silent comedy was brought out in a lengthy riff on Buster Keaton's masterpiece Sherlock Jr. A lot of this was up to the standard of the classic silents, with accustomed, surreal twist.

Memorable image: Graeme nearly run over by a lorry he's watching on the screen.

Slapstick was the order of the day, even more than accustomed with this programme, with the Clown Virus episode, which descended into an even more ludicrous state of affairs than usual, despite the serious message over what to do about the United States and their weapons development and testing at sites across the globe, including Britain. Not that they ever developed and tested anything like the germ warfare of the title, which the General (ever-reliable Spike Milligan stooge John Bluthal) informs the boys is tomato soup, and won't they please get rid of it? With digs at the motorway service stations that would serve such toxic foodstuffs, soon the nation has been infected and transformed into clowns, leading to another military showdown (more explosions).

Memorable image: Yeah, those clowns, but how about Graeme getting crushed Wile E. Coyote-style by a ton weight?

Chubby Chumps saw the trio biting the hand that fed them, not for the first, nor the last time, as Tim has become addicted to Radio 2, specifically the Jimmy Young and Terry Wogan shows, one of which encourages the listeners to cook - and eat - and the other where they are told to "fight the flab". Tim proves good at the former and hopeless at the latter, putting on many stones in weight for the body of Bernard Manning rather than his old, svelte self. One visit to a Wogan run health farm and he has become a blonde bombshell (note to younger viewers: a "tranny" here refers to a transistor radio!) and the story sends up beauty pageants for selling an impossible ideal, though it does end in a Benny Hill-style chase (complete with Yakkety Sax), making for a scattershot, but funny, episode.

Memorable image: Bill squashed flat by a rolling fat housewife.

The Land of Song was in their sights for Wacky Wales, which did for that part of the British Isles what the Loch Ness Monster episode did for the Scots (presumably that was the inspiration - though they never did a Northern Irish one, understandably). It was also evidence that even at this stage in the run, with a fair few series under their belt, they were just getting started as this was some of their funniest material, visiting the Eisteddfod to perform yet finding Jon Pertwee's Reverend so strict in his religious beliefs that he has turned the whole nation bonkers. The only thing they take pleasure in is rugby, so The Goodies devise an inter-faith league to avoid being sacrificed in a druid ceremony (!) which leads to some of the wildest ideas they ever had.

Memorable image: Mary Whitehouse (her again) as the Festival of Light's star rugby player, not above using dirty tactics, either.

Frankenfido was a takedown of the annual Crufts dog show, where various breeds are shown as supposedly the finest examples of canine kind, though there have always been complaints about how possibly cruel this could be. Something this episode took to heart, as Graeme breeds his own crosses between not merely dogs, but other animals and eventually household objects to illustrate the mad scientist qualities of refining the pooches' characteristics to insane degrees, though not even Crufts went this far. It was one of the more basic plots for the team, but they worked every possible variation out of it, from a dog armchair to a dog cooker (with Dalmatian spots), and Bill on quiz show Mastermind dressed in a costume to secure the best of them all title.

Memorable image: Graeme with his dog-parrot flying around, holding onto its lead for dear life.

Now, there are problematic gags in many episodes, mostly thanks to the benefit of hindsight, but they don't tend to dominate the entire half hour. Scatty Safari was different, as it royally sent up a celebrity who was thoroughly disgraced some decades later: Rolf Harris, complete with not only references to the Australian family entertainer, but actors dressed up as him too, for the plot had the Goodies forced to replace their star safari park exhibit Tony Blackburn (the DJ as himself) with Rolf. Two Rolfs, in fact, who quickly become three and spread across Britain like a plague. If any mention of someone who has fallen from grace offends you, you're not going to like this; if, however, you appreciate the star was being ruthlessly parodied, you'll see this as hilarious.

Memorable image: In the Outback, chasing after the wild Rolf in the Land Rover (it rams the vehicle like a zebra).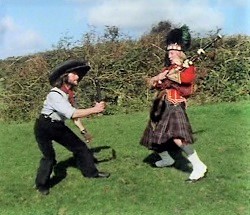 Then to an episode that hit the headlines at the time it was aired, for Ecky Thump was the one that actually killed a viewer. The storyline was that Bill is reluctant to give up the secrets of his titular martial art, learned in the mysterious Rochdale, to the newly-kung fu obsessed Tim and Graeme, so they organise a tournament with various nations' particular fighting style. The fight between Bill's black pudding and Tim's bagpipes so tickled one viewer that he couldn't stop laughing, and expired from heart failure as a result. If it's not exactly a proud boast that your comedy has claimed a life, it was impressive in an ultimate accolade way. As for the rest of it, less a send up of Bruce Lee and more of the David Carradine-starring Kung Fu TV series, which could do with puncturing, let's face it.

Memorable image: With respect to the deceased, black pudding versus bagpipes.

Next, one of what was technically their single-location stories, though there was more than one set used as they get a job as lighthouse operators in the self-explanatory Lighthouse Keeping Loonies. Displaying that they could be as ingenious as ever even in a restricted premise, much of the plot had them trying to not simply keep the lamp shining, but actually get the lamp lit, going to the trouble of striking oil beneath the lighthouse in a last ditch attempt at obtaining fuel. Ever since the mystery on the Scottish Flannan Isles where three keepers disappeared without a trace, the idea that tending one of those buildings sends you round the bend proves difficult to shake, though this was approached in a far more comedic fashion, going as far as sending the boys into space.

Memorable image: Graeme's inadvertent foghorn impersonation.

A change of style, well, up to a point, arrived with a tale set two thousand years before they usually were, as Rome Antics plonked our heroes down into Roman-occupied Britain, without so much as an explanation as to how that had happened. The influence of the Asterix books was much in evidence, as in their English-language translations they were a sensation among young and old in Britain, and here was a try at a Goodies version of that. As in the French comics, the three of them travel to Rome and meet the Emperor, played by a very camp Roy Kinnear - if you want to see comedy treasure Roy acting kinky, then here's your chance. As they try to entertain the baying crowds at the arena, Tim has a promotion and ends up Emperor himself - until the Vandals show up.

Memorable image: Roy with the carrot. Yikes!

Then an episode slightly problematic given what we know now; no, not another instalment with an inappropriate joke to modern eyes, it was a whole story devoted to Bill driven to suicide attempts. The saucily-named Cunning Stunts began with the trio running a newspaper, but perhaps recognising that taking on Fleet Street might not garner them too many beneficial reviews, the actual plot had Bill unlucky in love and resorting to increasingly self-destructive activity, culminating in the Eurovision Raving Looney Contest where he plans to end it all spectacularly. The problem was, we are now aware Oddie genuinely does suffer from depression and has been suicidal at times in his life, which makes it uncomfortable to be laughing at his misery. The best medicine, one supposes.

Memorable image: Bill trying to make his girlfriend's father laugh but dressing up like him unintentionally (said girlfriend being Tessa Wyatt, Tony Blackburn's other half at the time). At least Oddie had a sense of humour about his condition.

Mind you, if the above episode makes you uncomfortable, you had best avoid possibly the most notorious entry in The Goodies canon, South Africa. They would often alight on a country to send up, but this one had a fascist, racist government who enforced apartheid, and the boys thought it was a suitable target. All well and good, but in their exposing of Britain's hypocrisy for not condemning the authority in question strongly enough, the demonstrated in-character racist views to parody them, and it's a tricky business, making fun of prejudice. The heavy hand here could be mistaken for the real thing, and though their hearts were in the right place, and the language used was the same on hit sitcom Love Thy Neighbour, it may have been scathing but it was uneasy too.

Memorable image: South African tourist official Philip Madoc's all-white office.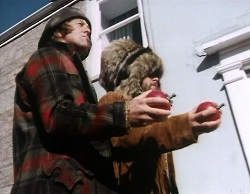 On firmer ground, and about as silly as The Goodies got, was one of the best-remembered efforts, Bunfight at the OK Tearooms which was a spoof of Westerns, specifically in its latter stages Spaghetti Westerns (coming to the end of their phase of international popularity by that point). In this one, they headed West - to Cornwall, and hoped to find gold, or at least tin, but instead struck cream and jam, ideal for the scones they have just discovered, but will cause a rift between them leading to a "gunfight" with tomato ketchup dispenser as seen in seventies tearooms across the land. Probably the most memorable element was the argument over the correct pronunciation of the word "scone", something that still pops up online today.

Memorable image: Graeme dealing toast like a deck of cards - ginger nuts are used as poker chips.

The End was the aptly titled last episode - for this fifth series, that was, as they would be back the following year. It was what the Americans call a "bottle episode", meaning the regular characters spend the story in one location, usually to save money for other, more expensive instalments elsewhere in the run. This saw the trio trapped in their offices when a solid concrete block of flats, which contains no apartments, just concrete because nobody can afford them, is built on them, and gradually all hope of rescue is taken away. It was a bleak yarn, really, but necessity is the mother of invention, and they managed some big laughs out of a restrictive basis, though the religious aspects did not travel well out of the seventies. Nevertheless, it was smart in its way.

Memorable image: Graeme spelling his own name wrong, as everyone else does, presumably.

The Christmas Special in 1975 was Goodies Rule O.K.? which amounted to a compilation of ideas that could have constituted a whole series' worth of filmed segments - nothing in the studio here. With scenes apparently anticipating such classics as Bugsy Malone or The Rutles, they threw every idea in a go for broke sensation of comic lunacy, ranging from the boys trying to make it as pop stars (something they genuinely did in '75) to standing for election as the country spirals into crisis (again, true to life - well, the Goodies didn't tend to politics), and the grand finale as children's TV puppets form, yes, a puppet government which prompts one of the show's most sustained examples of bizarre flights of fancy. One of the craziest things ever broadcast on British television.

Memorable image: Has to be the team chased by the giant Dougal from The Magic Roundabout, though Nationwide presenter Michael Barratt's interview with Sooty and Sweep is a close second.

Series 6 (1976)

Jaws had been the biggest movie of the previous year, and indeed of all time, which did not escape the notice of The Goodies, hence their first episode after it had hit so hugely was Lips, or Almighty Cod. But they had more on their plate than spoofing a shark, for the Cod Wars were occurring at the time, where fishing rights were resulting in some very aggressive politics between Britain and Iceland, so that was spoofed as well as cod becomes incredibly scarce and Eskimos (from Iceland?!) enforce their fishing restrictions with weaponry. Catching a single cod, Graeme becomes attached to it and tries to make it butch rather than eat it, but playing Max Bygraves at it turns it into a Jaws-style monster which chases them around a freezing-looking lake.

Memorable image: Tim eating the resident goldfish Gilbert, featured in many episodes, but here battered and munched.

A mishmash of an episode, Hype Pressure seemed to have been thrown together from the various targets the Goodies had seen and been annoyed by on contemporary television. It commenced with Bill trying to write a new hit to follow up (actual) hit The Funky Gibbon, which somehow gets him and Graeme on Tim's talent show New Faeces (sic) where against the odds they impress the judges (New Faces was often criticised for encouraging viewers to tune in to see hopefuls humiliated - not much has changed). This drives the "50s revival revival", which in turn spurs a 60s revival, and a spoof of the music show Supersonic (Superficial) with Tim as an increasingly megalomaniac Mike Mansfield, ending up cueing World War II. All over the place, but still funny.

Memorable image: Kitten Kong versus Dougal.

A popular recent film had been Murder on the Orient Express, but it was evidently not very popular with The Goodies, who created this takedown named Daylight Robbery on the Orient Express which exhibited their resentment at shelling out for what they considered the most boring film ever made. Whether they were correct in that assessment is a matter of personal taste, but it was always fun when they were enthused about their subjects and staging a fake holiday on a real train holding groups of detective enthusiasts as passengers/tourists was naturally the jumping off point for a withering look at Agatha Christie's oeuvre, somehow turning into an accusatory tirade at whatever they found boring in general, topped off with an international boring championships.

Memorable moment: Just seeing the celebrities they thought were boring, Clement Freud, John Peel, Michael Parkinson, Brigitte Bardot and all.

Black Beauty was a popular TV programme, too, and The Goodies had it in their sights when they created Black and White Beauty which somehow did not contain their occasional dig at The Black and White Minstrel Show, though Tim's unacceptable, original name for the horse came close. It began with Graeme running an animal sanctuary which was a front for fleecing old folks for looking after pets that were actually dead (touch of the Monty Pythons, there?). When someone brings in a horse, or rather a pantomime horse costume, things got even weirder and they split into two rival factions, Bill the evil landowner wanting to run Beauty in the Grand National and Tim and Graeme eventually inhabiting the costume to do so, since they're scared of him.

Memorable moment: They do indeed go to a pantomime horse-packed Grand National, and negotiating the fences is quite something.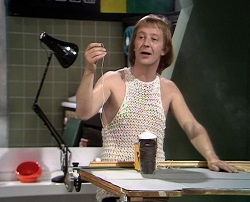 Next up, one of the team's finest half hours, the superbly sustained It Might as Well Be String where the target was the advertising industry. It was only a matter of time before they devoted a whole episode to this, as for most of their first five series they had included spoofs of then-current commercials, but here they excelled themselves as Graeme and Bill use the hard sell technique so effectively that they prompt a consumer crisis. Tim saves the day - for a while - with his campaign for string, leading to some hilarious scenes, one highlight being Raymond Baxter presenting a Tomorrow's World devoted to the material. As Tim realises his ex-buddies are exploiting the situation, a madcap barrage of wild parodies is unleashed: 70s comedy didn't get better.

Memorable image: Take your pick! But I'll plump for Hai Karate girl Valerie Leon beating up Tim.

They dabbled in science fiction for 2001 and a Bit, though it was not, as the title may have indicated, a spoof of the Stanley Kubrick 1968 epic, as it was more concerned with the sport of cricket. Set in the future, we followed the sons of the original Goodies, all played by themselves but having been mixed up as to who their fathers were (they shared a single mother: Raquel Welch!), giving the team a chance to swap outfits for a change (Bill in Tim's Union Jack waistcoat, Tim in Graeme's corduroy suit). In this potential future, everyone's terminally bored and cricket has died out in favour of Rollerball, which Graeme plays, so they reinstate it only to find it is in far from as entertaining as they hoped. Sometimes you couldn't work out their real feelings for their targets.

Memorable image: Graeme playing Roller-Egg and Spoon Race.

Lastly in the '76 series was a concert of sorts, though filmed in the studio. The Goodies: Almost Live showed up at the end of a successful run of chart music for the trio, their biggest success being Funky Gibbon which took the nation by storm at a time when novelty records were impossible to avoid. Not really much of a step up from The Wombles in terms of artistic achievement, they at least provided Oddie his chance to live out his rock star dreams, and Brooke-Taylor was a willing participant, though Garden always admitted he felt a "such a berk", but here were cuts from their albums and singles nevertheless. There was an audience who looked to be enjoying themselves, and a live BBC orchestra, with revivals of Pan's Grannies and The Bounce. Flick Colby choreographed!

Memorable image: Tim getting carried away with an audience member during Wild Thing.

Series 7 (1977)

In 1977, the miniseries Roots was one of the biggest TV shows in the world, throwing a spotlight onto the issue of slavery as drawn from Alex Haley's account in his book. But considering the subject matter, was it such a great idea to parody, Goodies-style? Actually, they were less bothered about Roots in Alternative Roots than they were with their hated Black and White Minstrel Show, a programme if anything more grotesque than was depicted here where the old-time blackface minstrel phenomenon was judged family entertainment even in the late seventies. In truth, some of this was very funny, with each of the team taken back to their origins and ending up with those ancestors forced to work in television, like, well, slaves, but good intentions don't always succeed.

Memorable image: Nothing to do with slavery, it's the revolving restaurant at the Post Office Tower going far too fast.

On safer ground was Dodonuts, channelling Bill's love of birdwatching by having him encounter Tim and Graeme's Endangered Species Club which makes it a motto to seek out endangered species - and shoot them. Yes, Bill the animal lover returned to the fore once again, though even his admiration is tested when Graeme brings him a dodo, the extinct creature, to look after, and it turns out to be deeply obnoxious, squawking (with the voice of famed animal impressionist Percy Edwards), defecating and throwing up all over the place, essentially goading everyone not to make it extinct once again. One wonders what the message was here: some animals are asking to be wiped out? But the finale where the dodo takes to the air was a sight to see.

Memorable image: Said dodo dropping bombs on the hunters from its WWI biplane - always with the explosions, these guys.

Scoutrageous is one of the better remembered instalments thanks to it being one of the best of the "world domination" plots they conjured up, this time based around Baden Powell's Scouting movement for the improvement of young boys, only in this universe, it's only old blokes who are interested in joining, or rather, they've never left and have grown into middle age (and older!) with it. Graeme and Bill think Tim being a Scout is hilarious, but become envious of the prestige the badges give him, leading them to first join up, then form their own breakaway faction of organised crime Scouts, menacing the public with their bob-a-job with threats. As Scouting is officially made a banned organisation, the Salvation Army would seem to be the nation's saviour.

Memorable image: The fate of Graeme and Bill's atom bomb.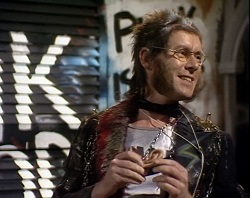 One of the strangest episodes ever broadcast under the Goodies' banner, Punky Business started out as a parody of then-popular musical drama Rock Follies, detailing the story of all-girl band The Little Ladies. Therefore our boys become The Little Laddies, but find tastes have changed: that's right, this was the punk episode! Featuring attire even an actual punk rocker would balk at, and send-ups of the media coverage (Michael Barratt delivering an expletive-filled news bulletin) and the Bill Grundy interview with The Sex Pistols (in a reversal, "Bill Grumpy" attacks the too-nice Tim), Jane Asher appeared as Caroline Kook (a mickey-take of punk intellectual Caroline Coon) and a Cinderella theme takes shape, with sawn off legs a-plenty. At least they seemed to quite like the idea of punk.

Memorable image: The Sky at Night with Patrick Moore.

A running joke throughout The Goodies was that Tim really wanted an O.B.E., given by the Queen in the Honour's List, but considering this episode, Royal Command, it's all the more remarkable that all of the trio were awarded them, albeit after the show had been cancelled. 1977 was the Queen's Silver Jubilee year, and festivities were planned up and down the land - but on this show, they had other ideas. Even today, this is pretty near the knuckle, detailing as it does the boys arranging the Royal Variety Performance but mistakenly keeping the Royals awake, meaning they have to restage it with actual entertainment. Somehow this ends up with them drafted in as the new reigning family, and the Royals, bandaged from head to toe in a horse riding accident, trying to stop them.

Memorable image: The Royals take over TV with horse programmes.

Come the end of this series, and it was clear the money had run out again, hence we were offered Earthanasia, another episode taking place on a single set, their office. It was the only real Christmas episode they ever made, and broadcast a few days before the big day, but the spirit of goodwill to all men was somewhat lacking for as they decorate the premises the radio broadcasts the news that it has been decided to blow up the planet at the stroke of midnight. This leaves half an hour (in real time) for The Goodies to make the most of their time remaining, and although this still had the silly jokes a-plenty, they took the impending doom unexpectedly seriously, and this gives the episode a sense of urgency and even finality, though they would be back in three years.

Memorable image: What happens to the BBC continuity globe.

Series 8 (1980)

After spending 1979 writing and recording what would be their final series on the BBC, it arrived in January 1980 wondering how to keep in step with the times they had parodied so expertly throughout the seventies. First up, there was Politics, where the state of the nation had become too pressing to ignore, and the team are split between Tory Tim and Communist Bill, with Graeme trying to corral them both to power to replace all the M.P.s who have deserted the country after giving themselves a pay rise huge enough to retire on. When the campaign proves so entertaining that only two people vote, the rest staying home to watch it on TV, the line between TV trifles and serious politics is blurred, and the status quo devolves into a series of game show spoofs.

Memorable image: Has to be the "Don't cry for me, Marge and Tina" pun.

The Goodies are one of the few comedy teams to be both praised and criticised by Mary Whitehouse, with Tim's carrot-emblazoned underpants causing her to complain in Saturday Night Grease as the episode kicks off with an extended take-off of Saturday Night Fever with Tim in the John Travolta role. Interestingly, what gets him into trouble is touching a woman on the dancefloor, as "mixed dancing" has been banned for some unexplained reason, though it did anticipate certain anti-harassment movements to arrive decades later. This culminates in The Panorama Disco Dancing Championships (!) incorporating digs at Travolta's other recent blockbuster Grease, ending in a patented chase that transformed into a dance off with the police.

Memorable image: Tim making passersby laugh as he struts down the street with a paint tin.

1980 was the year of the controversial Moscow Olympics, so a storyline based around the event was an obvious choice, arriving with A Kick in the Arts. If you're wondering what the arts had to do with sport, you would have a bit of a wait, as the issue of underfunded athletes was to the fore (they're seen scavenging from bins), and Tim, ever-patriotic, wants to do something about it. He doesn't know Graeme and Bill have cobbled together a bunch of foreign competitors and fixed it so they represent the U.K., which takes us to the big day when Tim brings on his solution: a team based around elderly British cultural icons, from Sir John Betjeman to Dame Barbara Cartland. As the rest of the world walk out in disgust, Graeme and Bill try to beat them in typically absurd fashion.

Memorable image: A jailed Tim escaping by shotputting the ball he's chained to over the prison walls.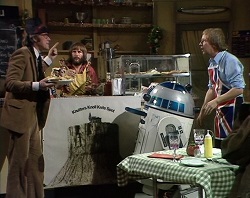 On the other hand, 1977 would have been a better year to parody Star Wars and Close Encounters of the Third Kind, one reason the team were beginning to be regarded as past it by the Beeb and audiences, though they had their loyal fans who in U-Friend or UFO? appreciated Bill being abducted by space aliens for his tromboning skills, and R2-D2 showing up to be humiliated in some admittedly amusing bits (were Lucasfilm aware of this?). The Devil's Tower motif from the Spielberg movie was reimagined as Knutter's Knoll, appearing everywhere from the news to the potter's wheel interlude, and with a brief detour onto a flasher-infested park, they sent up Superman in quite bizarre style. UFO spotters did not escape their ire, either, sounding more like stereotypical trainspotters.

Memorable image: Bill's head stamped with REJECT when his playing isn't up to snuff.

Penultimate in the BBC run was Animals, as the title suggests another episode revolving around fauna of which they were so fond to return to again and again. This time Oddie was cast against type as a raving carnivore, intent on eating Tim's menagerie of animal actors who are just not getting work. Before long the creatures have formed their own pressure group after being put to work as a source of national power, and Graeme has devised a special TV programme for them to watch detailing the lives in the wild of presenters (David Bellamy, the inevitable Patrick Moore, and so on). But when Bill is invited on TV, he makes the faux pas of eating the other guest, resulting in an extended spoof of Watership Down, with the presenters in rabbit costumes.

Memorable image: "The television presenter of the future could look something… like this."

At last, the final ever BBC Goodies was War Babies, lampooning the Baby Boomers (of which the Goodies were three) with a caricature of the British war movies of their youth, only presented in their own style where none of it was taken seriously. This meant for reasons best known to themselves the story doubled as a Six Million Dollar Man parody; starting at a school for precocious youngsters recruited to help the war effort where the trio are pupils, then parachuted behind enemy lines to fetch cigars for Churchill where Tim has a rough landing and is eventually put back together with clockwork innards. Along the way, they meet the Prime Minister and discover his ludicrous secret, but for the ending, maybe a more traditional episode would have been preferable - this wasn't.

Two years later, the BBC not interested in commissioning another series, The Goodies went to the other side, LWT, and were the centrepiece of their Saturday evening broadcast, but sadly the series flopped with viewers, despite containing plenty of funny material, including the quasi-celebrated Bigfoot episode. That was it for the team, aside from reuniting to voice the popular eighties cartoon Bananaman, and occasional reunions to discuss their legacy, which as we can see from this ranges from The Young Ones to Lee and Herring's Fist of Fun and The Mighty Boosh. Not every joke will land with a twenty-first century audience, and some may find them unnecessary in their targets, but there was enough here to prove they were one of the funniest TV shows of their era, and at their best offered an invaluable window on the seventies.


[Network have released the entire BBC series on DVD, uncut thankfully, trusting us to understand the context the humour was set in, and with the music intact too. As an extra, a chat with the team before a live audience is hosted by Goodies fan Stewart Lee which is highly recommended - you may consider watching it before delving into the episodes themselves.]