Bernard Cribbins is one of the most respected figures in British entertainment, as much for his longevity as his talent - even in his eighties, he was appearing on children's television to read bedtime stories, much as he had done on Jackanory for their parents and even grandparents. He has been part of some of the best comedy films and programmes, as well as stage successes, that Britain has ever seen, was much-lauded on Doctor Who, and was in the classic The Railway Children, which makes it pleasing to rediscover some of his lesser-known work. His 1969-70 comedy sketch show for Thames Television, simply titled Cribbins, is one of those and Network have released it on DVD.

The first episode, from 18th November 1969, set the pattern: penned by Brian Cooke and Johnnie Mortimer, it was an array of short skits, longer and more involved pieces, and a song, all in colour - previous BBC show of the same title from 1965 had been in black and white. As he was well known in the pop charts for his humorous songs in the sixties, it made sense that he should perform one here, and his National Hate Day, sung with regulars Bob Todd and Terence Brady, curiously predicts The Purge series of horror movies in its lyrics. Also notable were the protesters trying and failing at graffiti, and the couple who think the end of the world is nigh. The cheese bit was funniest, though.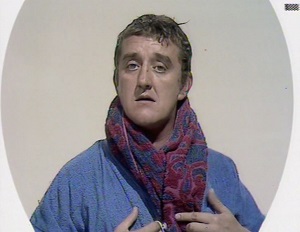 The second was from November 25th and featured Thorley Walters (of Hammer Horror fame) as the guest star, playing an official at the Inland Revenue in one sketch where Cribbins is investigating his boss for tax fraud. Also in this first series was Madeleine Smith, billed as Maddie, who was probably the most recognisable of the regulars aside from Todd, though she was mainly there to play the "dolly bird" - yes, as you might expect, there was a smattering of sexism (and racism) in the material, though nothing meanspirited, and the song this time had a novel punchline (well, it had just been made legal). Also interesting: the last sketch seems to anticipate Takashi Miike's Audition.

Third, December the 2nd, and the guest star was sitcom titan Patrick Cargill, fitting as Cooke and Mortimer created Man About the House and its spin-offs, so would know their way around comedy series such as Father Dear Father which was Cargill's signature show (though he could also be seen in The Beatles' Help!). Here he got to talk Bernard down in a plane, and try to seduce Smith as the Duke of a stately home that is blighted with tourist visitors, and the song was about a lothario named Bert. Also, running jokes about the resident of a ship's crow's nest and a hoary old cliché of a character (here a grizzled prospector) disrupting a pub session proved to have legs.

No guest stars for the fourth instalment, aired 9th December, in its Tuesday evening slot, but the regulars were present, most prominently Todd, who after the "Topless Garage" sketch in the previous entry, was back to open the show with that well-worn variation on the "Fill 'er up" petrol station gag where the car is filled with fuel, which at least demonstrates how leak-proof the make and model is. Elsewhere, Cribbins was superhero Super-Scouse, singing a song about longing for the woman he can see through his office window, a baby mix-up at the hospital and best of all, the last sketch where Black Rod opens Parliament only to be told to get stuffed, so resorts to an axe.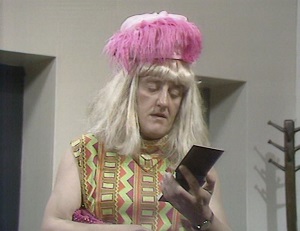 Fifth up was 16th December, which was blessed with the presence of Dennis Price as special guest star, he who had made his name in comedy with Ealing's Kind Hearts and Coronets, but somehow at this stage in his career was about to make appearances in Jess Franco horrors. Still, he was a recognisable face and did plenty of TV gigs to keep the wolf from the door, and here in horror movie fashion he played the Devil who is invoked by Bernard with a six-pointed star and ketchup instead of blood. He also played a doctor later on, and other sketches included a song about keeping up with the Joneses, and an extended item about a road line painter who gets a mind of his own.

Sixth and last in this first series was 23rd December, two days before Christmas though with only one Christmassy sketch, where Cribbins and another of the regulars, Carmel McSharry who would often play his wife in these episodes, must tackle his father (Todd) playing Santa and getting stuck in the chimney (nice bit of improv when they break the mantlepiece clock accidentally, incidentally). Technically there wasn't a guest star, but DJ "Diddy" David Hamilton showed up as a cleaner who is given the chance to be a newsreader after Cribbins did his bit as making up a commentary on various current affairs clips. The song was about wishing you were somewhere else on a Monday morning.

The second series began on 15th September 1970, a Tuesday evening once again, and though Bob Todd was back as a fixture, Sheila Steafel and Tim Barrett would be joining him on this run to support Cribbins. The format was much the same, with Steafel often playing the wife roles in the domestic sketches, as here where her husband returns from a week in Morocco with a "slave girl" as a present - for himself. Though this started out dodgy, the women do have the last laugh. The songs were back too, with Bernard performing one of his biggest hits, Hole in the Ground, presumably by popular demand when the audience didn't recognise any of the tunes before.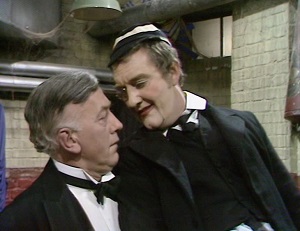 The next episode was 22nd September, and it's worth mentioning if you liked it when comedy shows messed around with their company logos, in this Cribbins was seen rowing a boat past the end credits and sinking in the water in the Thames brand. Before all that, the centrepiece skit was the ballroom dancing one, takeoffs on the BBC's popular Come Dancing being a go-to sketch for many comedy shows, and our hero played a miner who was late to the show so did not have time to change, leaving the dancers covered in coal dust. One of the highlights was quickly becoming the poetry corner, where Bernard was pelted with fruit and veg as he recited.

Third was 29th September, which began like all this series with a Robin Hood gag, Bernard being struck by an arrow with a message on it, then launched into the opening credits where the name "CRIBBINS" was stamped on his forehead. With no guest stars in this second run, the lion's share of the comedy went to Todd, Steafel and Barrett, the song this time a medieval ballad where Bernard muses over Steafel's infidelity, and she also played a wife trying to cure her husband of hiccups. The main sketch was one where he was so incensed at failing to swat a fly that he followed it out of the letterbox and into the street, where it led him a merry dance, his newspaper brandished in hand.

Fourth was 6th October, another recurring sketch being one worthy of the pages of Punch magazine where Cribbins crawled through the desert (plainly a beach with the sea out of sight) gasping "Water... water...!", the punchlines turning increasingly surreal. Gossip Calypso was the song, another of his hits though perhaps less well known than his two major chart successes, and among the shorter bits was an amusing overreaction to having to taste the wine at a restaurant, again the non sequitur nature of many of them the best aspect. Steafel and Barrett even got their own Cribbins-free sketch where she played a randy traffic warden and he the driver of a flash car.


13th October was fifth with the running gags well applied by now, the poem having become the highlight of the show, Cribbins being a past master at reading aloud to an audience (who genuinely sounded as if they appreciated it). The song was a folk spoof, the star dressed very strangely with a huge daisy to pluck the petals from, and as far as the sketches went, the most bizarre was where Bob Todd was planning to swim the Channel, starting from Teddington (where Thames' studios were situated, i.e. handy for location shooting), and sporting handcuffs, a safety helmet, one foot set in concrete and a padded bra (?!) to assist him in his record attempt.

20th October was the last ever, not just the last of the second series, Robin Hood finally getting a message from The Sheriff of Nottingham, and at last we heard Right Said Fred as the song, though accompanied by a curious quasi-dance routine choreographed by Lionel Blair (his sister also worked on the show in that capacity). Also, the sketch's concept of the ditty's problem piano was fairly strange too. In addition, a lot of money must have been spent on the King Kong puppet that holds Bernard in his paw, but with an appearance lasting around thirty seconds on this show and the one previous, it did seem profligate - unless it was used elsewhere? And that's that, as the song goes.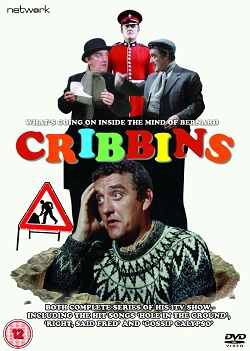 There are no extras on the Network DVD, but fans will be pleased to own this rarity of a legitimate and enduring comedy hero. If it's not classic, Cribbins' professionalism carries the series throughout, though as ever with humour of this era, you have to make allowances for the "isms". Even so, it's a lot milder than some of its contemporaries. Also, you may ponder if Tobias Funke from sitcom Arrested Development and his status as a "never-nude" were influenced by one sketch here - you will know it when you see it. OK, maybe not.