For decades, Westerns were the most popular genre with audiences around the world, yet when the nineteen-sixties arrived they began to falter. While they were often regarded as being for family audiences, the loosening of censorship allowed more adult themes and situations to emerge, and nowhere more than in the Spaghetti Western, those out of Italy (and other countries in Europe seeking to cash in). Although Sergio Leone made and released Once Upon a Time in the West in 1968, that was for Christmas in his home nation, and most of the rest of the world received it in 1969, where it had become clear things had definitely changed in the landscape of the Old West, with respect to the cinematic incarnations that had been kicked off by Leone with A Fistful of Dollars back in 1964.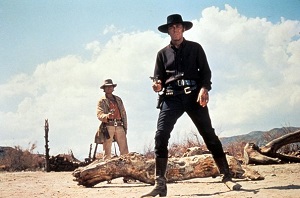 Although Leone's work in the Western was not released until the late sixties in the United States, where he had set his heart on working after falling in love with the genre down the years, it was the cause of a seismic effect wherever they played. So much so that the overarching theme of many of the output in the form would turn into how the whole style was making itself obsolete, with plots detailing how those gunfighters of the Old West were forcing themselves, or being forced, out of business as civilisation made itself plain. This was at the heart of Once Upon a Time in the West, which saw the advance of the railroad across the desert plains, a power nobody could stand in the path of, certainly not the pistol men who were our main four male characters. But something was different for a Leone piece.

This was the lead character as a woman, Jill, played by Claudia Cardinale, the picture's soul, a former prostitute who has arrived at a homestead in the middle of nowhere so she can reunite with her new husband (Frank Wolff), a man who already has three children - and a plan to make a fortune. In a typically anti-capitalist development for an Italian movie, he is murdered within minutes of his introduction, as are his offspring, leaving Jill with a dilemma as she shows up to find herself now utterly alone. But she has two guardian angels, both of whom have their own reasons for protecting her, as the storyline unfurled over the course of nearly three hours, an almost unheard of indulgence. Yet in many locations, audiences flocked to see Leone's epic, and he was vindicated as many thought this bettered The Good, the Bad and the Ugly, his previous three hour marathon.

Henry Fonda was cast against type as the hired gun Frank, employed by diseased railroad owner Gabriele Ferzetti, who surprised cinemagoers as the ruthless villain, his charisma shining even in this evil role, although arguably it was Charles Bronson as the harmonica-playing guardian who benefitted the most, the part securing him as a huge star around the world. Jason Robards was the other good guy, the humorous Cheyenne who is framed for Frank's crimes, but what was most striking in this sincere tribute to the Italian love of the Western was its operatic emotions, raised by Ennio Morricone's classic score. Here, no matter that historians would tell you the gunfight cliché never happened in reality, it made perfect sense when in the finale Fonda and Bronson face off, so much so that there was nothing more to be said in the matter.

There were three major 1969 Hollywood Westerns that featured classic gunfights, and one of them was True Grit, the movie that won John Wayne his Oscar for Best Leading Actor, and the most traditional of the lot. That this was a huge hit indicated there were plenty in the audience who appreciated the genre and wanted more, but it was another hit that indicated the Wayne vehicle's success had as much been powered by nostalgia as it had been appreciation for something new. Butch Cassidy and the Sundance Kid had two big stars to True Grit's one (unless you counted Glen Campbell, who was really more of a singing celebrity), and Paul Newman (as Butch) and Robert Redford (as Sundance) were served up two of their most iconic roles, maybe the film they were both most identified with since we saw them as the personas we most hoped they would carry in real life.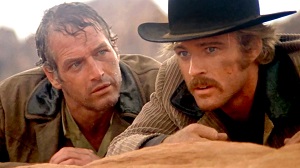 Newman was the laconic and witty one, Redford the innately talented and self-serious one, and never was that plainer than their performances here, one of the works that indicated the buddy movie was going to be a fertile genre to pursue forever after: unite two stars and have them spar verbally, exchange jokes, get up to action sequences, and reassure the audience they got on very well both onscreen and off. Newman had been around since the fifties, while Redford had enjoyed his break in the sixties, a handful of years before his screen partner, yet that formula of combining forces - and fanbases - on a film planned to be a blockbuster was always going to be an idea worth continuing. However, this was a story that looked ahead in other ways, as it effectively wrote off the Western as yesterday's entertainment.

It did so by simultaneously celebrating what the average moviegoer wanted to witness when they went to see a Western, while making it clear it was not going to last as a mass entertainment forever, and with consideration to all those tales that had been told so often before, this was more or less a coda to that Golden Age. Granted, some will tell you the fifties Westerns of Anthony Mann - so beloved of Leone - were the strongest indication the form was on its way to evolving into obsolescence, but Butch Cassidy and the Sundance Kid was a genuine phenomenon, its inescapable soundtrack song Raindrops Keep Fallin' On My Head a near-constant reminder that this was a film you simply had to see for yourself. Therefore, millions of folks saw it and came to realise, as they had not done with True Grit, that an era was at an end.

Well, perhaps they had seen the references to Wayne's character as past it and began to twig that Gary Cooper and Randolph Scott were no longer around, so The Duke was not going to be for much longer either, but to watch stars of a more recent vintage play characters who tried to live the easy life only to realise those days did not last forever, and even that the easy life never really existed, was a sobering experience, as the classic finale to the movie would unforgettably, poignantly illustrate. When Butch and Sundance are chased across the West by the law, it's not only death that dogs their heels, but the future, and they have no place there; you could argue that everyone has no real place there eventually, yet these characters were so full of life, their camaraderie so vivid, it was a stark reminder that the biggest successes can sign their own death certificate after a fashion.

In the year True Grit seemingly marked the end of the traditional Western, no matter how many people had gone to see it, there was one film Wayne detested for ushering in a brand new cinema of extreme violence, helmed by a director who he would never have worked with even if his career depended upon it. That man was Sam Peckinpah, and the film was The Wild Bunch. He had made Westerns almost exclusively throughout his career, but had always wanted to take them further, though nobody realised quite how far until he delivered this which, even in its initial form that was trimmed for its bloody content, was one of the most intense of its kind ever seen by the general public. The exploitation flicks may have been starting to depict violence with greater abandon, but the Hollywood mainstream had only reluctantly followed suit.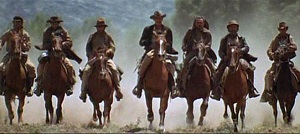 Arthur Penn's Bonnie and Clyde had made a huge hit out of a movie that ended in the goriest scene America had ever produced outside of a Herschell Gordon Lewis effort, and it had featured two proper stars into the bargain, so Peckinpah was aware the public were ready for his concepts if they could stand watching that in their entertainment. Naturally, the increase in violence in American movies, and the other nation's film industries following suit, was a reaction to the trend for the evening news to broadcast the disturbing footage of the Vietnam War, and the motion picture creators began to feel they had to match that, assuming they were conscious of the sea change at all. George A. Romero's Night of the Living Dead, the first real flesh-eating zombie movie, became a major success for an independent production, so the stage was set for more.

The Wild Bunch, oddly enough, took its cue from the same trends that made Butch Cassidy and the Sundance Kid a blockbuster, and indeed those two and Once Upon a Time in the West adopted the idea of the railroad, that bringer of civilisation, as the real villain of their piece. The times they were a-changin', as Bob Dylan had expressed in song nearer the beginning of the decade, and the movies had cottoned onto that, but Peckinpah's anti-heroes were no glamorous matinee idols goofing around until they realised there was no place for them in the world anymore. They had the same awakening to a new society that could destroy them if they didn't adapt, but William Holden, Ernest Borgnine, Warren Oates, Ben Johnson and Jaime Sanchez were not pretty boys by any stretch of the imagination, they were rugged, aggressive and only sentimental when drunk around a campfire.

The opening informed us Peckinpah meant business as a shootout between the gang and the railroad-led authorities had innocent people caught in the crossfire, flailing in the dirt as the bullets rained down. While Butch and Sundance had been fun to be around with their amusing banter, even the jokes in The Wild Bunch were grimly unfunny, a desperation in their move to enjoy themselves belying the dreadful circumstances that they made their plans in and brought about to a degree. Women and children could just as easily be gunned down as the men who were in charge, no one was wholly innocent, and it was about as harsh a world as could be imagined: though set in 1913, this was the wake up call to announce the myth of the Old West where Roy Rogers and Gene Autry sang and sorted out problems was bullshit, as the denizens of that era were rough and nasty and made no excuses for themselves. There were popular Westerns after The Wild Bunch - Blazing Saddles, Young Guns, Dances with Wolves, The Revenant - but there was really no more to be said that 1969 had not already made clear. Everything else was a variation on that year's major works.