The early nineteen-seventies was an era of turmoil for the British film industry, and you could argue it never really recovered from the heyday of American investment in the Swinging Sixties where Hollywood, also unsure of what audiences wanted now the culture had changed and divided, pulled out of carrying British films as the taste for them internationally began to wane. It had been a fruitful time, but now those audiences appeared to want as extreme material as possible, and that meant traditional genres such as thrillers, horrors and comedies adding doses of sex and violence, usually separately, but combined too. Network have released two horrors from the time on fully restored Blu-rays; the image is pin-sharp, but what of the content?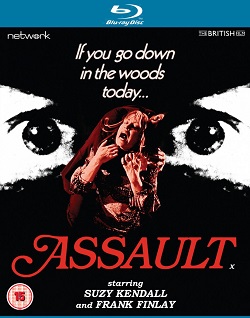 First, from 1971, is Assault, a film that went by a number of titles across the English-speaking market in an attempt to promote it: you could also see it as Tower of Terror or In the Devil's Garden, for example. It was a mystery thriller at heart, a whodunnit where the characters were supposed to be tracking down a murderer, but with the above demands of the new cinema in mind, now he was a rapist as well. This led to an interesting dilemma for the story, as every man in it was essentially a suspect, which in a way made for a more satisfying conundrum theoretically, but in another way it spoke to a very Twenty-First Century point of view when men were being treated with suspicion in society as potential sex pests or worse.

So if you wanted to see star Suzy Kendall wonder who to turn to as every man could have a disturbing motive for the titular assaults, then this contained more to say to the movie viewer of decades later than anyone involved could have intended. Sidney Hayers was the director, he had made a number of thrillers and would make more, especially in television episodes as his career in cinema wound down, but the sense that had the production climate been more favourable then he would have gone on to be mentioned in the same breath as one of the higher profile suspense directors was intriguing to muse upon. Maybe not an Alfred Hitchcock, but someone on a lower tier, a Terence Fisher, say, one of those professionals who were reliable and at times inspired.

Here he was saddled with some flat, almost televisual lighting which tended to drain the excitement from many scenes, yet every so often you could tell he was trying to make something more of the material he had been given. It was these setpieces that the more extreme stylings could be perceived, most blatantly in the sequences where people were assaulted, as after all you didn't see a film called Assault and not expect to witness that sort of violence. What rendered it possibly tougher to take now than it had been back then, was when all this was new and filmmakers were unsure of what they could get away with and the boundaries of good taste were being stretched. These days, you cannot imagine a mainstream project featuring attacks on teenage schoolgirls.

Or if they did, they would keep them offscreen, and certainly not use subjective camera from the attacker's point of view, a technique that would become a cliché in horror over the following years but here is adopted with unseemly enthusiasm. If anything, this amped up the paranoia that heroine Kendall felt, especially as her art teacher character finds the corpse of one of her pupils in the forest. We surveyed the cast of males with mistrust - was it copper Frank Finlay, local doctor James Laurenson, scummy tabloid hack Freddie Jones, or someone else? This meant Kendall and her charges were part of a not-so-subtle indignation at male libido, even when simply patronised by the men as they tried to protect them. Though no classic, it was provocative in more ways than one.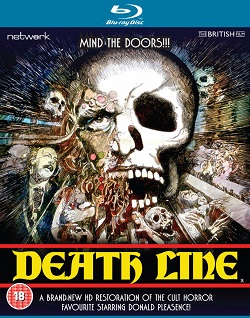 What was a classic, if a cult classic, was Death Line, the second film in the double bill. Though it was pretty much dismissed by critics and public alike in Britain on its release in 1972, frequent television showings in the late night horror slot at weekends generated a following, and if you ever sat up to watch this before bed, either out of a midnight TV movie habit or because you caught the start and couldn't go to bed until you found out what happened at the end of this strange, nasty, compelling little thing, then you would know why it has so many adherents. Also known as Raw Meat (a US edit), it was the brainchild of director Gary Sherman, an American who could not secure funding for a production at home, so teamed up with movie star Alan Ladd's son to make it in London.

Or more accurately, Alan Ladd's sons, as Alan Ladd Jr was on board as producer, and his half-brother David Ladd played the male lead, an economics student who finds an unconscious, smartly-dressed man (familiar character actor James Cossins) lying on the staircase of a tube station. His girlfriend Sharon Gurney is with him and expresses concern that would never have crossed her partner's mind; after searching his wallet, they find he is a high-ranking official and go to fetch help. When they return, the body is gone. What has happened to Cossins would rank as a shock to audiences of the day, but now has gone down in what passes for the legend of Death Line, as its antagonist had a unique provenance, one that tapped into class and privilege.

In that he is below even working class, and he has no privilege at all. In one tracking shot that had it been in a higher profile movie would be judged an unrivalled triumph, we see the killer's lair in all its bone-deep squalor, and understand he is a feral scavenger who grabs passengers from the platform to kill and eat. Also, he is not alone, as he has a partner, a woman pregnant with his child and in one of the most pathetic depictions of a horror movie villain ever, he loses her to disease then spends the rest of the plot trying to assuage his loneliness and hunger. Hugh Armstrong played this role, improvising around what Sherman told him since he only had one line, "Mind the doors!", learned from the station announcements that he has heard thousands of times in his miserable life.

However, there was one other character who lifted Death Line into the realms of the sublime: depressing, revolting, but sublime, and he was the police inspector played by Donald Pleasence, a chippy, tea-obsessed and snarky chap who initially investigates the official's disappearance because he feels it will get up the noses of the establishment, represented by one-scene wonder Christopher Lee. Pleasence was nothing short of brilliant here, bringing all the humour and aggression of his Harold Pinter work to bear on a terrific horror movie anti-hero, utterly unconventional and bringing out those class distinctions in the narrative that has the killer as the descendent of a group of trapped Victorian tube workers the bosses never bothered to dig out.

Death Line was cut for violence when it was first released, and those subsequent television showings were of that cut print. No matter, for it still gathered its fans who were fascinated by something so out on a limb and in a category of its own. Really, the closest analogy one could make would be to call it a British The Texas Chain Saw Massacre, with its cannibalism, its social commentary, and its bleak humour though without that film's massive influence. The only works that showed a direct debt to it were the underground sequence in John Landis's An American Werewolf in London, and Christopher Smith's obvious homage Creep. Now it has been completely restored, it may get its due - it cannot be stressed enough, this Blu-ray looks absolutely superb - but perhaps it is one of those horrors destined to remain a treasured cult item to be discovered and rediscovered by a delighted, if unsettled, audience for many years to come.

[Extras on the Network Blu-rays include a booklet, an image gallery and trailer on Assault, and a booklet, a trailer, a gallery, and an interview with the late Hugh Armstrong on Death Line.

Click here to buy Assault from the Network website.

Click here to buy Death Line from the Network website.]