Conan the Barbarian in 1982 spawned a collection of imitators, none of which did as well financially as that John Milius blockbuster did, but a select few gathered cult followings, such as Don Coscarelli's The Beastmaster, setting action in a fantasy medieval setting that could be produced fairly cheaply as long as you had a muscleman to star and some budget set aside for special effects which did not need to be too special. The cycle didn't last too long, largely because the films themselves were at best, laughable, and at worst, tedious, but a couple of high profile directors - among cult fans, at any rate - did serve up their own singular takes on what fast became a cliché of nineteen-eighties cinema.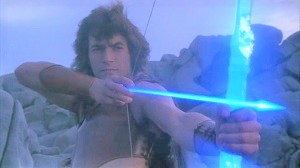 Those directors were Lucio Fulci, who helmed Conquest in 1983, and Paul Verhoeven, whose Flesh + Blood in 1985 was a change of direction for the genre in that he ditched the sorcery element and retained the swords, hence a sword and sorcery item that did not quite fit in with his contemporaries. Indeed, it's not often included with those other Conan rip-offs, yet the trademarks of the style were assuredly present, most notably the individual concept of the world of centuries ago, and of course, the violence. Fulci was no stranger to that latter aspect himself, having made a career blossom late with some nasty horror hits, but where those had been produced by Guido De Angelis, that arrangement was broken when he made Conquest.

It was notable Fulci, who with horrors such as Zombie Flesh Eaters and The Beyond was coming close to being a brand leader of Italy's shocker market of the era, as only Dario Argento was a significant rival in popularity, was landed with the task of bringing to life what his fellow countrymen proved to have very little aptitude for. The amount of downright boring sword and sorcery movies out of that nation's film industry, an industry that was beginning to flag as it sought to cash in on action flicks out of America with diminishing returns, was dispiriting for the Italian exploitation fan, and though the Fulci faithful would argue he brought something genuinely refreshing to such yarns, the fact remained this was a pale shadow of the horror hits he had enjoyed to that point.

The plot was Conan the Barbarian reimagined as a buddy movie, another popular eighties signifier, so your muscleman was The Beastmaster copy Jorge Rivero as Mace, a barbarian who is nice to animals since he says he has no human friends. The less muscular Andrea Occhipinti was Ilias, who was on the quest (always with the quests), though the specifics of this were difficult to discern until the baddie, a witch named Ocron, made her presence felt. She was played by Sabrina Siani in a gold mask and spiked g-string - and nothing else, prompting you to hope this was at least produced during the summer, and as henchmen you could take your pick from a selection of likewise masked heavies, plus Chewbacca and his fellow Wookiees.

Yes, the same year Return of the Jedi landed in the world's cinemas, Chewie was getting up to all sorts in Conquest, and he even spoke English here, proving he could and all that roaring was just a put-on for his own private amusement. But the lunacy didn't stop there, as Mace and Ilias were beset by some of the grottiest monsters seen outside of a Space: 1999 episode, including Fulci indulging his apparent predilection for seeing his cast caked in mud of various thicknesses. The quest narrative of Greek myth was adhered to as far as "one damn thing after another" went, featuring squeaky, cobwebby creature men who were dispatched with a magic bow and arrow that saved on physical arrow effects.

Oh, and snakes, lots of snakes: Ocron even went to bed with and canoodled them. She had a green boss, also masked, who ordered her to kill Ilias when a prediction revealed he would be their undoing, but for most of the time this business was perfunctory at best, utterly random at worst, suggesting the script was being made up as they went along depending on what they had to hand. Fulci's taste for, well, bad taste remained well to the fore, as a woman was pulled in two or Mace was rescued from under the sea by dolphins, yet unless you were being incredibly generous, you would be forced to admit the genre had defeated him. If he couldn't strike gold out of these affairs, what could Verhoeven do, a no less flamboyant talent?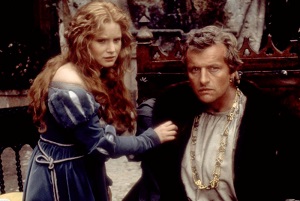 It's maybe worth mentioning everyone on Flesh + Blood had a bloody awful time, which might not have been much fun to live through but is somehow fitting for the medieval hellscape it presents for its characters to struggle in. If Conquest was an Italian Hercules or Maciste movie of the sixties reimagined as an eighties video nasty, then this went even further, The Black Shield of Falworth or Prince Valiant set in as much down and dirty realism as Verhoeven and his team could muster. It's debatable how realistic it was given the director's habit of going to extremes, there must have been peaceful, even boring days hundreds of years ago, but he took Milius's concept of a vivid adventure in some far off past and ran with it.

As an updating of a Golden Age Hollywood historical potboiler with very eighties trappings, and that's just the hairstyles on the men, Flesh + Blood disgusted many back in '85, but it did pick up a following, not only of fans of Verhoeven's previous, Dutch efforts, but also newcomers who were struck by how uncompromising it was. Nothing was dialled back here, and the only subtleties you would find were in bits of character detail; if you're paying attention, you can tell Brion James' mercenary is secretly in love with Susan Tyrrell's "groupie" among Rutger Hauer's band of ne'erdowells, or that Bruno Kirby and Simon Andreu's soldiering relationship is more than simply friendly. Otherwise, this was as intense as they could make it.

The plot was fairly simple, but clearer than even Conan the Barbarian's pretensions, as it took Jennifer Jason Leigh as a virginal princess of the kind that many a fairy tale contained and turned her into a femme fatale Renee Soutendijk's killer in Verhoeven's immediately preceding work The Fourth Man would have been proud of. She has little choice, it's either adapt or die, and that makes her an interesting focus in a more traditionally male-led genre, be that historical epic or sword and sorcery, or somewhere in the middle ground. Having known Tom Burlinson, who she is supposed to marry, for half an hour, she plights her troth with mandrake then is promptly kidnapped by Hauer's aggrieved soldiers of fortune thanks to her would-be husband's family double-crossing them.

Everyone winds up in a castle, or outside its walls trying to get in and rescue Leigh, who is ambiguous about who she wishes to ally herself with. Conscious that she may back the wrong horse if she stays with her newly-rich rapist-turned-lover Hauer, she hedges her bets and manipulates those around her as far as she can, creating a real tension when the heroine is not all peaches and cream, butter wouldn't melt in her mouth innocence, but a fast learner in the rules of survival in these harsh times. Meanwhile Burlinson, representing the coming age of enlightenment as science starts to make progress, draws on wits of his own to defeat the cunning yet oddly noble Hauer, who priest Ronald Lacey has deemed a messenger of God.

This was where the sorcery came into the movie, as while there is the stuff with superstitions born of a more pagan flavour, Christianity demonstrates itself no less prone to making up life lessons through its perception of concocting signs from above at every opportunity. Verhoeven, renowned for his religious interests, played up this aspect so much that the religion of choice in Western Europe of the fifteen-hundreds comes across as the equivalent of some dark arts that witchcraft of the same era would not be a million miles away from; for some this was even more offensive than the violence. The plague is abroad in the land too, rendering the population yet more suspicious as science has not combatted it by this stage, a morass of impulsive actions and faith-bolstered villainy. Throw in a commentary on the galloping advance of weaponry through history, and Verhoeven knocked Fulci and all those other barbarian hordes into a cocked hat. There has been nothing like Flesh + Blood since those heady days of eighties boundary-pushing.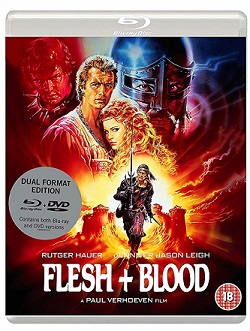 [Eureka have released Flesh + Blood on Blu-ray packed with the following extras:

Limited Edition O-Card slipcase (first print run only)
1080p presentation of the film on Blu-ray, with a progressive encode on the DVD.
Uncompressed LPCM audio (on the Blu-ray)
Optional English subtitles for the deaf and hard-of-hearing
Audio commentary by director Paul Verhoeven
Paul Verhoeven in the Flesh (21 mins)
An extensive interview with director Paul Verhoeven from 2016, covering the entirety of his career up until that point (45 mins)
Audio interview with actor Rutger Hauer (24 mins)
Interview with screenwriter Gerard Soeteman (17 mins)
Interview with composer Basil Poledoris
Original theatrical trailer
A collector's booklet featuring new writing on the film (first pressing only).]