The combination of science fiction and horror did not start with Ridley Scott's blockbuster Alien in 1979, as there had been space monsters scaring audiences of all ages for decades, ever since the glory days of the nineteen-fifties which cemented the idea in the minds of viewers that visitors from beyond could be very frightening. Yet while an example like It Came from Outer Space or Invaders from Mars easily put the wind up those who saw them back when they were initially released, by the eighties special effects had become more accessible to even the lower budget filmmakers, and those seeking to cash-in on Scott's work, an item that rode the crest of a wave in that mini-golden age of late seventies and early eighties shockers, found much to aid them.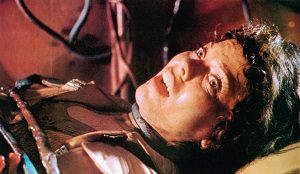 One producer who had been around for some time himself was Roger Corman, and his New World company were churning out exploitation effort after exploitation effort and more often than not cleaned up at the drive-ins and grindhouses with saleable plots and stars the moviegoers might recognise, all on a budget as low as possible to maximise the profits. Everyone who worked with Corman admitted he was cheap, but also he allowed a lot of freedom within the parameters he set down, therefore he was a perfect producer to learn the craft from if you were a budding writer or director. And many of the biggest names of the seventies and eighties did, including one James Cameron, for whom the eighties announced with great fanfare.

He had already worked as a designer on Corman's Star Wars-inspired favourite Battle Beyond the Stars when he began fulfilling the same function on Galaxy of Terror, a cheapo cash-in on the more cosmic inferences of Alien, while keeping the basic stalk and slash framework that Scott had applied to his film and classed it up, not a method Bruce D. Clark was about to try out here. Clark didn't make many films, his other high-ish profile piece was Hammer, the Fred Williamson blaxploitation action thriller, though among the few who have seen it his The Ski Bum is also well-regarded as a psychedelic relic, and it carried over one of the stars to this, Zalman King, while he was still an actor and not a producer of a bunch of soft porn flicks and TV shows.

Galaxy of Terror had a one of a kind cast, that was true, though purely thanks to nobody else seeing a mixture of Edward Albert, Erin Moran (fresh off Happy Days), Ray Walston (technically a Martian himself), Sid Haig (naturally), pre-David Lynch Grace Zabriskie and a certain Robert Englund and thinking, perfect! What was significant about that last performer was a loose lift from Forbidden Planet where the inner life of characters was spawning great danger, only in this case it was each of the characters' fears being tapped to terrify them in nightmare scenarios somehow made real. If you're thinking, wait a minute, was Wes Craven taking notes for A Nightmare on Elm Street? Then you might be onto something there, they were both reliant on horrific special effects for impact.

Of course, whenever Galaxy of Terror is brought up it's because most viewers couldn't believe how tasteless it could get. As each space explorer meets their demise in a mysterious pyramid on a desolate planet, they were mainly assaulted by some particularly nasty rubber and goo, including the not famous Taaffe O'Connell, who in the sequence everyone mentions, was raped to death by a giant maggot. As with every other death here - killed by your own blade-throwing severed arm, squeezed by tentacles until you burst, and so forth - it was memorable because it was a triumph of the most dubious imagination over common sense, all purely for the impression it would make on the audience without any niceties of plot or character. It was bad taste sci-fi at its worst.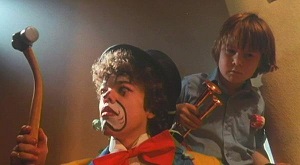 Or was it? For the next year, in 1982, an equally low budget British movie stepped in to take that crown, a film that was barely acknowledged at the time but has gone on to increase in stature among viewers who similarly could not accept that someone thought this was a good idea. Maybe it wasn't, but anyone who has seen Xtro will never forget it. This may not be an entirely good thing, mind you, but it assuredly stuck in the mind for much the same reasons as Galaxy of Terror did, chief among them being the love of gooey makeup effects as it seemingly tried to cash in on two Steven Spielberg epics, Close Encounters of the Third Kind and E.T. The Extraterrestrial, with a dash of The Omen and the same sense of purpose as Alien.

Needless to say, it achieved none of those aforementioned pictures' success, yet Xtro has proved stubbornly hard to shift from the average horror fans' consciousness, cropping up time and again on its true home of video, DVD and Blu-ray, the latter two in extra features-laden special editions. It also provided two lesser sequels which tried to make coherent what in the original was decidedly stuffed with confusion, but it was the first one you wanted to see to get that true early eighties video nasty vibe, even if its inclusion on the Department of Public Prosecutions list was never wholly confirmed while its fellow British horror Expose became notorious as the sole British title on the official banned roster, in comparison a far more straight forward trash item.

The plot, such as it was, saw a dad beamed aboard a spaceship from his back garden in a rural location, witnessed by his understandably nonplussed son. He disappears for three years, but returns as a rubber monster in a dark lane, murdering two travellers along the road and stealing the bloke's clothes - but not before he has emerged fully-formed from the womb of the woman who took his old house off the hands of his wife (Bernice Stegers). Wait, what? Yes, Xtro was packed with bits of business like that, and despite having the appearance of the production flinging every half-baked idea they had at the story no matter how ill-judged or random they were, director Harry Bromley Davenport did manage a distinctive degree of delirium.

That can happen when you have no quality control and you're determined to make your name in the horror movie field (his first had been an even smaller budget Repulsion knock-off), but infamously Davenport was never happy with the fruits of his labour here, and not so much damned it with faint praise as claimed it was absolutely dreadful. Even that was part and parcel of Xtro's mythos, along with its nutty notions of terror, be that Eastenders' Lou Beale chased around her apartment by a full-sized Action Man, the sort of dwarf clown making toys come to life that would embarrass David Lynch, Maryam D'Abo as a French au pair providing utterly gratuitous nudity, the dad eating snake eggs (said snake named after the director), and so much more. The unprepared would not be able to take all this in, while the prepared would still be bemused. In the barren lands of British cinema of the eighties, there were some strange outposts to visit, and arguably Xtro beat Galaxy of Terror at its own bizarre game.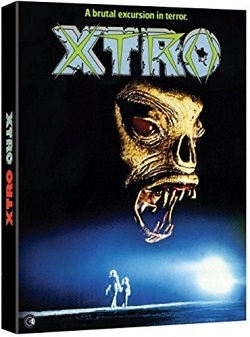 [On the subject of the Xtro Blu-ray, a special edition from Second Sight has the following features:

Limited Edition packaging
New restoration featuring option of alternate endings plus the original UK video version edit
New director restoration
'Xploring Xtro' - a new 57 minute documentary featuring interviews with Harry Bromley-Davenport, Mark Forstater, Bernice Stegers, Susie Silvey, 'Tik' - Tim Dry, 'Tok' - Sean Crawford, Robert Pereno, Alan Jones and Craig Lapper
'The World of Xtro' - a new featurette with Dennis Atherton, Harry Bromley-Davenport and Mark Forstater
'Beyond Xtro' - a new featurette with Harry Bromley-Davenport and Mark Forstater looking ahead to new reboot 'Xtro – The Big One', including excusive test footage
'Xtro Xposed'
'Loving The Alien: A Tribute to Philip Sayer' featuring exclusive Brian May music tribute
Soft cover booklet with new writing by Kevin Lyons plus behind-the-scenes stills and promo material
Original soundtrack CD
Rigid slipcase featuring original UK video and UK theatrical artwork
English subtitles for the hearing impaired]