Donnie Yen entered the movies in the nineteen-eighties, after being brought up both in Hong Kong and Boston, Massachusetts where his parents encouraged his education in martial arts. Now, he is renowned as one of the greatest fighters on the big screen of his era, comparable with his idol Bruce Lee (can't be many Asian martial artists whose idol isn't Bruce Lee, of course), but the eighties mostly saw him in supporting roles, so it was the nineties where he truly came into his own as a star. In the twenty-first century he took work in international blockbusters, most famously as the best thing about the first official Star Wars spin-off Rogue One where he essayed the blind swordsman, which only served to increase his appeal across the globe.

But it would not have happened without the nineties, and the assistance of Yuen Woo-Ping, who effectively gave him his biggest chances, including the movie that made the world sit up and take notice, Once Upon a Time in China 2. Or at least, those in the world who appreciated Kung Fu flicks as his battle with Jet Li, another star who emerged in this decade and whose career took a not-quite-similar path, became the stuff of legend as they combatted with poles on scaffolding in a dazzling display of physical prowess. Yuen knew a good thing when he saw it, and when producer Tsui Hark wanted to continue Li's Wong Fei-Hung series only to find his leading man wanted to move on, he devised a spin-off of his own where the character was younger.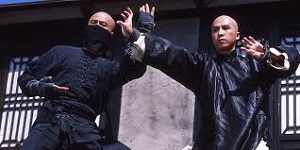 Now, Donnie didn't play Wong Fei-Hung, that task went to professional martial artist and thirteen-year-old girl playing a boy Angie Tsang, so Yen played her father, the man who had taught the popular Chinese hero everything he knew. This was a pattern that would distinguish many a franchise, especially in Hong Kong's industry, not so much spin-off as cash-in to be honest, but Hark was not about to sell audiences short on what his entertainments provided, and 1993's Iron Monkey, or Siu nin Wong Fei Hung chi: Tit ma lau as it was originally called just to make the connection clear in the home crowd's minds, was the result. While Yen was a dab hand at the villainous roles, here he was something initially more ambiguous.

We naturally think going in that his Wong Kei-Ying character will be the hero, guiding his son through a landscape of moral and violent peril, but it doesn't quite start out that way - he wasn't the Iron Monkey of the title, either. That responsibility fell on the shoulders of Yu Rongguang, an experienced actor both as leads and character work, and it initially seems he will indeed be the lead here, though as the story unfolded it became clear what we had was more of an ensemble as also in the cast and sharing equal amounts of screen time was Jean Wang as a prostitute previously saved by Iron Monkey from a life of damned servitude. These four would, after a lot of sorting themselves out, unite to fight back against the main villain.

He was the Governor (James Wong), and he has enforced a mood of paranoia in the populace, arbitrarily doling out punishments, so when the masked Robin Hood-alike Iron Monkey, who is actually the local doctor Yang, starts causing trouble for him, there are quasi-comical scenes of a bunch of citizens wondering what they've done wrong to be brought up before the farcical General Fox (Yuen Shun-Yee), Wong Kei-Ying and his son among them. The plot contrives to have him seek out the vigilante on the orders of the authorities on pain of death, and the fighting begins in earnest, granted you could tell the camera had been sped up to an extent, but Yen was still lightning fast in his moves and you could see why this was held up as one of his best.

You could also perceive the Hong Kong martial arts influence over Hollywood's superhero craze with its fantastical air to the impossible in the real world fight sequences, the climactic ruckus on a selection of poles above a raging inferno surely the envy of any Marvel director that they either didn't think of it first, or that they were not able to stage their action sequences with the same chutzpah and flair. With its themes of stoicism and standing firm in an unfair world, there were lessons to impart among the flying feet and fists, even a few laughs as well: you imagine this is what Yen would like to believe was his legacy. However, it was not all class productions like Iron Monkey he starred in during the nineties, he had other strings to his bow.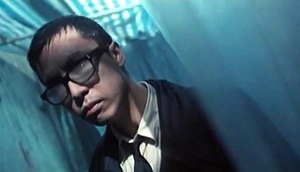 In 1996 he starred in Iron Monkey 2, the "sequel" to that aforementioned hit, but also that year was an indication he could turn his hand to trash as well, and Satan Returns was one of those examples, a production from ultra-prolific producer Wong Jing, who he was still working with as late as 2018 with a remake of Enter the Fat Dragon. Wong was not exactly known for quality over quantity, and here, penning the script but not directing this time, he had evidently been very impressed by David Fincher's horror success Se7en from the year before, therefore set out to, yes, cash in with his own variation on the Biblical chiller-thriller. There was not quite as much rain this time around, but there was plenty of creeping around in darkened rooms as in the inspiration.

In actual fact, Yen was not the lead here, or at least did not appear to be, as the main character was a police psychologist played by Chingmy Yau, coming to the end of her busy ten-year career, best known for 1992's Naked Killer. Some bloke calling himself Judas (Francis Ng) took it upon himself to claim she was the daughter of Satan, which she was understandably sceptical about until he started feeding her details as to why this may be an accurate assessment, oh, and killing people too, all in the name of The Prince of Darkness. If the precise motives of these shenanigans were lost in the murky plotting, that could likely be put down to Wong not entirely having a grasp on what the Fincher movie was all about and trying to impart.

As Chingmy fretted, Donnie provided a rock in her life, not as a boyfriend or husband, however, but as her partner in the police force. Now, you might be considering that hiring him to basically be a bespectacled sidekick with a gun in his hand was a waste of the man's talents, yet on watching Satan Returns - well, you would be wholly correct in that judgement. He was in plenty of scenes, but remained a straight-faced backer of Yau's crusade against the powers of evil, occasionally bustin' his moves but more often standing by while his leading lady was put through the wringer. Though there was a comic relief cop (Wong Chi Wah), most of the laughs in this were unintentional, in particular the grand finale were Judas's schemes were sent embarrassingly off the rails.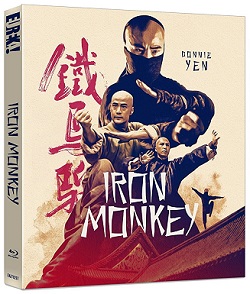 On the other hand, while Yen's trashier exploits like this or, say, to pluck a title at random, Holy Virgin vs The Evil Dead were looked down on by the martial arts fans, he had such a wide range of roles that there were bound to be some absurdities in the Hong Kong film market leading up to 1997 and the handover of Hong Kong from The United Kingdom to China, after which many observers decided the industry hit an unfortunate decline. Not Donnie, though, as he was if anything even more popular, as his Ip Man franchise proved there was life in the old dog of the province's movie studios yet, helpfully managing to erase the memories of Satan Returns, and enhancing the retrospective interest in works like Iron Monkey. Although only one of those films featured him wielding a chainsaw against a zombie, so you pays your money and you takes your choice. Iron Monkey was a lot better, mind.

[Eureka have released Iron Monkey in a Blu-ray that represents a step up in quality from the DVD, and it's packed with extras, including interviews (a substantial one with Yen) and featurettes. No audio commentary, however, so collectors may want to hang onto their old DVD even as they upgrade.]