New York was in a bad way in the nineteen-seventies, as it went bankrupt, crime rates were sky high, and its glamorous title of the Capital City of the World was being changed to something altogether less salubrious. The movies reflected this in the way they went about their stories, with every character who lived there seemingly struck by some form of criminality, either as perpetrator or victim: look at Charles Bronson in Death Wish as perhaps the ultimate example of that, though there were plenty of thrillers and horrors following in its wake to depict The Big Apple as rotten to the core. But it was not as if it had been flattered in the decades previous, it was merely there had been an excitement to many New York-set projects, no matter how much lawbreaking was featured.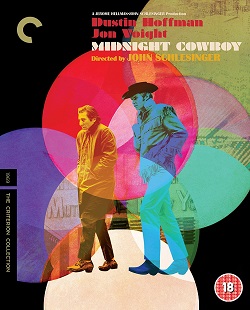 The year before, 1970 hit and the movies made up their minds that this had become the armpit of America arrived the only film ever to be both rated X and win the Best Picture Oscar, and that was Midnight Cowboy. John Schlesinger was the director, over from Britain after his international success Darling made waves, and Waldo Salt was the screenwriter, recovering from being blighted by the Hollywood Blacklist that saw him unable to work for long periods thanks to his supposed Communist leanings. He had one more New York as Hell movie in him with the popular Al Pacino vehicle Serpico, but here he was adapting a fictional work, the novel by James Leo Herlihy, and this won him his first of two Oscars for his trouble (the second was for Coming Home).

But it was the combined forces of Schlesinger and Salt who shaped this vision of New York descending into debauchery and poverty, proving extremely influential in the process. We followed the naïve Joe Buck, played by Jon Voight, who travels up from the Deep South where he has tired of his dishwashing job in a diner, in the hope he can become a "hustler". It's more than a hope for him, it's a conviction that he will make his fortune off the rich women who populate the penthouse apartments, and after a bus trip where selected passengers are bemused by his optimism, he arrives to discover he has no idea how to go about actually realising his dream. He checks into a hotel, but wandering the streets in buckskins and cowboy hat doesn't drum up interest.

He does finally meet someone who wants to have sex with him, middle-aged and bored "socialite" Sylvia Miles, but the suggestion after their encounter that she pay him is met with tears of horror, and he ends up paying her (!). So it is that he discovers being a hustler in New York more often than not doesn't mean wealthy ladies want to fund your lifestyle, you're more likely to be preyed upon by opportunistic gay men - Schlesinger was homosexual, and it meant a lot to him to be one of the first directors to place that lifestyle into a Hollywood production. But even then Joe can't catch a break as the enervating effects of the city begin to work their way into his bones: one cinema encounter sees him sucked off but not paid once again, and another is an religious maniac.

He doesn't pay Joe either, and the man who set up this meeting is conspicuously absent until our hero tracks him down. He was Rico "Ratso" Rizzo, played by Dustin Hoffman as one of the least sentimental portrayals of any movie star, going full Method to look and sound as unappealing as possible. New York has already corrupted Ratso, or maybe he started that way and found a perfect home, yet while he and Joe end up roommates as the city grows colder and even less hospitable once winter arrives they forge a bond that turns unexpectedly strong: these two don't have anyone else, nobody really cares about them as one is an idiot and the other is a reprobate. Which makes it all the more unexpected that they find their dignity when the audience find themselves caring.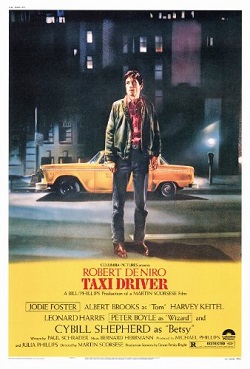 Nevertheless, by the end of Midnight Cowboy it is as if the effects of the city are so hard to shake they have permanent consequences - the hopelessness is part of what makes it so moving, but that concept of the location as so immoral that it infects those who either choose to live there or are drawn to it like moths to a flame was common to many New York-set films, often serious dramas like Desperate Characters or Little Murders (which poses as a comedy, but doesn't play out in that manner). One movie that took that idea and ran with it was 1976's Taxi Driver, hailing from deep in the city's malaise, the era of garbage men strikes and rampant prostitution and drug use littering the streets its anti-hero Travis Bickle wants a "real rain" to wash away.

Bickle was played in a role of a lifetime by Robert De Niro, or it would have been had the first half of his career not been populated with such roles you could not envisage anyone other than him essaying. As Travis, he is isolated to the point of inducing psychosis, driving his taxi at night because he cannot sleep and the monotony of the activity offers some salve to his troubled mind. Paul Schrader penned the screenplay, a man who was no stranger to mental disturbance, and as legend had it created his protagonist based on himself during some particularly long, dark nights of the soul, a loaded gun on the desk next to his typewriter. Director Martin Scorsese responded to this anguish with one the most sympathetic portraits of a potential maniac imaginable.

Like Joe Buck, Bickle looks in a mirror to validate and bolster his fragile ego, yet while Joe was essentially a decent, simple man twisted by his surroundings to act against his better nature, all we learn about Travis's background is that he is an honourably discharged Vietnam War veteran, and he may have folks still alive in the Mid-West. Other than that, resentment for his fellow man (and woman) simmers in his breast, looking for an excuse to erupt, which it eventually does with explosively violent effect. In his mind, he has convinced himself these acts are a force for good, as if he were a knight in shining armour for the twelve-year-old prostitute Iris (Jodie Foster), but as we have seen by the way he treats political campaign worker Cybill Shepherd, he has issues.

Many is the viewer who has wondered why, if Travis sought to impress Shepherd's Betsy, he brought her to a porno movie (The Eiger Sanction was playing across the street, for heaven's sake!), but it is merely one more example of how the hellscape of New York has affected his capabilities to reason like a normal person. Both Buck and Bickle wish to escape traumatic pasts, yet their instability is welcomed and encouraged by New York, as if the entire population or some damnable spirit are set on bringing them to destructive acts; just like Joe and Ratso were wasted by the city, Travis is the one doing the wasting, and we can surmise will pay a similar price to those two unfortunates before long. So vivid are each of these films that it is surprising anyone other than the terminally damaged would want to move to New York from 1969 onwards, at least until it was cleaned up as Travis wanted it to be, but they made for darn good cinema: maybe too good, as you would worry about those who Taxi Driver most pointedly spoke to.

[Midnight Cowboy has been released on Blu-ray as part of The Criterion Collection, fully restored and looking and sounding clearer than ever - the John Barry soundtrack and the songs chime like bells. Those extras in full:

New 4K digital restoration, with uncompressed monaural soundtrack
Alternate 5.1 surround soundtrack, presented in DTS-HD Master Audio
Audio commentary from 1991 featuring director John Schlesinger and producer Jerome Hellman
New selected-scene commentary by cinematographer Adam Holender
The Crowd Around the Cowboy, a 1969 short film made on location for Midnight Cowboy
Waldo Salt: A Screenwriter's Journey, an Academy Award-nominated documentary from 1990 by Eugene Corr and Robert Hillmann
Two short 2004 documentaries on the making and release of Midnight Cowboy
Interview with actor Jon Voight on The David Frost Show from 1970
Interview from 2000 with Schlesinger for BAFTA Los Angeles
Excerpts from the 2002 BAFTA LA Tribute to Schlesinger, featuring Voight and actor Dustin Hoffman
Trailer
PLUS: An essay by critic Mark Harris.]