Charles Bronson had become the world's biggest movie star in the early nineteen-seventies, everywhere that was except his native United States who had yet to take to him in quite the same way. In Japan, for example, he was hugely popular, which is why he made the advertisements for Mandom men's cologne, two minutes of the campest shenanigans you'll ever see a tough guy actor get up to. Depicting what one had to surmise was how Bronson spent his evenings, he left a nightclub where everyone knew his name to return to his apartment where he doused himself in the aftershave in a manner that (a) was odd if he was about to go to bed and (b) worrying if he was planning to light that pipe.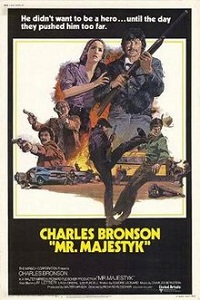 But this was not Chuck's only brush with the advertising world, as clips from one of his movies were used in a famous American commercial too. Not that he appeared in it, but the truck he was driving did, the perfect example of product placement that came about because the team behind 1974's Mr. Majestyk wanted a tough little pickup to match the star's persona, and this Ford was ideal since they didn't have to do anything more to it, it was ready to drive. Hence there was an ad in the later seventies where that vehicle hurtled cross country, launching itself into the air and handling all the rough terrain of California like a dream; and this was not even to advertise Ford's latest model, it was to demonstrate their high quality.

But Mr. Majestyk demonstrated Bronson's high quality too. Although not the easiest of shoots he participated in thanks to pissing off the crew early on, it did serve up one of his finest performances, a variation on his stoic man of action where he had the chance to exhibit a sense of humour for a change, thanks to Elmore Leonard's adept screenplay. Richard Fleischer was the director getting the best out of everybody, and because it was a late-night television staple across the world, it has become almost incidentally one of Bronson's best-loved pictures, delivering on the action, the suspense and the laughs that even the least demanding of viewers would appreciate. All this for a movie about a man dedicated to melons.

Our man played a melon farmer here, he simply wishes to get his crop harvested and sent to market so he can have enough money to live on for the rest of the year, but one day after returning to his farm with a group of Mexicans he agrees to hire to assist him, he finds someone has beaten him to it and a bunch of winos are doing the job. Taking this up with their boss, the superbly weaselly Paul Koslo, an altercation follows and Vince Majestyk finds himself in jail on an assault charge, but all he can think about is getting back to his fruit in the field. It was almost a running joke in itself; you could see his point, he was talking about his livelihood let's not forget, but his obsession with melons verged on the knowingly comical and lent this real character.

But Majestyk's real antagonist was a hitman for the Mafia in the shape of Al Lettieri, a late blooming supporting actor who was graduating from television to the movies, and one of Bronson's most convincing adversaries: you could believe his Frank Renda had a chance to best our hero thanks to Lettieri's presence. Tragically, he would die soon after in real life just as his career looked to be taking off, but Bronson fans will always treasure him as one of the actor's best villains here, and with Linda Cristal and Lee Purcell, there were genuinely interesting, offbeat roles for women too, as the Mexican girlfriend (a mean driver!) and Renda's right hand lady respectively. But this was a Bronson movie, and the same year Death Wish came out, it was nice to see him play less monolithic.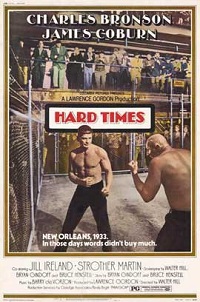 The year after he appeared in what has become, for his legions of fans, one of his strongest roles, as he starred as the mysterious Chaney in Hard Times. This was Walter Hill's debut as a director after cutting his teeth as a screenwriter, and with this grounding he never looked back, making it a pity he and Bronson never worked together again seeing as how Hill genuinely seemed to understand why the actor was such a powerful presence and in the right role, as he had here, could convey a formidable force of character. Alas, Hill made the mistake of wanting to discuss the acting abilities of Bronson's beloved wife Jill Ireland which he felt could be better, and ever the loyal husband, Bronson decided he didn't wish to have anything further to do with him once the shoot was over.

Hard Times saw Bronson as one of those archetypal strangers who wanders into town, just like in the Westerns the star had his start in, and shakes up the place, the place in this instance being New Orleans which fortunately for a film set in the nineteen-thirties had been very well-preserved since that time. He makes it known to local hustler Speed, played by James Coburn, that he wants to fight in bare knuckle boxing matches, and his new ally is only too pleased to allow him that opportunity when he witnesses what an extraordinary combatant Chaney can be, twigging they can both make a lot of money in a very short space of time. Also along for the ride was Strother Martin as the opium addict doctor, and occasionally Speed's girlfriend Margaret Blye; Ireland was Chaney's love interest.

In truth, this was such a lean, pared down tale that Ireland was almost entirely superfluous, and though the release version had lost a half hour the impression is that no matter how much they respected Bronson, his audience would have preferred to keep the excised fight sequences at the expense of the scenes with Ireland, no matter how she lightly humanises him. That combat was among the most convincing of its kind as Chaney brawls his path through a selection of hard men, including Robert Tessier and Nick Dimitri, coupled with the authentic atmosphere and a real grasp of Depression-era America (which Bronson had grown up in) the combination made for a simple yet resonant account of desperate men making just enough of their own luck- and money - to get by.

In Hard Times, the impression was that Chaney was a personality somewhere very close to Bronson's own, the reserved tough guy who will always have you wondering what is going on in his mind. Another movie where you wondered what he was thinking was released the same year, Breakheart Pass, which was one of an abundance of movies from the nineteen-sixties and seventies based on the books of bestselling writer Alistair MacLean, from Where Eagles Dare to Fear is the Key an almost guaranteed hitmaker until he ran out of steam in the early eighties. To pair MacLean with Bronson was an inspired choice, since both men appealed to the same audience, those who wanted brisk action and two-fisted thrills.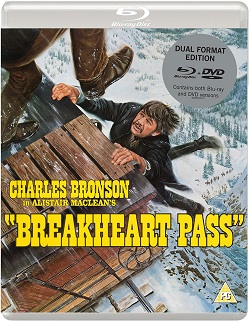 That was what you had here - well, almost, because in the plot, one of MacLean's rare Westerns, there was plenty of nonsense, it's just the action that did not mess around. Viewers of the day, and indeed to this day, were left somewhat baffled at what was supposed to be happening, as they had signed up for a Western with a mystery plot in a whodunit style, and what they got was a solution so muddled that you could be forgiven for being less aware of what was supposed to be happening at the end than you were at the beginning. It was not one of the tightest scripts Bronson had ever acted in, that was for sure, though naturally with this leading man there were always going to be compensations, for the aforementioned action delivered.

Yakima Canutt, who was pushing eighty years old when he made this, his final film, was the legendary stuntman in charge of that action, like Bronson a tough guy of the old school, and he certainly put the star through his paces, notably with the most celebrated sequence in Breakheart Pass, the part where Bronson and former boxing champion-turned actor Archie Moore battle one another atop a train carriage. The fact no doubles were used and these two guy really were going at it, throwing one another around the roof as the train passes over a vertiginous drop, truly made for one of the finest scenes in Bronson's decade at the top of the world box office, and not incidentally offered the poster a great image that must have brought in a few punters.

But that plot was a sticking point, making it a badge of pride if you could watch this and explain what everyone's motives were, in spite of many of those motives not supplying an enormous degree of logic. Bronson played an outlaw who is brought aboard a locomotive bringing troops to a fort that has been afflicted with diphtheria, only to find someone is bumping off the passengers, in one instance en masse with a spectacular act of destruction. But Bronson is actually a (guessable) undercover agent determined to get to the bottom of this conundrum, though the draw may have been the train as much as the star, one of many seventies movies with that moving location: some compared Breakheart Pass to all-star megahit Murder on the Orient Express.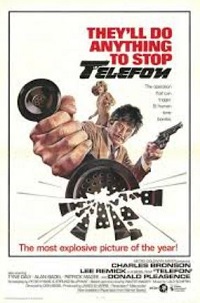 Bronson would take a long holiday some time after this, meaning there was no picture starring him released in 1978, but in 1977 there were two: mystical Western The White Buffalo, which was a rare flop for him, and Telefon, the espionage thriller patterned somewhere after The Manchurian Candidate of the previous decade, which proved more of a success. It contained a simple premise that many found farfetched at the time, not least its director Don Siegel, guiding a Bronson vehicle for the first and sadly only time since you would have thought with his stylish but no-nonsense approach Siegel would have been perfect for a whole raft of thrillers to carry the star's brand, but it was not to be, and this was the sole example.

It was a film considered, if not no great shakes, then a middling entertainment back in '77, but like a lot of Bronson efforts has gone on to find a cult following among those who took a chance on it thanks to his name being attached, and found that once again he had a knack for choosing the right project, giant buffalos aside, that showed off his skills at their best. In truth, he was not in Telefon for a whole lot of the running time thanks to the plot detailing two agencies trying to track down a spy played by Donald Pleasence (who had last been in a Bronson movie back in The Great Escape), so a large part of the screen average was given over to the supporting players, including Sheree North who secured a ten minute showcase as a brainwashed housewife and mother.

Brainwashed why? She and fifty others are sleeper agents who have been hypnotised by the KGB some fifteen years before to carry out attacks on American targets, needing a trigger phrase to set them off as otherwise they have no notion of their provenance. It was an ingenious idea and proved very entertaining, with Bronson's Russian Major sent to stop Pleasence before he ruins the Cold War detente enjoying a strong relationship with fellow spy Lee Remick, though a spanner in the works is that she has been ordered to kill him once he has achieved his goal. Maybe there wasn't much more to this than that, but it was a captivating watch and as a Bronson showcase, it delivered as if he didn't get as much action to work with as usual, his quiet magnetism was definitely in Telefon's favour. As he grew older, he had no signs of slowing down when the eighties dawned, and indeed was busier than ever that decade, but the seventies were the first golden age of his career and cemented his place as the world's most watched action star of his era.

[Breakheart Pass is available on Blu-ray from Eureka in a print that looks better than ever, considering it's quite murkily photographed. As extras, there is the (excellent) trailer and a featurette with critic Kim Newman's always welcome thoughts on Bronson. Hard Times is available on Blu-ray from Eureka as well.]