In 2018, former teen star Molly Ringwald wrote an article about watching possibly her most famous film The Breakfast Club with her young daughter and how uncomfortable a lot of its content made her. Part of that was to do with seeing herself as a sixteen-year-old, but too much was down to the mixed messages the film was sending, simultaneously championing teenagers' rights to be themselves while normalising the behaviour that strictly dissuades them from doing precisely that, and as change was in the air when she wrote it, with regard to sexual mores and a large amount of high profile cases of harassment and abuse, it seemed she had realised this was no longer the movie she would have wanted it to be.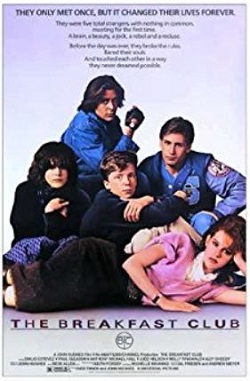 And yet, there are countless viewers who caught The Breakfast Club at an impressionable age for whom this is a rite of passage, a formative experience that made them more comfortable in their skin: Ringwald mentions its popularity among a generation of gays, for instance, despite not featuring any gay characters and even including homophobic slurs. Once again, why is such a problematic item given such a pass to depict characters in this way, and that was without the biggest stumbling block, which was how Ringwald's character Claire was treated by the bully in the drama, Judd Nelson's John. Basically he spends the entire running time sexually harassing her, victimising her and making her feel an inch tall - then she kisses him at the end.

As if that made it all right, but the fact that out of the blue its writer and director John Hughes made excuses for John's behaviour, and not only that but rewarded it too, had the avalanche of praise that The Breakfast Club enjoyed look incredibly misguided, either in the twenty-first century or in 1985 from where it hailed. There had been naysayers at the time, but they were dismissed as squares or completely out of touch - that grand old man of British criticism Leslie Halliwell dismissed it as "An abysmal apologia for loutish teenage behaviour", that was all he said about it - but somehow all those decades later it appeared the supposedly dusty and stuffy Halliwell might have actually said something that chimed with the times.

The plot had five teens assembled for Saturday detention in their school, though Nelson was plainly about ten years too old to be there, and Ally Sheedy and Emilio Estevez were well out of their formative years as well. Only Ringwald and Anthony Michael Hall, Hughes discoveries both, were of the right age as their characters, and perhaps that was no coincidence that they offered the best performances; Hughes was often praised for getting in the mindset of his young target audience in a way that nobody had before, but that was denying the power of previous cult classics such as Splendor in the Grass or Breaking Away. There was definitely precedent for his material, even if his particular sense of humour was very much of its time.

The curious thing, or one of them, about Hughes work is that he had no peers trying to emulate his style - it took decades for his influence to spawn movies attempting his signature approaches, as most of the teen movies of the eighties veered towards the crass, your Porky's and the like. But as The Breakfast Club and Sixteen Candles and Pretty in Pink were packing them in, a young, aspiring director named Whit Stillman was preparing his own take on the genre, one which was as individual as Hughes, and featured the same attention to dialogue as a method of getting to the heart of the people he was depicting. Stillman never had a Home Alone in his filmography, but he did tail off after an initial burst of activity, just as Hughes did.

In that case, it was because Hughes lost interest in filmmaking, but in Stillman's case he was as keen as ever to direct, yet was not finding the funds he needed as the market became polarised between small budget indies and big budget blockbusters, with very little middle ground. He did return to the big screen after over a decade away with Damsels in Distress and Love & Friendship, two very well-received efforts, but it was the freshness of his debut Metropolitan that was far more of a cult movie than The Breakfast Club could ever claim to be. What was interesting was that it too took a small group of teens, in this case mostly upper class debutantes and the boys who escorted them to various dos, and simply allowed them to talk.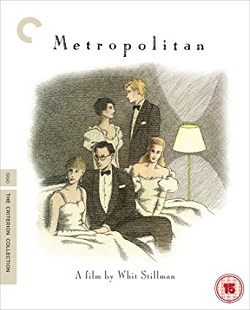 There was no boorish bullying in Metropolitan as there had been from Nelson's mouth, however, as this bunch considered themselves ever so sophisticated, and to that end were aiming higher, not to be the best kids as the detention set were, but aspiring to the adult world by trying out the ideas and relationships of their parents' social circles - as was observed by Hughes' cast, the young will turn into their parents sooner or later, these posh types were aiming for sooner, that was all. Stillman had assembled his own cast of non-professionals, many of whom barely or never acted before or since, but his script was so literate and sharply observed that even their slightly gauche quality proved a benefit to the plot and their personalities.

Not that Stillman was pandering, and one supposes neither was Hughes, yet somehow Stillman's screenplay, with all its affectations in interplay, rang far truer than anything in the 1985 movie. Metropolitan was shot in 1989, the last year that the teen flick had genuinely established itself in the classic decade of the form, and released in 1990, when after Steven Soderberg's sex, lies and videotape the indie movie was making great inroads into the available cinema audience, and there was definitely something in the air that saw a blooming of new talent to energise the medium. But despite slotting into that new fashion, this was something different and has been embraced by its aficionados ever since as a smart, sympathetic and above all funny examination of class.

Hughes was interested in class too, but Stillman had a newcomer to this inner circle of the rich kids, Tom (Edward Clements, whose only other credit was a bit part in Star Trek VI: The Undiscovered Country) who was considerably less well off, which has informed his socialist beliefs but not put him off any pretensions in the process. The most vital player was Chris Eigeman as Nick, the smartest guy in the room but a manipulator whose wit and gamesplaying masked a late on reveal of real compassion, a great, original character and so much more preferable to what Nelson had to work with in a similar role to kick off the narrative; far less offensive, too, not to mention garnering some mirth-inducing lines.

Their woes were resolved with a gallant dash to the rescue for the damsel (Carolyn Farina) Tom realises loved him all along, but it was an affectionately low-key taxi ride and earnest conversation rather than any grand statement. Yet it was enough, and far more believable than The Breakfast Club's crowbarring in of a romantic conclusion where Sheedy's coming out of her shell was one of the least convincing developments in the genre, not to mention a massive sell-out, though not as massive as Ringwald and Nelson's connection. Imagine if Molly had been in a Whit Stillman film: she would have been perfect, and probably have had a movie she could show her daughter with less explaining to do. Yet as it goes, Metropolitan, the Oscar-nominated little charmer, is always second best to the behemoth that is the Hughes work, when it was far from his best, no matter it was held up as definitive. Never completely in fashion, Metropolitan has aged far better.

[Metropolitan has been released on Blu-ray as part of The Criterion Collection. For a tiny budget item, you can appreciate the care that went into making it look as glossy as possible. Those features in full:

Restored high-definition digital transfer, supervised by director Whit Stillman and cinematographer John Thomas, with uncompressed monaural soundtrack
Audio commentary by Stillman, editor Christopher Tellefsen, and actors Chris Eigeman and Taylor Nichols
Rare outtakes and alternate casting, with commentary by Stillman
PLUS: A booklet featuring an essay by critic Luc Sante.]