With the 1969 incident involving British hobbyist sailor Donald Crowhurst and the tragic consequences of his cheating to win the Sunday Times Golden Globe Race sailing event currently in the spotlight with both Simon Rumley's Crowhurst and James Marsh's The Mercy based on the event, it is easy to forget the more obscure but no less interesting previous films based on the events. An epsiode of the 70s BBC detective series Shoestring appropriated the events for a case, though changed for comic potential, with John Gregg as "Jimmie Colefax", actually residing in a shed rather than sailing around the world. And in 1982, French director Christian De Chalonge loosely adapted the events as Les Quarantiemes Rugissants with Jacques Perrin as Julian Dantec, a French spin on Crowhurst, plus Julie Christie as his wife.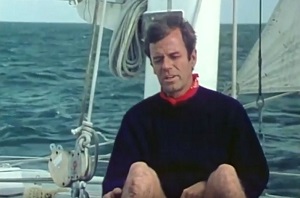 However, the two more interesting adaptations are very different.
Though a CBC TV movie, 1975's Horse Latitudes, a 40-minute take on the story keeps the English setting. But it is a British story made by Canadians with a strange, off-kilter Mid-Atlantic feel, a la Dieppe (1993), the CBC/Sky miniseries about the British-based Canadian involvement in the allied campaign in World War Two, or Hallmark efforts such as Titanic (1996) or the Matt Frewer Sherlock Holmes telefilms. Unlike those latter two, there are no characters with spurious Scottish accents, as if doing a Scottish accent is easier for the Canucks involved. Canadian acting legend Gordon Pinsent, fresh from some Hollywood work as the President in Colossus: The Forbin Project (1970) and as the nominal white lead in Blacula (1972), but internationally best known as voice of Babar and as the ghost dad in Due South plays Philip Stockton, a roman a clef for Donald Crowhurst. Like Crowhurst, Stockton is a middle-class English maritime hobbyist who decides to enter the 1969 round of the world's single-handed yacht race, and deliberately fake his route, sailing in circles but claiming he is going further via radio. The film was an odd feel. It is doing its best to convince as British. Shot in Ontario, with money from the Arts Council. There are a few forced Briticisms i.e. Stockton/Crowhurst randomly muttering about Acker Bilk. The race is described as being the biggest news since "Princess Margaret married Tony", before boasting about "Old Josh Slocum from Nova Scotia", in a last-ditch attempt at CanCon. Stockton/Crowhurst and his family watch TV outside in a most un-English manner, on a deck of a houseboat, in a sunny, rural coastal area that could easily be in the English Riviera. Pinsent's accent is plummy, a few Newfoundland-isms sneak in, but seeing as a Newfie accent is more Britoid than other Canadian dialects, he is convincing as a colonial cad in a cravat trying to come across as posher than he is who gradually succumbs to his own delusions. Some of the other accents are convincing, though a few astray vowels come in. But touches like an Asian delivery man (an actual Asian actor) and an appearance by a young Larry Lamb, (before he moved back home soon after) as a supposedly Australian Cockney naval officer (ironically, considering his role in BBC ferry soap Triangle) add some veneer of British product. There are a lot of "British products", "Cutty Sark Scottish whiskey" and and a pile of Guinness boxes, later drunk at Crowhurst/Stockton's one-man Christmas party "off Australia". A young Pen Densham the British-Canadian writer of Robin Hood: Prince of Thieves (yes, a Brit wrote that inaccurate cinerama) also appears. It is a well-done little vignette, and at 41 minutes, doesn't outstay its welcome. Made by Canadian TV vets, it could easily be a BBC docudrama rather than a CBC production, were it not for suspiciously large green hills and a very experimental sequence where Stockton lapses into a series of National Film Board of Canada-styled animated hallucinations of ugly faces, which adds a surrealist quality to the whole product. Director Peter Rowe, a prolific vet of Canadian TV (The New Lassie, The New Addams Family - lots of Canadian revivals of US classics) would later do the 1999 Harry Alan Towers Treasure Island with Jack Palance as an octogenarian Silver and Tony Booth riding on his revival of fame post-Blair administration. It is almost convincingly British, but like a lot of British-Canadian things, an air of the uncanny valley permeates through.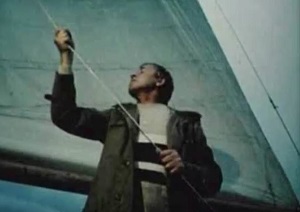 This faux-British angle would continue in the other interesting adaptation - 1986's Race of the Century, a Soviet production, one of their glossy but odd takes on British life a la their adaptations of Agatha Christie such as The Secret of Blackbirds (1983). Like Blackbirds, Race has guerrilla-style second unit shot without permits to illustrate Britain, but rather than shoot in London like its predecessor, for some reason the choice was to shoot in Dublin, so Irish language signage such as "Oifig an Phoist" can be seen in scenes clearly shot in the Camden Street and Arbor Hill areas. However, most of it was shot in Estonia, though they find locations that actually match the second unit of Dun Laoghaire, albeit with lots of Soviet peasants waving Union Jacks. They also manage to get little details right, from a TV crew with the ITN logo, to scenes set in a Mecca bookmaker's, which is a massive anachronism, as they show Crowhurst's voyage against footage of Eric Bristow winning the BDO and Miss World (all bootlegged VHS copies, by the looks). The Soviet angle for this is that capitalist betting cost Crowhurst, which is obviously completely fabricated in order for Mosfilm to get the thing to made, but it is still fascinating. Like Horse Latitudes, this film may not be perfect but they are certainly more interesting than the prestige product of The Mercy.