Peccadillo have released the eighteenth volume of their long-running Boys on Film DVD series, collecting a selection of short films on a homosexual theme from around the world, all of them taking a look at different aspects of gay life from the male perspective - though not exclusively. As the shorter medium has become so gay-friendly over the years, there's plenty of opportunity for creativity and message-making. Let's see what is on offer...

First up is Daniel, a British item detailing the life of a rent boy in a brief fifteen minutes. His scenes are intercut with a dinner party he is attending at some point apart from his method of making money: we see him with three clients, each of whom have different demands, from basic sex to being a fantasy figure to being a friend, that last something we can tell is a hopeless wish for the client. Meanwhile one of the people at the gathering may know more than he lets on about the prostitute, despite having a girlfriend. Maybe over too quickly to be as lucid as it would like, but not a bad slice of life drama.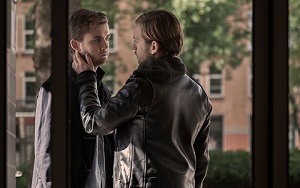 Second is Buddy, a true story from Germany, which is also concerned with things unspoken, though this time those things will have to come out into the open as a young man accompanies his ex-boyfriend to the clinic because there's a danger the ex may have become infected with HIV. This was a quiet, carefully-observed vignette, that offered the sense of solidarity even among those who have split up thanks to one partner cheating can bring when the threat of a life-changing illness looms. Very well-acted and quite poignant.

Third is the Egyptian animation Half a Life, which adopted the style of something like Persepolis to create something lower budget, but still pointed. Its soundtrack was that of a young gay man who became politically active after seeing some bullies not only get away with beating up a young boy, who may or may not have been gay, in the street, but were actively encouraged by the police who subjected the victim to horrendous humiliation. Aware women's rights were rarely considered in the Arab world, so what chance did homosexuals have, what the narrator did next was adopt a campaign of protest which was one small aspect of the Arab Spring; now he is not sure he is any safer in the current turmoil, but he doesn't know any life outside Egypt, so there he will stay. Maybe he can make a difference.

Sweden is the destination for Undress Me, the fourth short, which begins with the simple tale of a pick-up in a bar, but what's this? Isn't the lady's voice a little deep? Thus begins the man's education in the ways of transgender females as he is taken back to her place, but any interest in having sex with her deteriorates as he insists on asking extremely personal questions to someone he has only just met. Fair enough, having sex is extremely personal too, but this served to illustrate transgender women's common complaint that heterosexual men aren't interested in them, no, you can't force an attraction, but attitudes like the male half of the couple here can't help.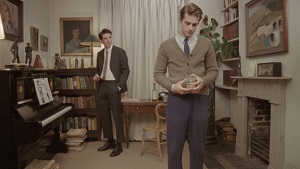 Back to Britain with The Colour of his Hair, a history of what it was like for homosexual men around the time their gender was decriminalised in 1967, with much use of the LAGNA - The Lesbian and Gay News Archive - which not only collated literature of the time written and photographed by the gays, but also the news reports which either accused the victims of the "Blackmailer's Charter" that saw homosexuals fined or imprisoned, or normalised their ostracization. Also edited into the documentary is a drama of a couple who have to contend with a possible court case, but it was the archive material that spoke the loudest.

Hope Dickson Leach's Silly Girl was next, though that had already been seen on the Girls on Film 2 DVD, so on to Denmark and An Evening, an account of a teenage gay experience which founders when one half is less able to deal with their feelings than the other, especially when a girl tells him he and his pal look "cute" together. There wasn't a whole lot to this, but it would mean something to those who had been through similar circumstances even if it didn't open much of a debate.

The British reaction to the AIDS crisis of the nineteen-eighties was next in AIDS: Doctors and Nurses Tell Their Stories, the real gem of this collection, a highly emotional history of the medical staff who worked with the patients back in that time. Each of the interviewees have their horror stories to tell, but what is most striking is their humanity that they had to come to terms with as they treated a steady stream of young men admitted to their wards who basically were there to die for there was no treatment available. Out of this parade of death, however, there emerged hope as the gay rights movement was galvanised as never before since the disease proved reactionary in the mainstream, shaming and blaming the victims. There is a happy ending, as we are brought up to the present day and the medication available now can even prevent AIDS from being contracted, all because of the experimentation on those early patients. A wonderful documentary.


Quick as you like is It's Consuming Me, a barrage of fast-edited images from Germany where a chap out in a forest with a dead bird and a push-button phone of some vintage tells the object of his desire of all the things that he likes about him, except perhaps these desires may not be reciprocated. Reminiscent of one of those experimental poetry set to visuals films, this certainly didn't lack for energy.

Lastly, we return to Sweden for Mother Knows Best, and kind of a sour note to end on, if a word of warning for those who think they're tolerant when they have room for improvement. A teenage boy has just come out to his mother, and as they drop off his boyfriend in mother's car, an argument erupts between her and her son, all shot in one unforgiving take as their relationship deteriorates before our eyes in the matter of ten minutes (one sticking point is the father she believed was a bigot has been OK with this for years before their son came out to her). An angry little piece.

Boys on Film 18: Heroes is available on DVD from 30th April.