When Star Wars ended in 1977 with the destruction of the Death Star and villain Darth Vader spinning away into deep space, the audience cheered, went home and that was about it, nobody expected any more. But the toys and merchandise and spin-offs (including - shudder - The Star Wars Holiday Special) kept selling and sustaining the interest, so creator George Lucas saw a great deal of profit, financially and artistically, in setting in motion a sequel, and The Empire Strikes Back was that project. Just as in the old-time serials he had drawn inspiration from, it was to be a whole new episode, continuing and building on the story of what had been established in Star Wars, but this time his guiding hand would be in the form of producer.

Just as before, The Empire Strikes Back proved the biggest film of the year, that year being 1980, and Return of the Jedi followed three years later, then that was it, once again nobody thought we would be getting anymore though the spin-offs and merchandising continued to do very well. However, by 1997 these movies were looking their age, leading Lucas to re-release them with spruced-up, supposedly improved special effects and even the occasional added scene, and once again the franchise was in the headlines, cleaning up at the box office. The next step was to make a new trilogy, this time, if Star Wars had been Episode IV, then this fresh trio would fill in the backstory about what had led to those events so familiar to fans casual and dedicated alike.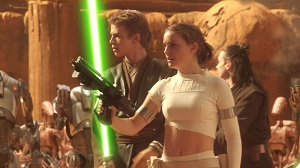 The Phantom Menace arrived in 1999, and the anticipation was huge as it easily became the biggest movie of its year just as its predecessor had been. But something was different. The reaction was not as welcoming, with many, including fans, proclaiming the film a complete turkey no matter its massive success. Therefore when the second part, Attack of the Clones, was released in 2002 it had a mountain to climb, and though it did very well, top ten of its year, it was not ruling the roost anymore - were people growing tired of Star Wars if the general attitude was that it just wasn't that great now? It was turning into the butt of many a joke, and if Jake Lloyd as the young Anakin Skywalker was a walking punchline, imagine how Hayden Christensen felt.

Looking back, well, he didn't need to be told once again he was poorly cast, he doubtless had had his fill of such comments back in 2002 (and ever since, unfortunate chap), but he did bear the brunt of the criticism of Lucas's way with the prequels and how he was some megalomaniac with an iron grip on the series that was choking the inspiration out of it with acres of glossy, characterless computer graphic imagery. The CGI was a major sticking point, and it did leave Attack of the Clones resembling a high-end computer game almost throughout: nothing dates like the future, went the old saying, but similarly nothing dated like computer animation, even in a galaxy far away and long ago, and that weightless, airless quality was difficult to ignore.

It would have been fine had the cast got the hang of working with green screen where backgrounds would be added later, however all too often they looked painfully aware that none of this was real and they were acting in a vacuum. Christensen especially suffered in his line delivery, and instead of suggesting the corrupting influence of the Dark Side of the Force on a good young Jedi, he came across as a creep, perving on Nathalie Portman's Senator Queen rather than romancing her as he was intended to. With Lucas attempting to emulate The Empire Strikes Back and its structure, not to mention its emotional heft, he merely underlined why that film was a genuine classic and why this one missed its mark - or at least it did until the final half hour.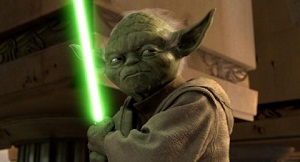 That was when, thanks to reshoots, Lucas finally got a handle on Attack of the Clones and some of that old magic re-emerged. The sense of humour, so off-base in The Phantom Menace and the detested Jar Jar Binks, remained wayward (C3-PO was meant to be amusing the younglings this time around), but the action picked up after a too-long, listless lead-in, and Christopher Lee once again demonstrated why he was so in demand for villainous roles as his Count Dooku delivered a bad guy worthy of the original trilogy. Ewan McGregor as Obi-Wan Kenobi may have struggled with his clichéd lines, and was not alone in that, but somehow a Yoda (Frank Oz voicing more CGI) lightsabre battle made up for a lot. Better late than never, you may observe.

Attack of the Clones was followed by Revenge of the Sith three years later, which had similarly mixed reviews and reception, and that seemed to be it for the franchise; after Lucas had become a popular hate figure across the internet for what he has supposedly done to desecrate his legacy, audiences didn't look to be too keen to revisit the Star Wars galaxy again. It lived on, of course, in cartoon form on television (and The Clone Wars, a theatrical animated feature), and then Disney bought Lucasfilm and sought to add to their unbelievably vast existing fortune by rebooting the whole thing with a new trilogy of sequels, plus additional features spun off from the concepts of the originals. The Force Awakens was hugely anticipated, and made fans happy again.

Happy in a way that they were assuredly not when the second sequel appeared, The Last Jedi, which was accused of taking what new producer J.J. Abrams had conjured with its immediate predecessor and making a mockery of it. But all that new director Rian Johnson had done was build on what was in Abrams' case had been a slavish recreation of former glories with a partly new cast, sort of a greatest hits set of cover versions that had somehow managed to recruit some of the original artists, and while those stuck in the past resisted it, Johnson's achievements began to be recognised as crafting the finest Star Wars movie since the first trilogy: even since The Empire Strikes Back, as was fitting to the middle instalment in this new trio.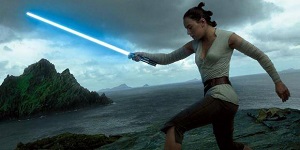 Events were not wholly looking backwards in The Last Jedi, and indeed lead bad guy Kylo Ren (Adam Driver) made a point of wanting to wipe out what had led them to this point with all its in-fighting, grudges and point-scoring. Luke Skywalker (Mark Hamill) was relegated to figurehead status by those who recalled him, but as life had moved on, he was more of an irrelevance, both in a good way, as the reasons behind the wars were being forgotten, and in a bad way: the reasons behind the wars were being forgotten. As he sits on his island on a lonely planet surrounded by cutesy little birds, even he has lost faith in all the Force represented, and we are brought to understand the villainous Ren's point of view in a manner that was almost audacious.

Carrie Fisher returned as General Leia, in what would be her last film, but she could not have picked a better effort to leave us with, in the role that made her famous and which had a theme that expressly asked if the younger generation should be recruited to fight the same battles their elders had died doing. There was world-building too, as we had a chance to view who was benefiting from the conflict, and it turned out to be a collection of weapons manufacturers and sellers in what seemed obvious when you thought about it, but brought in a degree of social commentary Lucas tended to shy away from, unless it was grumbling about his taxes, or more charitably, the value of heroes in war and how it's important we should have our role models.

There was some of that in The Last Jedi as Johnson proved himself cine-literate with references to Rashomon (its director Akira Kurosawa's The Hidden Fortress had been an influence on the first Star Wars) or the heist caper movies of the sixties, even a little Hardware Wars in there too, but you didn't have to be an expert to appreciate what he was doing with the all-important middle instalment as he made it not some tired retread, but a vital, forward looking entity in its own right, with genuine laughs, well-staged battles both with spaceships and lightsabres, bits of business for old and young and those in the middle, and a sense of a filmmaker making the most of the possibilities of what Lucas had born back in 1977.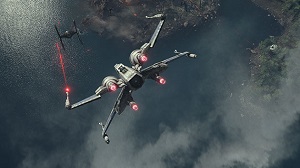 Wisely, he didn't kill off too many of the new characters, so Daisy Ridley as the can-do, must-do Rey (very well-lit) and John Boyega as Finn (conveying an ache in his soul) would be back to take the plot forward, along with favourites Chewbacca, C3PO and R2-D2 - and new favourite BB-8 as well. It may not be what everyone wanted to see, but the ingenious aspect of Star Wars was that everyone could make up their own stories with these characters when they were younger, and that was what had made it such a financial juggernaut. When someone else played with your toys, it didn't have the same effect, hence the complaining at what Johnson concocted, but if you could accept a more generous nature was part and parcel of the communal experience that was popular cinema, you would see Johnson was no villain. If anything, he was a hero for reminding us of the power of a middle instalment where the stakes were significantly raised as Lucas and his cohorts had done with The Empire Strikes Back twenty-seven years before.