Gary Sinyor is a producer, writer and director who specialises in British comedies, with titles like Leon the Pig Farmer and Stiff Upper Lips to his credit. But with his latest work The Unseen, he has made a change of direction to craft an accomplished indie thriller that is gathering a welcome reception wherever it is seen. Mixing bereavement drama, psychological horror, themes of mental instability and finally genuine suspense thriller tactics, it's well worth taking a chance on. He was kind enough to answer our questions on the making of the movie and its place in the modern cinema landscape.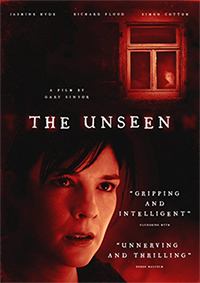 TSI: You are best known for directing comedies, what prompted this radical change to a thriller with The Unseen?

GS: The very first script I ever wrote was a thriller. I've been a fan of psychological thrillers forever. They say that behind every comedy person is a darker side. I can only speak for myself!

TSI: Was your approach different from humour to suspense?

GS: My approach was very different. With this script I knew that what I needed to do was shoot the script pretty much word for word. There are many plot twists incorporated into the writing and you don't want to mess with them. I also knew very clearly that as it was a film about points of view. I needed to shoot it using a lens that most reflected human vision. I got the camera between the actors as much as possible so that we the audience are not watching people objectively but drawn into the conversations by looking into the eyes of the characters.

TSI: Were there any specific influences you drew on in writing the script?

GS: Not really, although I was aware of films like Don't Look Now, Misery and The Sixth Sense all being relevant.

TSI: The film's genre moves from drama to horror to thriller with great ease, were you conscious that these gear changes needed to be handled differently to keep the story's secrets?

GS: Oh yes. I was very aware. It was all in the script. I had to make sure that all the actors could legitimately say things or act in a particular way and be confident that they never doing something out of character. One of the things I'm most pleased with is that when you get to the end of the film you can watch it again and it all makes perfect sense.

Music obviously played an important part in nudging the audience towards drama, then thriller. The score is a massive contribution.

TSI: Would you consider doing more in the thriller or horror style, given how well The Unseen has been received?

GS: Yes. Yes Yes. I loved making this film. I especially loved working with talented actors to get great realistic performances from them. I'd do it again in a heartbeat.

TSI: Was the distribution a problem in light of the open letter you wrote to Disney asking for more screens to be allotted to smaller films like yours instead of the behemoth that is Star Wars?

GS: Yes, it was a real problem. We had amazing reactions to the film and although we're not the only film to go up against juggernauts and suffer, it's a difficult pill to swallow. But it's not just Disney that dictated. It was also the fear of UK distributors to take on and spend money marketing a film that could have attracted a wide audience - but needed care and attention. When you don't have star names, it's always a fight. But I think the film deserved a bigger wider release in the cinemas than we were able to get. All the same I'm grateful that we got the likes of Mark Kermode to review as he's arguably the most influential critic in the UK.

TSI: Do you feel a cinema release is very important for a smaller film, to raise its profile and gather reviews?

GS: I have to say yes to that. The cinema release helps us everywhere, not just in the UK. I'm hopeful we will have a US release in the summer and the UK theatrical reviews play a big part in giving confidence to distributors worldwide.

TSI: Would you say that if a film is of sufficient quality, it will find its audience no matter what, or did The Unseen have to be carefully marketed? Is word of mouth enough these days?

GS: Ask me again after the DVD and digital download release! I mean, I hope so, I really really hope so. I hope that a big audience will find the film when it appears on Sky and ITunes and Amazon etc. And personally I know that I am hugely influenced by friends saying "You should watch this". There are so many good drama/thrillers on TV these days that it's obvious that British audiences like the genre. And I think with the blindness episodes, The Unseen doesn't something truly unique and gripping. So I really hope it finds an audience. When critics compare your film to Don't Look Now, which is a classic, you've got to hope you've touched a nerve. And I should say, that I'm delighted that the internet reviews from the smaller sites have been so positive. These reviewers are spending time and putting in real intelligent thought into what the film is about and why. National paper reviewers can only give a film so many words but the new breed of reviewer is speaking out to the public AND giving feedback to film-makers in ways that I for one truly appreciate.

TSI: The Unseen is markedly different from the usual Britflick which currently either takes the very rich or the very poor as their subject, or a historical setting. Do you think you've identified a gap in the market?

GS: Again, that's an astute question. I think there's a danger that indie films are all about poor people, or all about disenfranchised people. And to me, it's vital that the themes and issues raised in the film, that the pain is felt by middle class people. Human instinct says I HAVE to feel for a couple who lose their child, irrespective of how comfortable they may be financially. The middle classes have mental anguish - it's not just the preserve of certain elements in our society. Mental illness is a massive issue in our times and there are no class boundaries to it. The film is about the frailty of the human condition, and all 3 leads face that in the film.

TSI: Can you tell us of any British films you have seen recently that you admire?

GS: I enjoyed The Darkest Hour, although I'm not sure it was historically accurate. But Oldman is great. Baby Driver was very well done and entertaining. I'm still to catch up with others - looking forward to seeing The Death of Stalin!

Many thanks to Gary for taking the time to answer our questions, and best of luck with The Unseen. It deserves to be, well, seen!